We try to keep things healthy at our house. We love chips and salsa, and there's something so satisfying about crispy, salty potato chips, but we try to limit how much of that tempting crunchiness is in the house.
The same goes for cookies and other sweet treats. There are days when we can hear the candy bars calling. But still… a little sweet treat is nice now and then. It's nice to know we can tap into the harvest from our apple trees to make a treat that everyone can enjoy.
Well, baked apple chips can do an excellent job at standing in for a more decadent snack. It seems that it's not so much the flavor of the chips, but that snappy, crispy texture that really makes it hard to eat just one.
I recommend you start out with a small batch to get your seasoning right; one time I made apple chips with cinnamon sugar, only they turned out more like cinnamon chips with a little apple on the side!
I like to make a batch of baked apple chips before we head out on a road trip, or even when we're planning a day hike. Sometimes I'll cut the apple rings into sections and then combine them with our homemade trail mix. Nothing can match a trail mix you make yourself—and if you have your own freshly baked apple chips, so much the better!
It's funny how quickly that trail mix can go when we're on a road trip. I guess I should make some extra next time. And I'm keeping some more apple chips in a jar in the kitchen for when I want a little something sweet—but not too sweet.
Print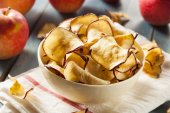 Baked Apple Chips
Craving something crispy? When you want a little snack, but you'd like to keep it on the healthier side, try these baked apple chips. You can leave the skin on if you like, or peel the apples before you bake them. You'll love the way the kitchen smells as the apples slowly dry in the oven, sprinkled with cinnamon. Be sure to bake until your apple chips are nice and crispy.
Author:
Prep Time:

20 minutes

Cook Time:

2 hours

Total Time:

2 hours 20 minutes

Yield: Serves

2

to 4

1

x
Category:

Appetizers
Ingredients
2

large apples, washed and cored (peeling is optional)

2 tablespoons

sugar

1 tablespoon

ground cinnamon

Supplies

2

baking sheets lined with parchment paper
Mandoline, spiral cutter, or sharp knife for cutting thin slices
Instructions
Preheat oven to 200 degrees F.
Slice apples thinly—1/8 inch to 1/16 inch. Slices that are too thick will not dry properly and will be soggy.
Lay apple slices in a single layer on a baking sheet lined with parchment paper. Don't overlap slices.
Combine the cinnamon and sugar.
Sprinkle cinnamon sugar mixture over apple slices.
Bake for 2 hours. For even drying, turn the baking sheets 180 degrees after an hour.
Start checking apple slices for doneness after an hour-and-a-half, then every 5 to 10 minutes.
When apple slices are fully crisp, remove baking sheets from the oven and let the slices cool before serving.
Store in an airtight container on the counter for up to 5 days.
Have you made these apple chips? Do you serve them as a standalone snack, or do you serve them with dessert? Please tell us how they turned out for you.