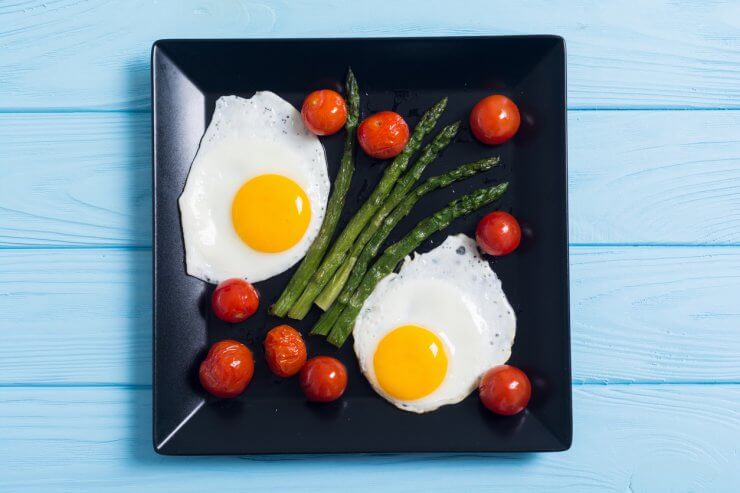 One of the joys of a garden in spring comes when those first delicate spears of asparagus appear. I can't help but smile, knowing that this sweet vegetable heralds the arrival of a new season of abundance. The arrival of asparagus means that early-season peas, radishes, and crisp greens are soon to follow.
It's not just that. Asparagus is a wonderful vegetable in its own right. Sweet and tender spears fresh from the garden taste like a luxurious treat after a cold, dark winter. I know some people think of Robins and rabbits and tulips and budding trees as the first signs of spring, but for me, it's the taste of grilled or roasted asparagus on my plate.
Roasted asparagus goes well with so many dishes, but there's something about eggs and asparagus that makes them perfect culinary companions. In this Roasted Asparagus with Baked Sheet Pan Eggs recipe, they are joined by cherry tomatoes to create an easy nutritious and colorful dish you can serve for breakfast, brunch, or a light dinner mid-week.
This is a simple, straightforward recipe as it is, but you know how much we love to offer options to suit different serving ideas. Here are a few different ideas you might like.
Add fresh garlic when you roast the asparagus and tomatoes. Not only does it taste great, but it will make your kitchen smell delightful!
If you have garlic scapes, chives, or scallions coming up in your garden, chop those and sprinkle them on the eggs when you serve them.
Serve with a fresh baguette and your favorite olive oil.
Serve with home fries, a cup of freshly-brewed hot coffee, and a glass of orange juice.
However you decide to make these, remember, you can never go wrong with those first-of-the-season asparagus spears! Enjoy!
Print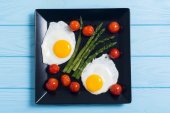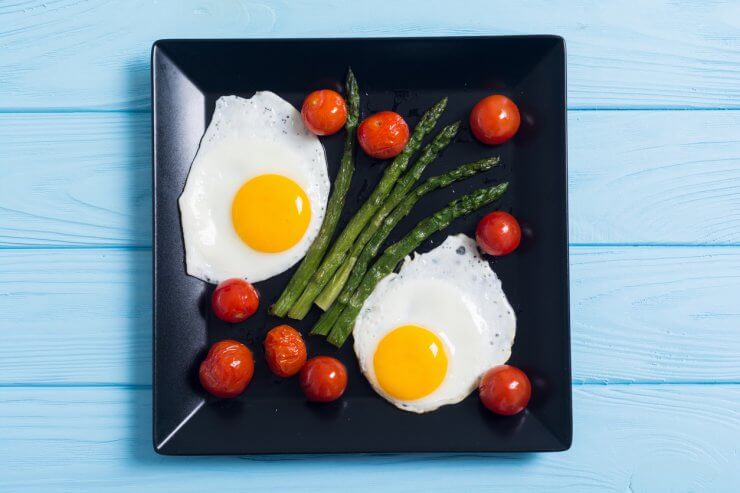 Sheet Pan Eggs with Asparagus
For a healthy and tasty breakfast, try freshly roasted asparagus with baked sheet pan eggs and ripe from the garden cherry tomatoes.
Author:
Prep Time:

10 minutes

Cook Time:

20 minutes

Total Time:

30 minutes

Yield:

Serves 4

Category:

Breakfast
Ingredients
2

pounds fresh asparagus

1 pint

cherry tomatoes

4

eggs

2 tablespoons

olive oil

2 teaspoons

chopped, fresh thyme
Salt and pepper to taste
Instructions
Preheat the oven to 400 degrees F. Grease a rimmed baking sheet with non-stick cooking spray or lay down a sheet of parchment paper.
Arrange the asparagus and cherry tomatoes in an even layer on the baking sheet. Drizzle with olive oil and sprinkle with fresh thyme and salt and pepper.
Roast the vegetables in the oven for 10 to 12 minutes, or until the asparagus is tender and the tomatoes are wrinkled.
Remove the pan from the oven and crack the eggs on top of the asparagus. Season with salt and pepper and return the pan to the oven.
Bake 7 to 8 minutes, or until the whites are cooked through, but the yolks are still a bit runny. (If you don't like runny yolks, cook until set, but be careful not to overcook the eggs or they'll be rubbery.)
Remove from oven and divide into four servings. Eat at once.
Want a home garden crop that will produce delicious, nutritious, stately vegetables for decades? Then plant asparagus. You'll need a little patience at first, but once established, asparagus will reward you for years to come. With our Asparagus—King of the Garden Gardening Guide, you'll have everything you need to know about growing and enjoying this versatile food. Check it out!
Have you tried this Roasted Asparagus with Baked Sheet Pan Eggs recipe? It's so easy and delicious—please tell us how it turned out for you.