Here in New England, blueberries are a mid-to-late-summer treat. Blueberry bushes everywhere are filled with plump, juicy fruits. Redwing blackbirds, goldfinches, and other songbirds dash in and out, retrieving fallen berries and snagging ripe ones from clusters of these little blue bites of magic. Whether you have a blueberry bush in your garden, a favorite secret spot in the woods for wild berries, or you head to one of the many pick-your-own farms, you can get as many fresh blueberries as you can carry, with plenty leftover.
Then we have this Baked Blueberry Oatmeal, which is delightful all year long, but I absolutely adore this dish on a chilly morning when a soft snow covers the ground. The dilemma is clear! Luckily, the solution is pretty clear, too. When there's such an abundance of blueberries in the summer, I freeze as many as I can so that I can enjoy this recipe with my own blueberries well into winter. Of course, there's no shame in buying blueberries from the store, either.
On to the recipe, though. This hearty breakfast is something you can make ahead of time, if you like. Serve it up as a special breakfast treat for guests, or make it your heat-and-eat choice for an energy-packed weekday breakfast.
There's nothing like homemade oatmeal to fill you up and keep you running on a busy morning full of meetings, errands, or a long hike. And even though it's technically a breakfast food, this is a super comforting dish when you enjoy it after a day of skiing, snowshoeing, or sledding. Serve with hot chocolate for a truly decadent and warming evening meal.
Print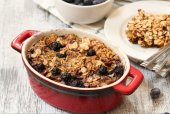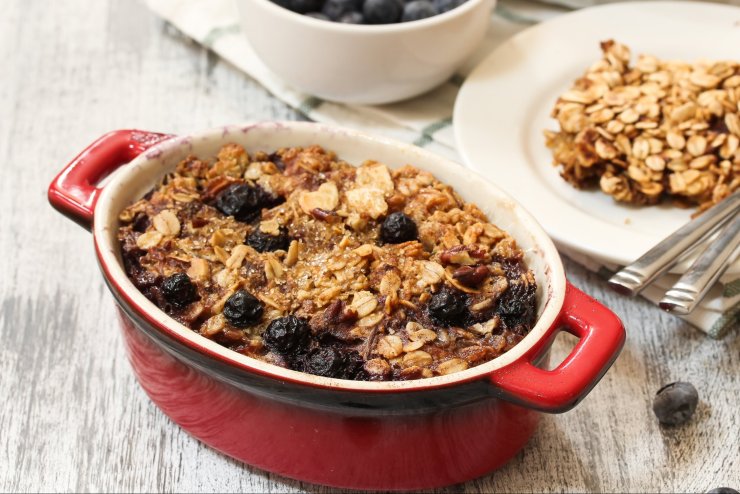 Baked Blueberry Oatmeal
This Baked Blueberry Oatmeal is something you can make ahead of time, or serve it piping hot straight from the oven.
Author:
Prep Time:

20 minutes

Cook Time:

45 minutes

Total Time:

1 hour 5 minutes

Yield:

Serves 6

Category:

Breakfast
Ingredients
1/3 cup

slivered almonds

2 cups

dry rolled oats

1 teaspoon

baking powder

2 teaspoons

ground cinnamon

1 teaspoon

kosher salt

2 cups

milk (1% is best)

1

large egg

1/3 cup

brown sugar (or maple syrup)

2 tablespoons

unsalted butter, cut in small pieces

1 tablespoon

vanilla extract

2

medium bananas, not quite ripened

2 cups

blueberries
Instructions
Preheat the oven to 375 degrees.
Spray or lightly butter the inside of a square 8-inch baking dish.
Combine oats, baking powder, cinnamon, and salt.
In a separate bowl, whisk together the sugar, milk, egg, butter, and vanilla.
Slice the bananas and layer them across the bottom of the baking dish.
Cover the bananas with the blueberries.
Spread the dry ingredients evenly over the banana and berry layers.
Slowly pour in your wet ingredients, taking care to cover the dry ingredients completely.
Bake for 35 to 45 minutes uncovered, until the top is brown and the oatmeal mixture has set.
Remove from oven. Serve hot, or let cool to store. Refrigerate, covered.
To reheat: Put a small portion in a microwave or an oven heated to 375 degrees.
Want to start growing blueberries at home? Blueberries are a favorite of everyone, everywhere! With our Blueberry Bonanza Gardening Guide, you'll have everything you need to know about growing and enjoying this delicious and healthful fruit.
Have you tried this recipe? It's a great way to enjoy a tasty and healthful breakfast. Please tell us how it turned out for you.