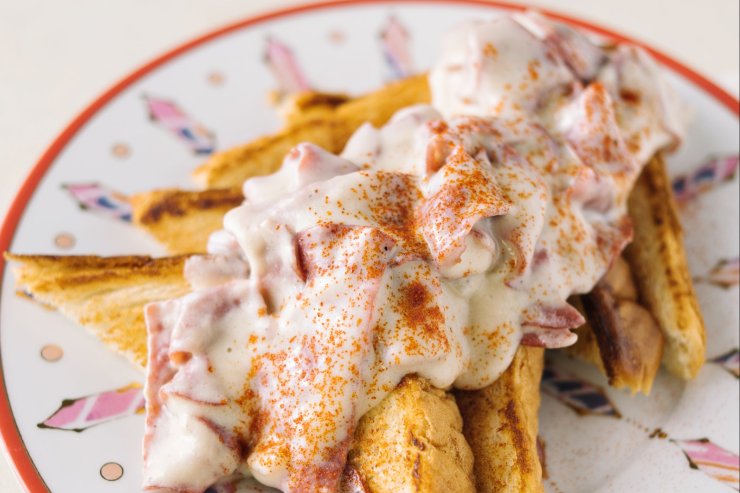 I have a confession to make. Before I saw this recipe, I hadn't thought about creamed chipped beef in some time. I was curious about what the story was on this dish, so I did some digging. This dish was popular around World War 2, and it appears that it was, indeed, a military staple for some time.
I'm sure there are more mentions of it, but the oldest recipe I could find was from the 1910 Manual for Army Cooks, which uses 15 pounds of chipped beef to feed 60 men. From a logistical point of view, the dish made a lot of sense. Chipped beef is dried and pressed, making it easily transportable and also filling.
The 1910 recipe is a bit utilitarian, which again makes sense, given that army cooks needed to feed a whole lot of hungry people as efficiently and economically as possible. It's more elegant than its origins would suggest, however. The sauce is essentially a French béchamel, which starts by making a roux of butter and flour, then adding milk and simmering until you have a lovely smooth and creamy sauce.
Of course, the 1910 army version was a bit low on extravagances, with only a handful of parsley and a few dashes of pepper added. Thankfully, Addy's recipe is a bit more flavorful with the addition of diced onion, cayenne pepper, dry mustard, and Worcestershire sauce. Don't worry, it's not too fancy. The dish still has its roots in the world of quick, easy, and filling meals.
If you did want to have some fun with it, though, you could always serve it with a poached egg and a mimosa. Just don't expect to find that in the Manual for Army Cooks.
Print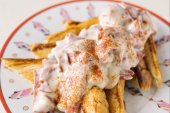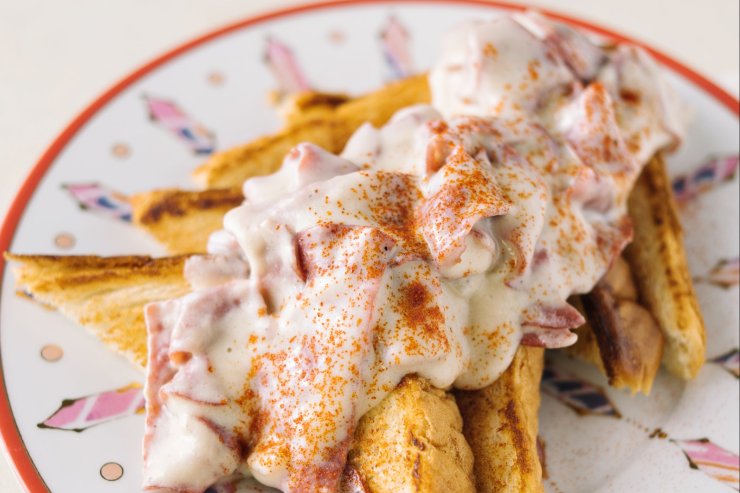 Creamed Chipped Beef
Creamed chipped beef on toast is a classic, but you might be surprised to find out where it originated.
Author:
Prep Time:

5 minutes

Cook Time:

15 minutes

Total Time:

20 minutes

Yield:

Serves 4

Category:

Breakfast
Ingredients
2

(2.25-ounce) jars sliced dried beef, cut into

1/2

-inch strips

3 tablespoons

unsalted butter

1/4 cup

finely diced onion

3 tablespoons

all-purpose flour

1/2 teaspoon

kosher salt

1/4 teaspoon

freshly ground black pepper

1/8 teaspoon

cayenne pepper

1/4 teaspoon

dry mustard

1 cup

whole milk

1 cup

half-and-half

1 tablespoon

Worcestershire sauce

4

thick slices white bread, toasted and cut in half
Smoked paprika (optional)
Instructions
In a medium bowl, cover the beef strips with warm water. Let soak for 2 minutes and drain.
In a large skillet, melt the butter over medium heat. Add the onion and cook, stirring, for 3 to 4 minutes, until soft.
Stir in the flour, salt, black pepper, cayenne, and mustard. Cook for 1 minute.
Add the milk, half-and-half, and Worcestershire sauce. Mix well.
Bring to a boil, reduce the heat to low, and stir in the beef.
Cook, stirring continuously, for 3 to 4 minutes, until the sauce has thickened.
Place the toast slices on a plate and spoon an equal amount of the beef mixture over each toast.
Sprinkle with a small amount of smoked paprika, if desired, and serve.
Have you had creamed chipped beef before? If you've tried this recipe, I'd love to know how it turned out and if it brought back any memories.