Sunday is one of my favorite days of the week because it also holds the status of "Pancake Day" in our house. There's nothing quite like a fluffy pancake slathered with maple syrup and paired with the usual culprits of a picturesque breakfast: over-easy eggs, perfectly-cooked bacon, toast, and a cold glass of orange juice or a steaming cup of coffee. Pancakes are also great for experimenting — toss in a handful of fruit like bananas or blueberries, add in some chopped-up nuts and grains, or swirl in some peanut butter or chocolate fudge. The sky (or your pantry stock) is the limit!
Pancakes don't only use sweet flavors. Savory pancakes might not be a common sight at your local breakfast bar, but they're absolutely worth a try. These Fennel and Kale Pancakes are the perfect introductions to savory pancakes — they're filling, flavorful, and easy to make.
Chickpea flour, oil, salt, and water form the base of these pancakes, but the real stars of the show are the toppings. You have a chickpea salad made of chickpeas browned in garlic and tossed with curry powder, combined with wilted kale and thinly-sliced fennel. Instead of maple syrup, you have a nutty and tangy sauce made from lemon juice, tahini, garlic, and olive oil. Every bite is a savory delight.
When you've got a fresh batch of home-grown fennel and kale, try out these Fennel and Kale Pancakes instead of defaulting to a salad!
Print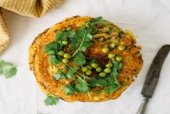 Fennel and Kale Pancakes
If you're tired of sweet and syrupy pancakes for breakfast, this recipe for Fennel and Kale Pancakes might be the savory twist you've been looking for!
Author:
Prep Time:

15 minutes

Cook Time:

20 minutes

Total Time:

35 minutes

Yield:

Serves 2

Category:

Breakfast
Ingredients
1/2 cup

chickpea flour

6 tablespoons

extra-virgin olive oil, divided
Kosher salt

3

garlic cloves, peeled and divided

1

15-ounce can chickpeas, drained

1 tablespoon

curry powder

1

small bunch Tuscan kale, stemmed and leaves torn

1

small fennel bulb, fronds (the leafy top) removed, and very thinly sliced

1/4 cup

tahini

2 tablespoons

freshly squeezed lemon juice
Instructions
Whisk together chickpea flour, 1 tablespoon oil, pinch of salt, and 1/2 cup warm water in a medium bowl. Let sit for up to 1 hour, so flour mixture hydrates.
Heat 2 tablespoons oil and 2 garlic cloves over medium heat in a nonstick skillet for about 3 minutes, until garlic cloves are lightly browned.
Add chickpeas and increase to medium-high heat, cooking 6 to 8 minutes until chickpeas are lightly browned.
Add curry powder and toss to coat chickpeas. Season with salt.
Add kale pieces to pan and cook for 2 minutes, until kale wilts.
Transfer skillet contents to a medium-sized bowl, add fennel, and toss to combine.
Grate remaining garlic into a small bowl, whisk in tahini, lemon juice, 2 tablespoons oil, and 2 tablespoons water until thick and smooth. Season with salt.
In skillet, heat 1 1/2 teaspoons oil over medium-high, and add half of the flour batter to the center of the skillet until it spreads out to a thin 7-inch pancake. Cook about 2 to 3 minutes, undisturbed, until browned and crisp on the bottom.
Flip the pancake and cook on the other side for about 1 minute. Transfer pancake to a plate and repeat with remaining 1 1/2 teaspoon oil and batter for a second pancake.
Top each pancake with chickpea salad, and drizzle with tahini sauce.
Serve warm.
Fennel deserves a lot more love and attention from food gardeners! The Fabulous Fennel Gardening Guide will give you everything you need to know about fennel, including planting tips, harvesting methods, and quick-and-easy recipes that will please even the most discriminating diner! Check it out and start growing fennel today.
Have you tried this recipe? Make this for breakfast in your house, and tell us how it comes out. Please comment below.