As someone who loves to keep healthy snacks around, any day is a good day to make some jelly! Not only is jelly delicious, but you get to savor the taste of freshly picked fruit from your home garden.
When you find yourself blessed with a hefty harvest of grapes, whipping up some Grape Jelly is the way to go! Making a batch of Grape Jelly is easy, delightful, and you can have this smooth, gelatinous treat not just as a snack, but also as a healthy way to start your day.
Personally, I prefer using Concord grapes for Grape Jelly because this variety combines a sweet-tangy taste, leading to a unique musky flavor that's delectably aromatic. Catching a whiff of its scent is enough to satisfy your appetite! Concord grapes slip right off the skin, too, and their naturally gelatinous texture is perfect for making Grape Jelly. Wild grapes also work absolutely well for this recipe since they're great for juicing and freeze nicely.
Don't fret too much if you haven't got Concord or wild grapes as any type of grape will be just as delicious. That's actually the best part about making Grape Jelly; you're sure to get a wonderful batch regardless of the grape variety you use.
When trying out this recipe, it pays to have a candy thermometer on hand. It's a helpful little tool that you can use to achieve just the right temperature when boiling the grapes until their jellified form sheets off the spoon. Of course, a handful of cute jars — don't forget to sterilize them! — for your Grape Jelly will make this treat even more appetizing. If you end up making some extra, it'll be easy to share your refreshing Grape Jelly with friends and family!
Print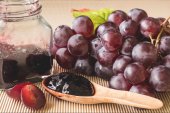 Grape Jelly
Get some delicious jelly in your belly when you make this smooth and appetizing Grape Jelly! It's easier than you think!
Author:
Prep Time:

10 minutes

Additional Time:

12 hours 10 minutes

Cook Time:

25 minutes

Total Time:

12 hours 45 minutes

Yield: Makes about

4 pints

1

x
Category:

Breakfast
Ingredients
Grapes for juice

3/4 cup

sugar for every cup of grape juice
Optional: 2 tablespoons lemon juice
Instructions
Wash and de-stem the grapes. Put into a heavy-bottom saucepan, mash down, and cook slowly for about 10 minutes, until the juice flows freely. Water may be added a little at a time if necessary to prevent scorching or sticking.
Strain through a jelly bag, strainer, or cheesecloth. Leave the strained juice overnight in the refrigerator to allow the white crystals that sometimes form to settle. In the morning, pour off the juice carefully, discarding the sediment, if any, at the bottom.
Measure out 4 cups (leave the rest for another batch). Heat the sugar in a double boiler; with 4 cups of juice, you'll need 3 cups of sugar. Bring the juice to a full rolling boil, then add the heated sugar and bring the mixture back to a full rolling boil.
Boil quickly, stirring, until the candy thermometer reads 8 degrees above the boiling point (about 220 degrees F) or until the jelly sheets off the spoon ("sheeting" happens when the jelly separates from the spoon in sheet formations). Skim and pour into hot, sterilized jars. Process in a hot water bath for 5 minutes
Notes
The jelly needs to be cooked until it's fairly thick so make sure you cook it long enough. You can add 2 tablespoons of lemon juice to the batch while it's coming up to temperature.
Have you tried this recipe? It's so easy and delicious—please tell us how it turned out for you.
What's the most popular fruit in the world? If you guessed oranges, apples, or bananas, you'd be wrong—it's the fabulous grape! Because of its many uses (hello, wine!) and the number of countries that can grow grapes, the world totals some 72 million tons of grapes grown annually. In the Great Grapes Gardening Guide, you'll learn everything you need to grow this versatile fruit.