It's like a quiche, only more fragrant. It's perfect for breakfast or as a main dish at brunch. And my gosh but it smells so incredibly amazing while it's cooking! This onion & scallion tart is something else.
This dish features salty feta and Parmesan cheese, along with three members of the allium family: onions, scallions, and chives. I'll come back to those in a moment, but let's talk about cheeses. Feta cheese is traditionally made with sheep's milk, but there are plenty of cow's milk options on the shelves. You'll also find it in blocks and packaged as crumbles. You could go with any Feta, and this onion & scallion tart will turn out wonderfully. However, there are some differences.
Cow's milk feta tends to be on the milder side, while sheep's milk feta is creamy and rich. Crumbled feta is often dry and, honestly, a bit on the boring side. Blocks of feta, whether made with cow or sheep milk, are usually fresher and have more flavor. So, if you can, get a block of feta and crumble it yourself; it's easy to do and, at least by weight, it's usually less expensive than the crumbled version.
As for the alliums, get them fresh from your garden if at all possible. Freshly cut scallions and chives have so much flavor! Of course, onions don't need to be straight from the soil, as they keep for a while, but I have a tip about them, too.
When you sauté the onions for this recipe (by the way, shallots work, too if you have them), cook them slowly over a low heat and they will develop deep, sweet flavors as they caramelize.
Print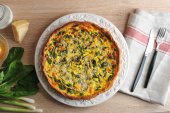 Onion & Scallion Tart
Share the bounty of your scallion harvest with a celebratory onion tart! It's like a quiche, only more fragrant. It's perfect for breakfast or as a main dish at brunch.
Author:
Prep Time:

20 minutes

Cook Time:

45 minutes

Total Time:

1 hour 5 minutes

Yield:

Serves 6

Category:

Breakfast
Ingredients
1

9-inch, unbaked pastry shell

2

medium sweet onions, sliced thinly

6

scallions, sliced thinly

2 tablespoons

minced chives

1/2 cup

crumbled feta cheese

1/3 cup

grated Parmesan cheese

3/4 cup

half-and-half

1/2 cup

whole milk

2 tablespoons

olive oil

3

large eggs

1/2 teaspoon

salt

1/4 teaspoon

ground pepper

1/8 teaspoon

nutmeg

1/8 teaspoon

hot pepper sauce

1 tablespoon

Dijon mustard
Instructions
Line the pastry shell with a double layer of heavy-duty aluminum foil.
Bake at 450 degrees F for 8 minutes.
Remove the foil; bake for 5 more minutes.
Cool pastry shell on a wire cooling rack.
In a small skillet, sauté the sweet onions in oil until they're tender; let them cool.
Combine eggs, feta cheese, salt, pepper, nutmeg, and hot pepper sauce in a food processor; process until smooth.
Add the half-and-half and milk to the egg and cheese mixture gradually; process until the mixture is well blended.
Brush the inside of the crust with the Dijon mustard.
Sprinkle the scallions, chives, and sauteed onions over the crust.
Pour the egg mixture over the onions; top with Parmesan cheese.
Bake at 375 degrees F for 30 to 40 minutes, or until a knife inserted in the middle of the tart comes out clean.
Have you made this onion tart? Did you like it better than a basic quiche? Please tell us how this recipe turned out for you.