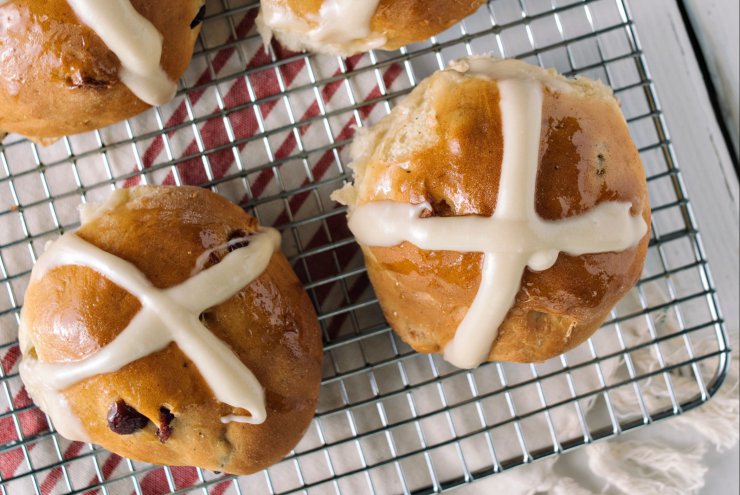 That's right. Your hot cross buns could very well be outlawed. According to one tale, Queen Elizabeth I forbid the making or sale of hot cross buns on any day except Good Friday, Christmas, and for burials, because they were such a treasured food. Other legends say that she banned them because they were baked from the same dough as Catholic communion wafers, and since she was Protestant, that created conflict.
What makes these little breads so special? Hot cross buns are a yeasted, spiced bread made with dried fruits or most often, with raisins or currants. The "cross" part of the bun comes from the icing in the cross shape atop the buns. Since they were popular on Good Friday, they gradually became associated with Easter and Christianity.
Like most things, however, the tradition almost certainly predates the European adoption of them as a religious symbol. Some sources say that similar buns came from ancient Egypt, where they were made as celebrations of the gods and goddesses. They're also associated with pagan celebrations and tributes to the goddess Eostre (Easter) and the cross symbolized anything from the four seasons to the spring rebirth after a long winter.
Over the centuries, hot cross buns have come to symbolize good luck and friendship, they've inspired a popular children's song, and they're a popular bakery item each spring.
And at the risk of ruining the mystery behind all this symbolism, it's also very possible that the cross came from the simple act of scoring the bread so that it would rise better in the oven. Whatever the case, these are sure to bring everyone to the table for a treat fresh out of the oven. Just be sure to save one to hang up in your kitchen. Legend has it that this will ensure every loaf of bread you bake for the next year will come out perfectly.
Print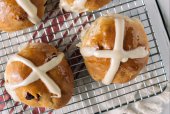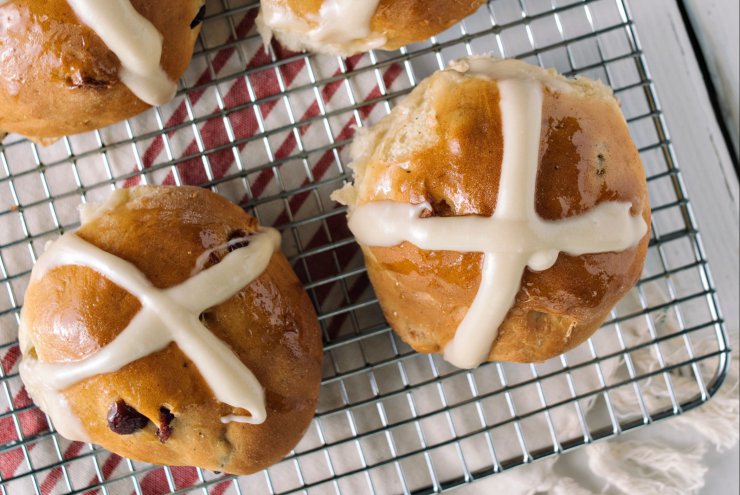 Hot Cross Buns
Find out why your Hot Cross Buns might be illegal, then learn how to make these traditional sweet breads anyway!
Author:
Prep Time:

45 minutes

Cook Time:

25 minutes

Total Time:

1 hour 10 minutes

Yield:

15

buns

1

x
Category:

Breakfast
Ingredients
Buns

1 1/2 cups

whole milk, lukewarm

1/2 cup

granulated sugar

1 tablespoon

active dry yeast

4

–

4 1/2

cups all-purpose flour

1/2 teaspoon

kosher salt

1/2 teaspoon

ground cinnamon

1/2 teaspoon

grated nutmeg

1/2 teaspoon

ground cardamom

2

large eggs, at room temperature, beaten

4 tablespoons

(

1/2

stick) unsalted butter, softened

1 cup

dried mixed fruits

2 teaspoons

grated orange zest

1 tablespoon

vegetable oil

Syrup
Icing

1/2 cup

confectioners' sugar

2 tablespoons

cream cheese, at room temperature

1 tablespoon

unsalted butter, softened

1 teaspoon

vanilla extract

1 1/2 teaspoons

water
Instructions
For the buns: In a small bowl, combine the milk, granulated sugar, and Stir until combined, and let rest for 15 minutes.
In the bowl of a stand mixer fitted with the paddle attachment, mix together 4 cups of the flour, the salt, cinnamon, nutmeg, and cardamom until combined. Mix in the eggs and butter.
Pour the yeast mixture over the flour. Switch to the dough hook attachment and mix for 5 to 6 minutes. Add the dried fruit and orange zest and mix for another minute. Add more flour if the dough is wet. It should be soft and elastic.
Coat a large bowl with the vegetable oil, place the dough in the bowl, and roll it so all sides are coated with a bit of oil. Cover with plastic wrap and place in a warm spot until doubled in size, 1 to 2 hours.
Preheat the oven to 375 degrees F. Line a baking sheet with parchment paper.
Divide the dough into 15 Roll each piece of dough into a bun and place on the prepared baking sheet. Cover with a damp tea towel and set aside for 30 minutes, until the buns have doubled. Bake the buns for 20 to 25 minutes, until golden brown.
For the syrup: In a small saucepan, combine a 1/4 cup of water and the granulated sugar and bring to a boil over low Let it boil for a few minutes until the syrup has thickened. Remove from the heat and brush the tops with the syrup.
For the icing: In a small bowl, whisk together the confectioners' sugar, cream cheese, butter, vanilla, and water until a creamy consistency is achieved. Transfer the icing to a piping bag and pipe an "X" over each bun. Serve.
Have you made hot cross buns? Any recipe tips you might add to this?