Breakfast is certainly the most important meal of the day so why not make it extra appetizing? While the usual toast, pancakes, or muffins are great choices for an engaging first meal, I've got something simple yet luxurious up my sleeve: Kumquat Scones!
Kumquat Scones are pretty easy to make and you won't find yourself stumbling all over the kitchen just to prepare a simple but beautiful dish. Fruits are often added to scones to enhance their flavor, but with kumquats, you'll get something totally out of this world! It's got the right amount of sweetness and tartness to go with its slightly buttery, fresh-from-the-oven flavor. Adding in some unsweetened applesauce and soy or almond milk just makes it even better and more savory. I would suggest using soy milk if you want something slightly sweeter and creamier; almond milk if you want that same creaminess, but with a lighter feel and some nutty undertones.
I think what sets Kumquat Scones apart from other fruity scones is that it's got a whole lot of personality. It marries that familiar, well-loved biscuit flavor with the exotic twist from kumquats. It also bears a more complex taste than just your garden-variety toast or English muffins, making Kumquat Scones the perfect companion to your morning tea. If you're feeling a little adventurous, you can even pair it up with some freshly brewed coffee!
Besides being healthy, Kumquat Scones are just a joy to eat. It's certainly a great way to start your day. If you're in too much of a hurry, you can always pack them in a Tupperware and munch on them on the way to school or work. Just be sure to bring enough for the trip!
Print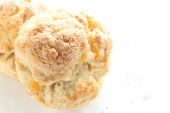 Kumquat Scones
The scone is such a basic yet luxurious breakfast item. With more personality than toast and more complex flavor than an English muffin, a Kumquat Scones just makes breakfast a joy. Add the sweet-tart goodness of kumquats to the mix, and you've got a great breakfast!
Author:
Prep Time:

20 minutes

Cook Time:

25 minutes

Total Time:

45 minutes

Yield:

Serves 8

Category:

Breakfast
Ingredients
1 1/2 cups

all-purpose flour

1 cup

whole wheat flour

3/4 cup

sugar

2 teaspoons

baking powder

1/2 teaspoon

salt

1/4 cup

butter cut in pieces

1/4 cup

unsweetened applesauce

1 cup

fresh kumquats, sliced thinly and with seeds removed

3 tablespoons

milk (or soy milk, almond milk)
Instructions
Preheat oven to 375 degrees F.
Lightly grease a large baking sheet, or line with parchment, then grease.
In a large bowl, combine flour, sugar, baking powder, and salt.
Use a pastry cutter, two forks, or your hands to cut the butter into the flour mixture until the mixture resembles coarse sand.
Stir in the applesauce and slice kumquats just enough to combine.
Add the milk, one tablespoon at a time, until the dough comes together.
Divide the dough into 2 equal parts. Form them into balls and flatten them.
Put the flattened dough on your greased baking sheet and cut into quarters.
Bake for about 25 minutes, until the scones are golden brown and firm.
Have you tried this recipe? This could become your new favorite breakfast—please tell us how it turned out for you. For more information on growing kumquats, check out our Crazy For Kumquats gardening guide.