I had just come in from the garden where I'd been harvesting Garlic chives for brunch when the phone rang. Those six friends I'd been expecting had run into four of our other friends in town; could they come to brunch, too?
Why not? The more the merrier. I headed back out to the garden to snip some more Garlic chives to go into the additional cheese and chive frittatas I'd be cooking soon. Good thing I have an active herb garden.
Cooking with chives is a simple joy, and chives add a lot of flavor for just a little work. This is one of my go-to recipes when company comes calling. In truth, I could make it ahead of time and pop it into the oven while we're out on the deck enjoying our first coffee and conversation. Maybe I'll make an extra and save it for easy breakfast for the rest of the week.
When you make this frittata, put your own spin on it. Maybe you have a lot of onion chives growing in your garden or on your balcony. Incorporate the freshest flavors you have on hand, and you can't go wrong. Just make sure you have enough eggs in case you have extra guests at the table.
I've been growing chives outdoors for years now, and I have quite a formidable herb garden going. One of my friends is always on the lookout for plants that are easy to grow and hard to kill. Maybe I'll split one of the bunches of chives and put some into a nice planter for her. She can grow them on her windowsill all year long.
Let us know how your cheese and chive frittata comes out, and what chive varieties you're using!
Print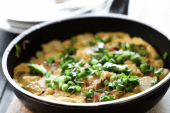 Cheese & Chive Frittata
A frittata is really an anytime sort of dish. It's good from morning to night. It just takes regular scrambled eggs to the next level. The instructions have you covered, whether you have an oven-safe skillet or not. Make it your way. You can even prepare this a day ahead. This is a great dish to have on hand for an easy-to-heat-up breakfast.
Author:
Prep Time:

15 minutes

Cook Time:

25 minutes

Total Time:

45 minutes

Yield:

Serves 4

Category:

Breakfast
Ingredients
8

large eggs

1/2 cup

milk

1/2 cup

chopped chives

1 cup

sweet onion, sliced thinly

1 tablespoon

minced garlic

1/2

to

2/3

cup shredded cheese (cheddar, mozzarella, or your favorite)

1 tablespoon

olive oil
Salt and pepper
Instructions
Whisk together the eggs, milk, chives, and salt and pepper.
Heat the olive oil in a medium-size cast iron skillet or other oven-proof pan over medium-high heat.
Add the onions to the pan and sauté for about 5 minutes, until the onions are soft.
Turn the heat down to medium-low and slowly pour in the egg mixture.
Add the shredded cheese and stir for about a minute, until the eggs begin to set.
At this point, preheat your broiler to 350 degrees F.
Allow the mixture to cook undisturbed for about 10 minutes, until the eggs are mostly set.
When the eggs are mostly set, put the pan in the oven, 6 inches under the broiler, for about 2 minutes, until the top is lightly browned.
Allow the frittata to rest on the stove for a few minutes, then slice and serve.
If you don't have an oven-proof pan, you can pour the egg and cheese mixture into a glass pie plate or other baking dish.
Sauté the onions and then add them to the egg and cheese mixture.
Bake for 20 to 25 minutes at 375 degrees F.
Have you tried making this cheese and chive frittata? What's your favorite way to make it? Please tell us how it turned out for you.