It's said that breakfast is the most important meal of the day, so why not start your morning right with these Air Fryer Breakfast Potatoes? They're delicious, easy to cook, and it only takes a little over half an hour to complete! It's perfect for busybodies who are constantly on the go.
What sets this recipe apart is, of course, the use of an air fryer. Air fryers are a wonderful innovation that drastically cut back on oil consumption when cooking. They basically mimic the results of deep-frying without using any oil. That's great news for people like me who prefer healthier alternatives to traditional deep-frying! Besides, spuds can absorb a lot of oil when deep-fried, so air fryers definitely get my vote!
Even if you don't have an air fryer lying around, don't fret! You can still make Air Fryer Breakfast Potatoes just by using an oven. With this method, you only have to use parchment paper or a bit of cooking spray or olive oil. This way, you don't have to resort to deep frying to get tender, golden brown potatoes that are healthier but just as delicious!
As the perfect breakfast fare, these air fryer breakfast potatoes are best served alongside other favorites like bacon, eggs, and pancakes. To make them even more delectable, homegrown white potatoes are a perfect choice! Now you can enjoy a complete breakfast with a hearty serving of carbs without worrying about indulging in too much oil.
Print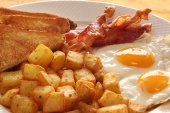 Air Fryer Breakfast Potatoes
Start the day right by enjoying these air fryer breakfast potatoes! These potatoes come out crispy and delicious.
Author:
Prep Time:

15 minutes

Cook Time:

20 minutes

Total Time:

35 minutes

Yield:

Serves 6

Category:

Breakfast
Ingredients
3

large potatoes, such as Yellow potatoes or other waxy all-purpose type of potatoes, diced (with the skins on is tastier!)

1

large yellow onion, diced

1

large green pepper, diced

2 teaspoons

sea salt

1/2 teaspoon

freshly ground black pepper

2 tablespoons

olive oil

1 cup

shredded cheese, optional
Instructions
Preheat air fryer (or oven) to 400 degrees.
Combine potatoes, onion, and green pepper in a mixing bowl.
Add seasonings and olive oil. Stir until all ingredients are evenly coated.
Pour the mixture into the air fryer basket, or spread evenly on a parchment-line baking sheet. (If you're out of parchment paper, use cooking spray or a little olive oil.)
Cook/bake for 15 to 20 minutes, until the potatoes are tender and browned to your liking. If you're using an air fryer, shake the basket every 5 minutes to ensure even cooking.
Optional: add shredded cheese to the mixture in the last 5 minutes of cooking, or add it afterward and microwave for 1 to 2 minutes to melt the cheese.
Notes
If you don't have an air fryer, no worries; just spread them on a parchment-lined baking sheet in a 400-degree oven for 15 to 20 minutes.
Potatoes and sweet potatoes have been around for thousands of years, and they're a main staple in many cultures. Both of these root vegetables are easy to grow at home. With our How to Grow Potatoes Gardening Guide, you'll learn all you need to know about growing and enjoying these fabulous root vegetables.
Have you tried this recipe? It's a great way to give your weekend breakfast a boost. Please tell us how it turned out for you.