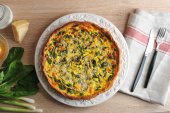 Onion & Scallion Tart
Author:
Prep Time:

20 minutes

Cook Time:

45 minutes

Total Time:

1 hour 5 minutes

Yield:

Serves 6

Category:

Breakfast
Ingredients
1

9-inch, unbaked pastry shell

2

medium sweet onions, sliced thinly

6

scallions, sliced thinly

2 tablespoons

minced chives

1/2 cup

crumbled feta cheese

1/3 cup

grated Parmesan cheese

3/4 cup

half-and-half

1/2 cup

whole milk

2 tablespoons

olive oil

3

large eggs

1/2 teaspoon

salt

1/4 teaspoon

ground pepper

1/8 teaspoon

nutmeg

1/8 teaspoon

hot pepper sauce

1 tablespoon

Dijon mustard
Line the pastry shell with a double layer of heavy-duty aluminum foil.
Bake at 450 degrees F for 8 minutes.
Remove the foil; bake for 5 more minutes.
Cool pastry shell on a wire cooling rack.
In a small skillet, sauté the sweet onions in oil until they're tender; let them cool.
Combine eggs, feta cheese, salt, pepper, nutmeg, and hot pepper sauce in a food processor; process until smooth.
Add the half-and-half and milk to the egg and cheese mixture gradually; process until the mixture is well blended.
Brush the inside of the crust with the Dijon mustard.
Sprinkle the scallions, chives, and sauteed onions over the crust.
Pour the egg mixture over the onions; top with Parmesan cheese.
Bake at 375 degrees F for 30 to 40 minutes, or until a knife inserted in the middle of the tart comes out clean.