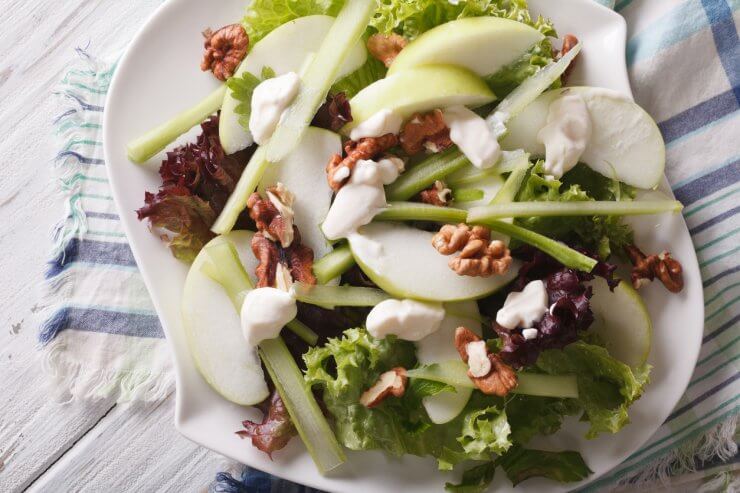 What do you make when you don't know what to make? Try going back to the classics. The Waldorf Salad is a classic recipe—and proof that you don't need a lot of fancy ingredients to make a tasty impression.
I try to imagine the Waldorf Astoria of the late 1890s, and the challenge of providing a stunning menu of high-class cuisine to the hotel guests. Chef Oscar Tschirsky developed his delicious salad from just three simple ingredients: apples, celery, and mayonnaise. These ingredients were available year-round, so this salad could be a consistent offering on the Waldorf Astoria's menu.
Imagine how refreshing a Waldorf Salad must have been during the dog days of summer in the big city! If you're growing your own apple trees, it's a short trip to bring history alive on your dinner table with this classic 19th-century salad.
Of course, recipes are always subject to variation, and the Waldorf is no exception. No doubt, the Waldorf Salad you know includes walnuts and sliced grapes. Those ingredients came later. You can put your own spin on this classic salad—try using two different apple varieties to add some color and give the salad another dimension of flavor.
Looking for something more than just a side salad? Add some shrimp, chicken, or turkey to the salad and call it a meal. Decorate it with mini marshmallows to attract younger diners.
Now, when I look at my apple trees, I see history. I see Johnny Appleseed seeding the countryside with saplings. And I see the grandeur of the Waldorf Astoria Hotel and its role in creating a humble salad that has stood the test of time.
When it comes to saving time in the kitchen, a Waldorf Salad is a quick, easy, and elegant way to impress your guests. Tell them all about the Waldorf's grand origins—just don't tell them how easy it is to make!
Print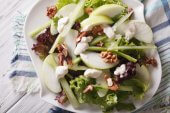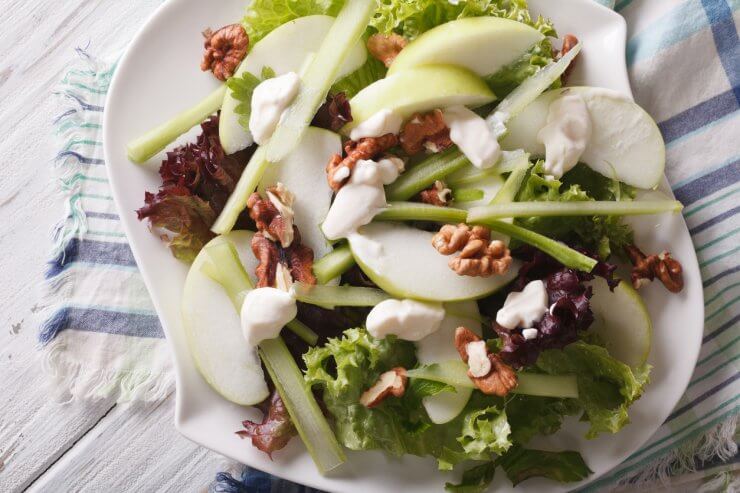 Waldorf Salad
The key to making this classic Waldorf Salad recipe is to chop all ingredients about the same size, ensuring a full meld of flavors in every forkful!
Author:
Prep Time:

15 minutes

Total Time:

15 minutes

Yield:

Serves 4

Category:

Salads & Dressings
Ingredients
6 tablespoons

mayonnaise

1 tablespoon

lemon juice

1/2 teaspoon

salt
Pinch of fresh black pepper

2

firm sweet apples, cored and diced

1 cup

seedless red grapes, halved

1 cup

celery, thinly sliced

1 cup

toasted walnuts, chopped
Leaf lettuce to act as a serving base
Optional: you can substitute yogurt for mayonnaise—just eliminate the lemon juice
Optional additions: small shrimp, cubed chicken, or cubed turkey
Instructions
In a medium-sized bowl, combine mayonnaise, lemon juice, salt, and pepper. Whisk well.
Add apple, celery, grapes, and walnuts to the bowl.
Stir ingredients to coat them well with the dressing.
Serve on a bed of fresh lettuce.
Notes
If you want to transform the Waldorf Salad into a kid-friendly side dish, sprinkle on some miniature marshmallows for a sweet contrast.
Have you made a Waldorf Salad? How do you put your own spin on this classic salad? Please tell us how you like to make Waldorf Salad.