A friend of mine makes it his personal mission to impress his mother-in-law with dishes he cooks himself. It's been a great endeavor so far and I love swapping recipes with him, but this one, in particular, is something I look back on fondly. You see, this Carrot and Parsley Salad is an absolute dream for anyone that already loves carrots. The natural sweetness of fresh carrots is highlighted by the tangy dressing made with Dijon mustard and maple syrup and the touch of slightly bitter earthiness from the parsley. Writing this is making me crave a serving!
Anyway, back to the topic at hand — people that don't love carrots might not share the same enthusiasm. Guess which one his mother-in-law was. The way he narrated her subtle look of disdain when she saw it, had me in tears.
What I love most about this story, though, is that it actually has a happy ending. He managed to convince her to at least give the Carrot and Parsley Salad a try and she ended up absolutely loving it! Apparently, her bias was a product of eating boiled, soggy carrots during childhood and she just never went out of her way to try better carrot dishes later on.
I told my friend he should try introducing her to carrot cake next. At any rate, I definitely had to try this recipe after he told me the story and it is indeed delicious. I have made my own modifications, and now I love it even more. You don't even need a lot of prep time — 15 minutes of prep and you've got yourself a fresh salad. It works wonderfully as a side dish for either lunch or dinner, and in case you don't finish the serving, it can last up to 5 days in the fridge.
Print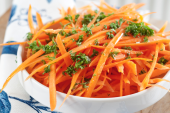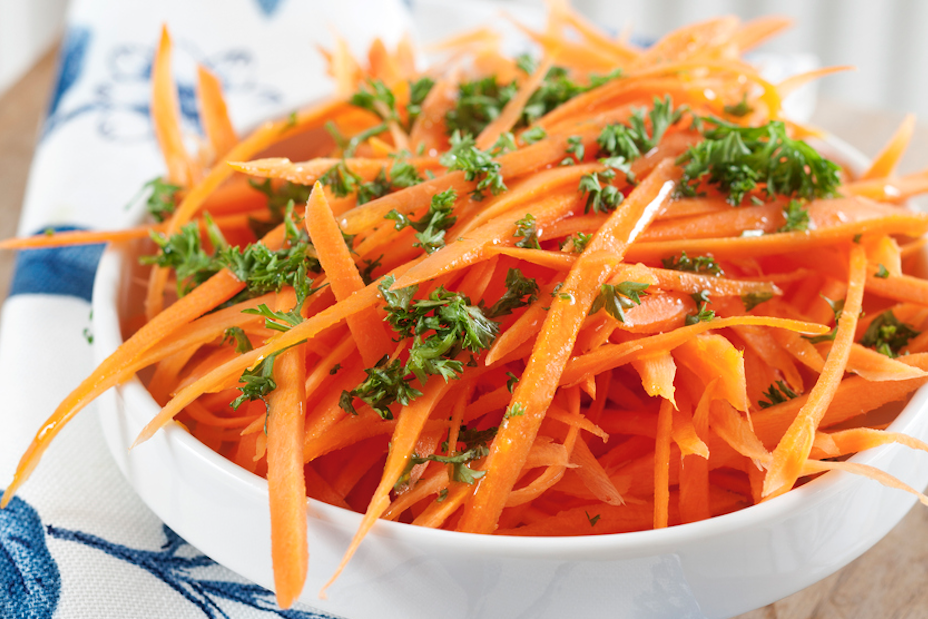 Carrot and Parsley Salad
This delicious and healthy Carrot and Parsley Salad combines the fresh flavors of carrot and parsley with a sweet, tangy dressing.
Author:
Prep Time:

15 minutes

Total Time:

15 minutes

Yield:

Serves 4

Category:

Salads & Dressings
Ingredients
1 tablespoon

white wine vinegar

1/2 tablespoon

Dijon mustard

1 teaspoon

maple syrup

1/2 teaspoon

kosher salt

3 tablespoons

olive oil

1

pound large whole carrots, peeled and julienned

2

scallions

3 tablespoons

chopped parsley
Instructions
In a medium bowl, whisk together white wine vinegar, Dijon mustard, maple syrup, and kosher salt.
Gradually add the olive oil.
Julienne the carrots with the grating blade of a food processor.
Thinly slice scallions.
Finely chop parsley.
Add the carrot mixture to the bowl with the dressing and stir to combine.
Serve immediately or refrigerate for up to 5 days.
Parsley is a must-have herb for any kitchen—and every cook should have fresh parsley available to chop at all times. With our How to Grow Parsley Gardening Guide, you'll have everything you need to know about growing and enjoying this essential herb!
Have you tried this Carrot and Parsley Salad recipe? It's so easy and very tangy and unique—please tell us how it turned out for you.