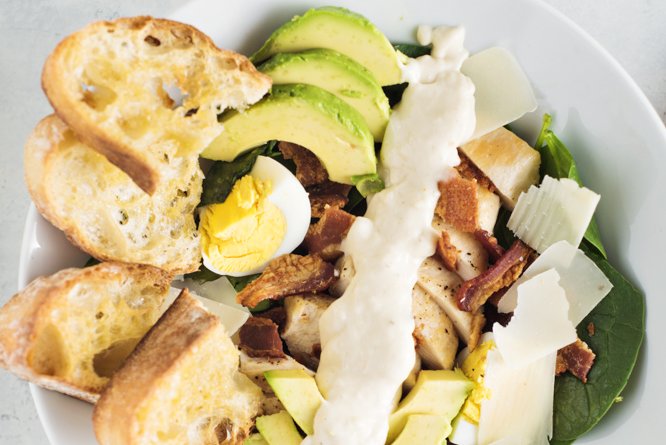 Here's a quick myth buster before we begin: the Caesar salad isn't made by Julius Caesar, and neither was it named after him. Instead, the one credited for the creation of this beloved side dish was Caesar Cardini, a restaurateur born in northern Italy.
However, he didn't make the Caesar salad in Italy either — he actually came up with the dish in Tijuana, Mexico. There's quite a bit of history behind the Caesar salad, but let's just say we probably wouldn't be enjoying this dish if it weren't for the Prohibition in the 1920s (Caesar moved to Mexico from his restaurant in California at the time), and Caesar running out of ingredients.
I think it's safe to say that the first Caesar salad was more of an accidental discovery, but the same could be said of many amazing discoveries in history. Since its invention, people have loved the Caesar salad and, over time, the recipe has evolved.
For this Homemade Ultimate Caesar Salad, we're making both the salad and the dressing. One ingredient that likely stands out are anchovies — that's not something you see every day in a salad! Believe it or not, though, anchovies give this dish quite a savory punch. Using anchovy paste makes this addition more convenient and a little more subtle as you can enjoy that burst of umami flavor without it being too overpowering.
The most enjoyable part of making this Homemade Ultimate Caesar Salad is that it's a great exercise in trying to balance all the distinct flavors to make them complement each other. Adding avocado slices, in particular, not only lends it a soft and creamy texture, but it also helps harmonize the saltiness, tanginess, and subtle spice from all the other ingredients.
With this Homemade Ultimate Caesar Salad, you can put your own spin on a monumental culinary discovery!
Print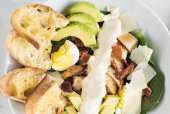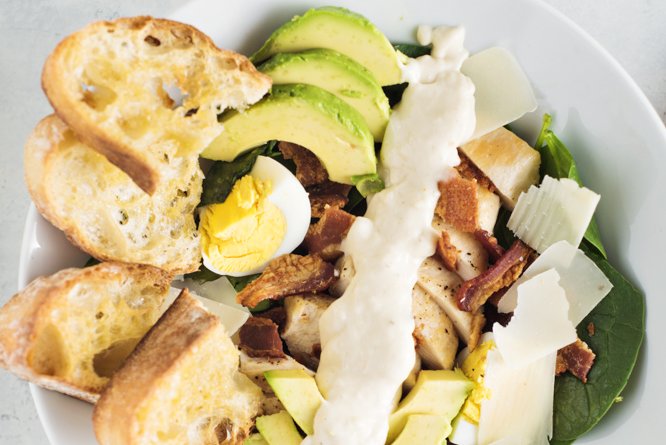 Homemade Ultimate Caesar Salad
A balancing act of flavors, the Homemade Ultimate Caesar Salad is a culinary discovery that has definitely made its mark in history!
Author:
Prep Time:

20 minutes

Cook Time:

10 minutes

Total Time:

30 minutes

Yield:

Serves 2

Category:

Salads & Dressings
Ingredients
1/2

loaf ciabatta bread, sliced

1 tablespoon

olive oil, plus 1 teaspoon
Salt and pepper

1

pound boneless skinless chicken breasts

1 cup

reduced-fat mayonnaise

2

cloves garlic, minced

3 tablespoons

grated Parmesan cheese

2 tablespoons

lemon juice

2 teaspoons

anchovy paste

1 teaspoon

Dijon mustard

8 ounces

baby spinach

8

slices reduced-sodium bacon, cooked crisp and crumbled

2

hard-boiled eggs, cut in half

1

avocado, sliced

1/2 cup

shaved Parmesan cheese
Instructions
Preheat the oven to 400 degrees F. Line a baking sheet with parchment paper. Place the ciabatta slices on the baking sheet and drizzle with 1 tablespoon of the olive oil.
Bake for 4 to 5 minutes, then flip the slices over and bake until the bread is crispy. Cut the slices in half.
Salt and pepper both sides of each chicken breast.
In a large nonstick skillet, warm the remaining 1 teaspoon olive oil over medium heat.
Add the chicken and sear for 5 to 6 minutes on each side or until fully cooked. Remove to a cutting board, cover with foil, and let rest while you prepare the dressing.
In a medium bowl, whisk together the mayonnaise, garlic, grated Parmesan cheese, lemon juice, anchovy paste, mustard, and salt and pepper to taste. Set aside.
Slice the chicken.
On a large platter or in individual salad bowls, place the spinach, followed by the chicken, bacon, eggs, avocado, shaved Parmesan cheese, and bread slices.
Drizzle the dressing over the top. Serve.
Have you made homemade Caesar salad dressing before? What do you think about the anchovy paste?