If you're all out of the typical leafy greens, this Shaved Fennel Salad is a wonderfully refreshing alternative that doubles as a showcase for a healthy harvest of home-grown fennel. This crisp salad is a great palate-cleanser when you serve it as a side dish, but it can also hold its own as a full meal when you add proteins like chicken or fish.
If you're planning to serve this to guests, there's a good chance they won't even realize it's fennel unless you tell them! That's how unique the presentation of this salad is.
This Shaved Fennel Salad may require several ingredients, but the spotlight is always on the fennel. The thinly-sliced fennel bulbs and baby cucumbers are what give this salad its satisfyingly juicy crunch. When you add the dressing made of extra-virgin olive oil, freshly-squeezed lemon juice, coarsely-ground sea salt, and freshly ground pepper, you get an added dimension of sweet-and-sour that further bolsters the crisp greens. One detail I particularly enjoy in this salad is the addition of ripe peach slices on top of the mixture—their sweetness helps highlight the fennel's natural sweetness and mild licorice flavor. Plus, I just love salads that include fruit.
That's not the end of this salad's flavors, either; the recipe also calls for a drizzle of basil pesto over the entire platter and a generous topping of crumbled feta cheese, chopped up basil, and mint. The cheese adds a touch of richness and saltiness, while the herbs contribute a minty fresh and slightly peppery finish. The best part is that it only takes 15 minutes in your kitchen to enjoy all these flavors!
Print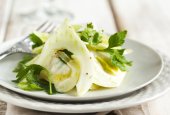 Shaved Fennel Salad
Refreshing, cool, and crunchy, this Shaved Fennel Salad is great as a side or as a full meal!
Author:
Prep Time:

15 minutes

Total Time:

15 minutes

Yield:

Serves 4

Category:

Salads & Dressings
Ingredients
2

fennel bulbs, fronds (the leafy top) removed, and thinly sliced

2

baby cucumbers, thinly sliced

1 tablespoon

extra-virgin olive oil

1 1/2 tablespoons

freshly squeezed lemon juice

1/2 teaspoon

coarsely ground sea salt

1/2 teaspoon

freshly ground pepper

2

ripe peaches, pitted and sliced

1/3 cup

mix of chopped basil and chopped mint

1/4 cup

feta cheese crumbles

2 tablespoons

basil pesto
Instructions
In a large mixing bowl toss fennel, cucumber, olive oil, lemon juice, salt, and pepper until uniformly coated.
Place the fennel mixture on a serving platter and arrange the peach slices on top.
Drizzle pesto over the entire platter.
Sprinkle with feta cheese and chopped herbs.
Fennel deserves a lot more love and attention from food gardeners! The Fabulous Fennel Gardening Guide will give you everything you need to know about fennel, including planting tips, harvesting methods, and quick-and-easy recipes that will please even the most discriminating diner! Check it out and start growing fennel today.
Have you tried this sumptuous salad? It's so easy and quick to make—15 minutes qualifies as just about the easiest of recipes. Please tell us how this Shaved Fennel Salad turned out for you by commenting below.