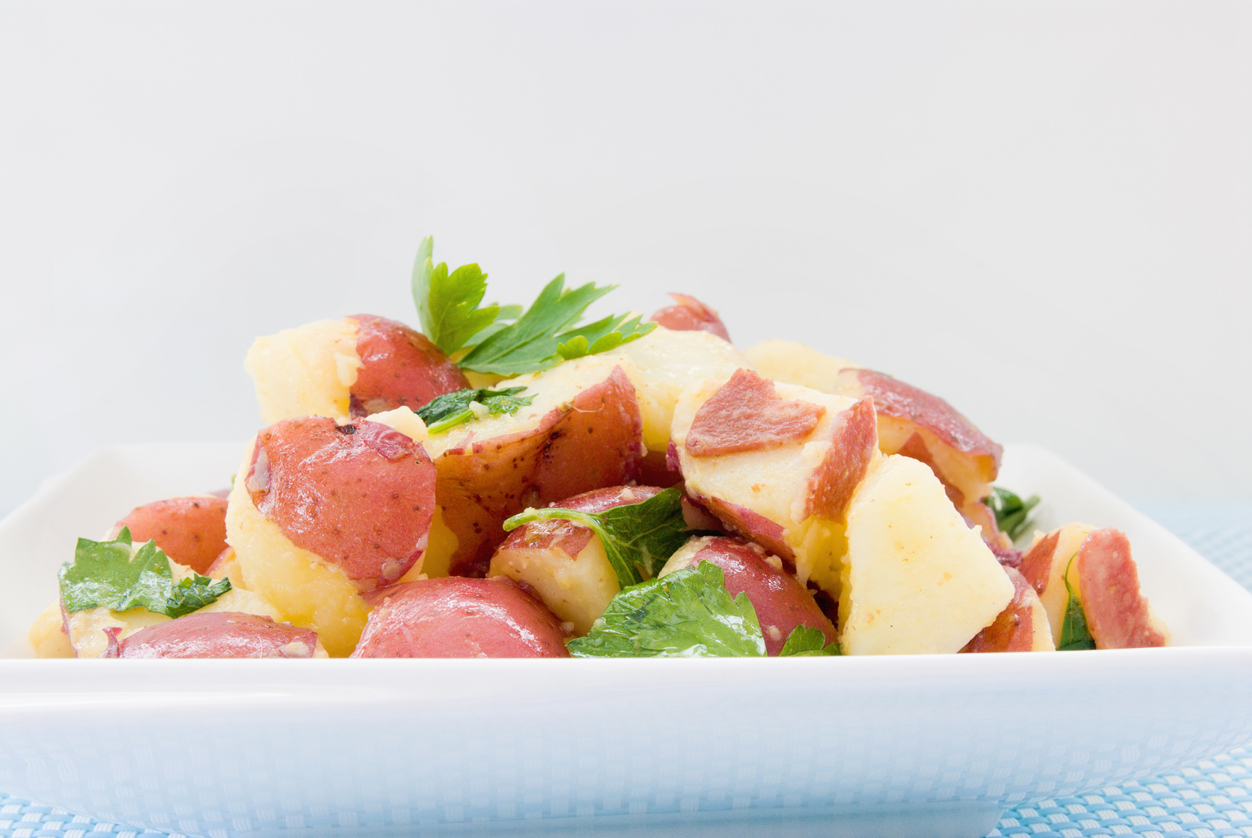 This Parsley Potato Salad is one of my favorite potluck dishes. It's incredibly easy to prepare and always gets rave reviews from all the potluck attendees. My friend was the one that graciously introduced me to this recipe after swearing up and down that this was the only potato salad recipe I would ever be making from then on. Apparently, the source of her confidence was from getting her picky eater of a child to enjoy it — he wasn't a fan of the typical texture of potatoes, but happily accepted this dish!
When I tried it out the first time, I was definitely impressed. The baby potatoes were soft, fluffy, and smooth, and savoring them with your eyes closed can lead to a happy little moment of relaxation. The secret to their smoothness lies in their preparation — adding the mix of white wine vinegar, minced shallots, salt, and water to the bowl while the potatoes are warm allows them to slowly absorb the liquid. The flavor is nothing to shake a stick at, either — it hits the perfect balance of zesty and tangy. While I do still love my mother's potato salad recipe (with the good old mayonnaise and Greek yogurt dressing), this Parsley Potato Salad is a very strong contender. I could easily go through a whole bowl on my own, but I at least try to hold myself back when I'm making enough for the entire family!
Potatoes are some of the easiest vegetables to grow in your backyard so if you're already well on your way to harvesting a batch of parsley, consider cultivating some potatoes to have the ingredients for this tasty salad on hand.
Print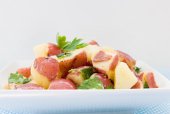 Parsley Potato Salad
This simple and tasty parsley potato salad will be a staple in your house. This dish is a great combination of zest and smoothness; even your kids will like this one!
Author:
Prep Time:

5 minutes

Cook Time:

30 minutes

Total Time:

45 minutes

Yield:

Serves 8

Category:

Salads & Dressings
Ingredients
3

pounds baby red potatoes

1/4 cup

minced shallot

1/4 cup

white wine vinegar

1 teaspoon

kosher salt

1/4 cup

capers, drained

1 tablespoon

fresh parsley

2 tablespoons

olive oil
Fresh ground pepper
Instructions
Fill a large pot with cold water and add kosher salt.
Add the whole potatoes to the pot and bring to a boil.
After boiling starts, cook for 8 minutes or until you can pierce the potatoes with a fork.
Mince shallot.
Drain potatoes, and when cool enough to handle but still warm, slice them into bite-size pieces.
Place potatoes in a mixing bowl and mix in the minced shallot, white wine vinegar, kosher salt, and 1/2 cup warm water.
Let stand for 5 minutes, occasionally stirring gently (the warm potatoes will absorb the liquid as they stand).
Add capers, parsley, olive oil, and fresh ground pepper to taste.
Serve warm or at room temperature.
If you're interested in growing your own potatoes for this dish, be sure to check out How to Grow Potatoes: Everything About Growing and Enjoying Spuds. This collection gives you information about different types of potatoes, what they need to grow, plus 10 more delicious potato recipes, and even a brief history of this ancient food staple! Check it out!
As for parsley, it's a must-have herb for any kitchen—and every cook should have fresh parsley available to chop at all times. With our How to Grow Parsley Gardening Guide, you'll have everything you need to know about growing and enjoying this essential herb!
Have you tried this recipe? It's an easy and fresh potato salad—please tell us how it turned out for you.