It's a love story for the ages. Two vegetables, once considered polar opposites, have found true love and happiness together. What is this magical pairing? Broccoli and cauliflower, of course! These two veggies might not seem like they would go well together, but trust me–they are delicious when combined in this Broccoli-Cauliflower Salad.
Both broccoli and cauliflower are extremely good for you. Cauliflower is a great source of vitamin C, vitamin K, and folate, while broccoli is high in vitamin A, vitamin C, and fiber. These two vegetables together provide a wealth of nutrients that are essential for optimal health. They are also low in calories, making them a great choice for people who are trying to lose weight. Broccoli and cauliflower are an excellent way to get your daily dose of vitamins and minerals, and they taste great too!
The taste of broccoli and cauliflower is a perfect match. The earthy notes of the broccoli pair perfectly with the slightly sweet flavor of the cauliflower, creating a unique and delicious combination. They also have similar textures, allowing them to be cooked together without one overpowering the other.
The pairing of broccoli and cauliflower creates a culinary masterpiece that is sure to please the entire family. Not only is it good for you, but it also tastes delicious.
This Broccoli-Cauliflower Salad is a great dish to take to potluck suppers and makes a favorite salad for the family. It is packed with flavor and nutrition and is sure to be a hit at any dinner table.
So next time you're in the mood for something healthy but tasty, try this perfect pair of broccoli and cauliflower. You won't regret it! Your taste buds will thank you for introducing them to such a delicious duo.
Print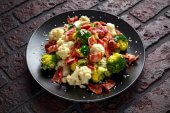 Broccoli-Cauliflower Salad
This Broccoli-Cauliflower Salad is a great dish to take to potluck suppers and makes a favorite salad for the family.
Author:
Prep Time:

20 minutes

Cook Time:

45 minutes

Total Time:

1 hour 5 minutes

Yield:

Serves 6

Category:

Salads & Dressings
Ingredients
1 cup

broccoli florets

1 cup

cauliflower florets

2 cups

hard-cooked eggs, diced

1 cup

shredded Cheddar cheese

6

slices bacon

1 cup

mayonnaise

1/2 cup

white sugar

2 tablespoons

white wine vinegar
Instructions
Place bacon in a large, deep skillet. Cook over medium-high heat until evenly brown. Crumble and set aside.
In a medium-sized salad bowl, layer in order the broccoli, cauliflower, eggs, cheese, and bacon.
Prepare the dressing by whisking together the mayonnaise, sugar, and vinegar. Drizzle dressing over top and serve.
Cauliflower love is on the rise in restaurants and homes everywhere, from cauliflower rice to pizza crust, and it's easy to see why—it's a health power food and it tastes delicious as well. While cauliflower is known to be tricky to grow, our Marvelous Cauliflower Gardening Guide will get you fully prepared to take on the challenge.
Have you tried this Broccoli-Cauliflower Salad recipe? Please tell us how your family and friends liked it.