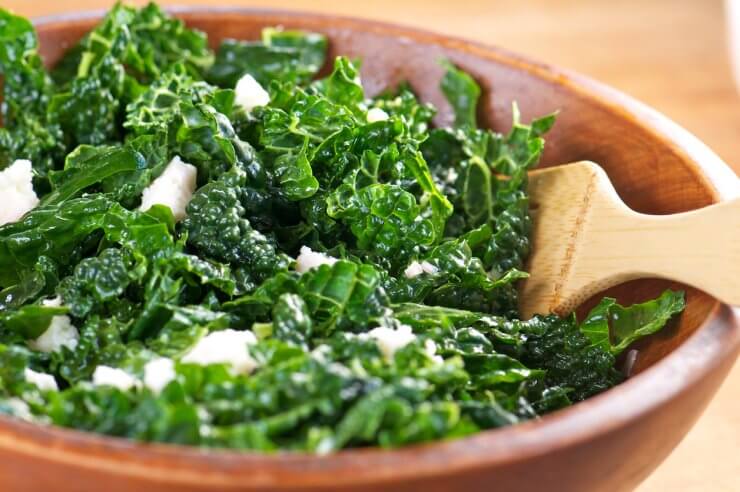 As the acclaimed Queen of Greens, kale should be a no-brainer choice for a salad. But if you're already making a face and shaking your head, chances are you haven't had a kale salad prepared the right way.
Kale's a hardy vegetable, and sometimes the leaves can be a little tough. Baby kale leaves are almost always tender, but if you have more mature leaves and you really have a hankering for kale salad, whatcha gonna do? Science.
Cooking is, after all, a creative and delicious application of chemistry. So use the tools available to you in your kitchen to make every kale salad a success.
It helps to start off with fresh kale—the variety depends on your preference. Baby kale is best, but freshness counts. After that, the formula is pretty simple: kale + oil + salt + massage = delicious salad. That's really all there is to it. Anything else you add to your kale salad after that is a bonus. The key is make sure you don't skip the massage step.
Shaking your head again? Why should you massage your salad? Well, when you combine lemon juice (or some sort of vinegar) with salt, you have an acid and an abrasive that will join forces to help break down the cell walls of the kale leaves, leaving them tender and flavorful. And don't worry about your salad going soggy if you put it in the fridge. It will stay delicious and tender-crisp.
If you've ever had a kale salad at a restaurant (or at a friend's) and the leaves were just too tough to tackle, you know they didn't take this critical step. Massage your kale with salt and acid, and your leaves will relax and release their tenderness and flavor.
Let us know how your kale salad turns out!
Print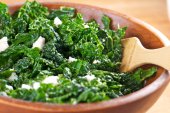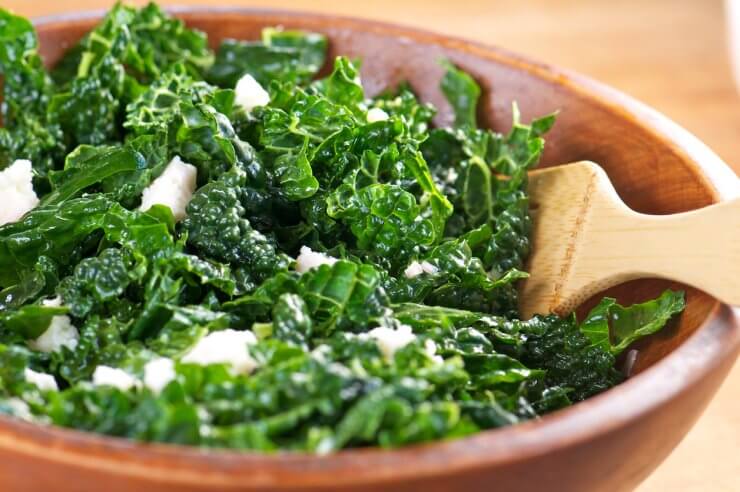 Kale Salad
If you're going to go to the trouble of planting kale, you should reap the benefit with a fresh salad. Don't skip the massage step—your salad will come out better than any kale salad you've had before!
Author:
Prep Time:

20 minutes

Total Time:

20 minutes

Yield: Makes

4 cup

salad

1

x
Category:

Salads & Dressings
Ingredients
2 tablespoons

lemon juice (fresh is best)

1/2 teaspoon

salt

1

clove minced garlic

1/4 cup

olive oil

4 cups

chopped kale, no ribs (baby kale is best, but go for the freshest you can find)

1 teaspoon

Dijon mustard

2 tablespoons

sliced almonds (toasting optional)

1

small apple, cored and thinly sliced (skin optional)

2 tablespoons

feta or goat cheese
Instructions
Combine the lemon juice, olive oil, mustard, and salt in a large mixing bowl.
Add the kale.
With clean hands, gently massage the dressing into the kale; this helps break down the cell walls and make the leaves more tender and delicious.
Add almonds and apples.
Sprinkle with cheese.
Refrigerate until ready to serve. The salad will keep in the fridge for several days.
Want to get into the wonderful world of growing kale? Kale's a great crop to grow—especially for gardeners who live in regions with frost. Kale loves the cold—it even tastes better after a little frost! If you want to know more about growing kale, check out Kale: The Queen of Greens: The Complete Guide to Growing, Cooking, and Eating Kale.
Have you tried this kale salad recipe? Were the leaves tender? What kind of cheese did you use? Please tell us how this turned out for you.