Any diner worth its salt will have a classic BLT on the menu—usually served on toasted white bread slathered with mayo. Admittedly, delicious. But alas, not something I can order on a regular basis. Every once in a while, I'll indulge myself. But other times, I like to make a BLT Boat at home.
As a home gardener, I think the best BLTs come from the home kitchen—made with freshly baked sourdough bread, local smokehouse bacon, homegrown tomatoes, and lettuce picked fresh that morning. Of course, when I look at it that way, it makes me want to head out to garden to see what kind of lettuce is ready for sandwiches.
I love baking about as much as I love gardening. But, just as I don't eat everything I grow, I don't—or shouldn't—eat everything I bake. The warm, enticing smell of bread fresh from the oven makes me want to take just a little pinch off the end…
So now I'm striving for some balance. Having a thriving home garden means I have plenty to keep me busy—and away from the breadbox. I've been growing Romaine lettuce for quite a few years now because it's sturdy and reliable, and I've found some tasty varieties I really enjoy.
I've made other sandwiches with Romaine instead of bread before: roast turkey with Swiss; a sort of Romaine Reuben with Russian dressing; even a ham and cheese on Romaine.
It's only recently that I've tried making my BLT breadless.  I have to say, on a hot day, it's rather refreshing to have the extra crispness of the Romaine on the outside instead of it being restrained between two slices of rye.
Give this BLT Boat a try and see how you like it.
Print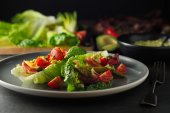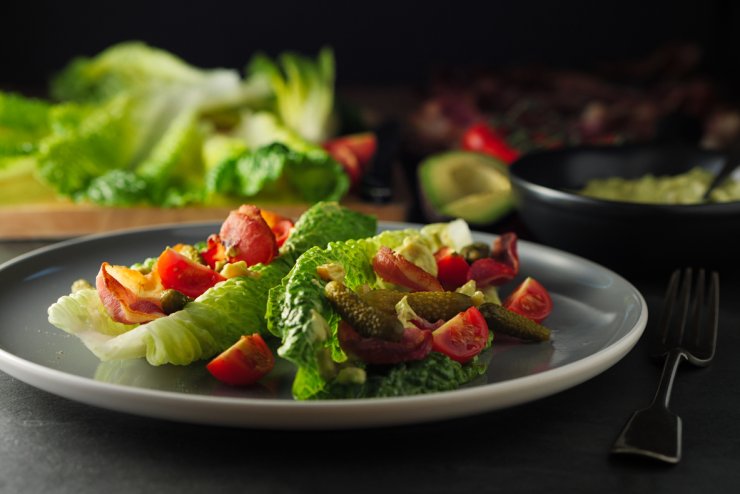 BLT Boat
The BLT (Bacon, Lettuce, Tomato) is a classic sandwich. Cut the carbs from this classic and let the lettuce do the heavy lifting when you make yourself this BLT Boat.
Author:
Prep Time:

15 minutes

Cook Time:

15 minutes

Total Time:

30 minutes

Yield: Serves

4

to 6

1

x
Category:

Salads & Dressings
Ingredients
Romaine lettuce leaves, washed, trimmed, and dried

16

bacon strips

2 cups

chopped tomatoes

2 cups

shredded cheddar cheese

1/2 cup

ranch dressing (or another dressing of your preference)
Instructions
Fry bacon until it is more on the chewy side than the crumbly side. Blot on paper towel.
To assemble your BLT boat, put 1 to 2 slices of bacon in the bottom of the Romaine leaf.
Top with tomatoes and cheese.
Drizzle dressing over the top.
Alternate Assembly: Crumble bacon into pieces. Mix with tomatoes, cheese, and dressing. Fill Romaine boat with mixture.
Notes
If you like, you can turn your BLT boat into a wrap. Use a lettuce with more flexible leaves. Fill, fold, and serve.
Of course, you can always go the traditional route and make the lettuce part of the sandwich filling rather than the base.
Growing lettuce is as easy as BLT. A cool-season annual, this leafy crop grows readily from seed, and you can sow seeds every few weeks to have a season full of salad! With hundreds of varieties, there's a lettuce for you. Grow it indoors or out, in your garden or on your balcony. With our Leafy Lettuce Collection, you get all the details that go into growing and harvesting delicious, leafy lettuce. Get recipes that go beyond the salad bowl and see what's possible when you grow your own lettuce. Get it all in our Leafy Lettuce Collection right now!
Have you tried this recipe? What's your favorite way to make a BLT? Please tell us your preferred approach.