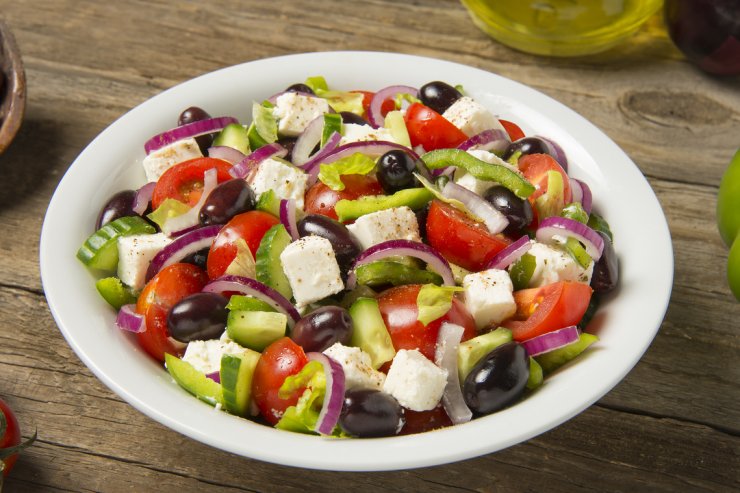 When there's salad, there's lettuce — well, most of the time.
You might be surprised to know that lettuce isn't included in the traditional Greek salad! That's right: the crunchy, refreshing veggie most of us have come to know as a salad staple wasn't something you'd find in a Traditional Greek Cucumber Salad. In its place are cucumbers and tomatoes combined with olives, red onion, a light dressing, and — you guessed it! — feta cheese. Now, that's something that would never go out of fashion for the Greeks because they absolutely love their feta! In fact, they're the highest consumers of feta cheese, with each person consuming an average of 23 kilograms of feta a year.
Besides, what's not to like about feta? It's rich, tangy, and slightly salty. The more mature varieties tend to be on the peppery side. Made with sheep's milk, feta has a more buttery flavor, while those made from goat cheese tend to be milder. It's a simple but engaging addition to this Traditional Greek Cucumber Salad.
Speaking of tradition, there's a simple explanation why lettuce tends to be absent from the traditional Greek salad; it only grows during winter. Salad, however, is primarily considered a summer dish for the Greeks. Cucumbers make for a great salad ingredient because you get that crispy, cool, slightly earthy, and lightly sweet taste. Coupled with some fresh tomatoes, that sweet and refreshing taste becomes more enhanced, balanced out with a bit of tartness.
To complete your Traditional Greek Cucumber Salad, you've got olive oil, lemon juice, oregano, salt and pepper, onions, and Kalamata olives. Unlike black olives, Kalamata olives are more on the milder side of the spectrum, with sweet and fruity undertones.
Whether it's a main dish or a side, this Traditional Greek Cucumber Salad goes deliciously well with pita bread!
Print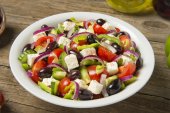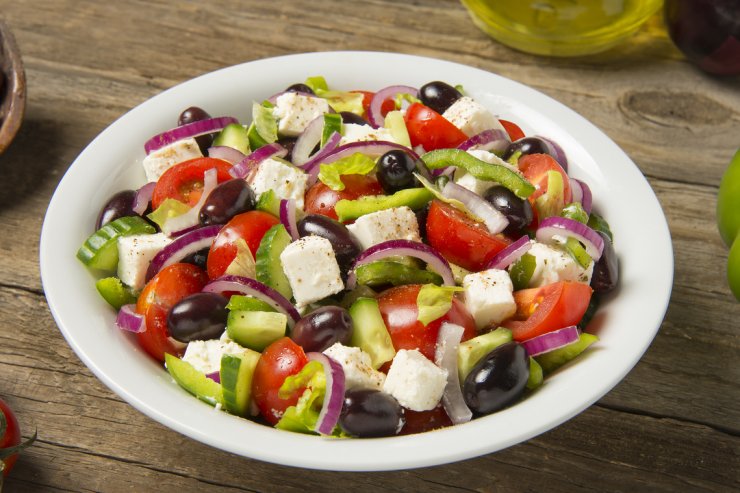 Traditional Greek Cucumber Salad
Enjoy the best of Greece with this light and refreshing Traditional Greek Cucumber Salad made with a combination of cucumbers and tomatoes with olives, feta, red onion, and a light dressing. So simple and fresh! 
Author:
Prep Time:

15 minutes

Total Time:

15 minutes

Yield:

Serves 6

Category:

Salads & Dressings
Ingredients
3

large ripe tomatoes, chopped

2

medium cucumbers, peeled and chopped (seeds removed, if you desire)

1

small red onion, sliced

1/4 cup

olive oil

4 teaspoons

lemon juice

1 1/2 teaspoons

dried oregano

1 cup

feta cheese, crumbled
Kalamata olives, pitted and sliced
Instructions
In shallow salad bowl, or on serving platter, combine tomatoes, cucumber, and onion.
Sprinkle with oil, lemon juice, oregano, and salt and pepper to taste.
Sprinkle feta cheese and olives over salad.
Serve as a main dish or side salad with pita bread.
Cucumbers are easy to grow and will reward you with delicious dishes and health benefits! With our Cucumber Grower's Gardening Guide, you'll have everything you need to know about growing and enjoying this versatile food!
Have you tried this Traditional Greek Cucumber Salad recipe? It's so easy and healthy. Please tell us how it turned out for you.