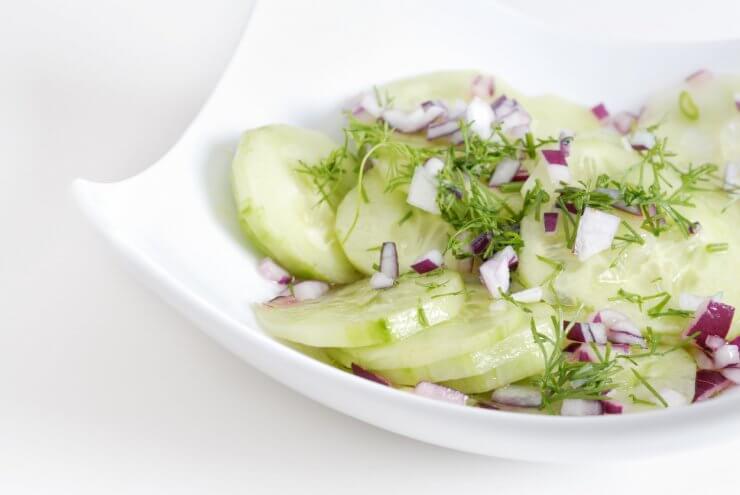 Anyone who has grown cucumbers can relate to the day when suddenly your patch is overflowing, and you start giving your cukes to anyone who will take them. Next time that happens, just make this tangy Easy Cucumber Salad with Dill.
Now, cucumbers contain a lot of water. A lot. That's what keeps them cool. But who wants watery salad? No one. This recipe bathes the cucumber slices in a quick brine that pulls out much of the water. The result is a crisp, crunchy salad that stays that way.
Cucumbers come in many different shapes, sizes, and characteristics. You can use any type of cucumber for this salad, but thin-skinned cucumbers are best, because you can leave the skins on. That saves time peeling and also produces slices with a pretty green edging. English, Persian, Kirby, Lemon, and Japanese varieties are all good choices. And feel free to use more than one variety to add interest.
The tangy, pickled flavor in this Easy Cucumber Salad with Dill comes from no less than three vinegars, plus fresh dill and the bright, spicy red onion slices. The dill brings everything together, adding texture, visual interest, and that distinctive dill flavor.
This recipe really is as easy as 1-2-3: Slice the cucumbers, bathe them in brine, mix in the vinegars, dill, onions and seasoning. Boom—the perfect summer salad.
Print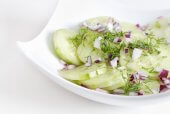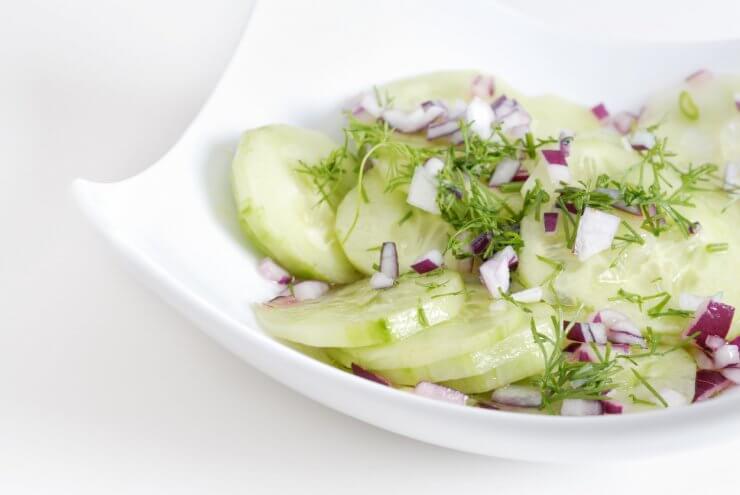 Easy Cucumber Salad with Dill
Tangy and crunchy, this summer salad benefits from a quick brine that keeps it from becoming watery. Easy Cucumber Salad with Dill will become your favorite dish to take to potlucks and barbecues. You'll love how quickly this salad comes together as much as the combination of dill and cucumbers.
Author:
Prep Time:

15 minutes

Chilling Time:

1 hour

Total Time:

1 hour 15 minutes

Yield:

Serves 8

Category:

Salads & Dressings
Ingredients
1

pound of cucumbers, any kind, sliced into quarter-inch rounds (if skin is thin, you can leave it on)

1/2

red onion, peeled and thinly sliced

2 teaspoons

kosher salt

2 teaspoons

granulated sugar

2 teaspoons

red wine vinegar

2 teaspoons

white balsamic vinegar

2 teaspoons

cider vinegar

1/2 cup

water

1/4 cup

fresh dill leaves, snipped
Instructions
Combine the sliced cucumbers in a colander set inside a medium-sized bowl and sprinkle with the salt and sugar. Place in the refrigerator for about 1 hour.
Drain the cucumbers. Add the onion, vinegars, water, and dill.
Serve or refrigerate. The cucumbers will become more pickled as they
Have you tried this Easy Cucumber Salad with Dill recipe? It's easy and goes with so many main dishes—please tell us how it turned out for you. Oh! And if you're interested in growing an abundant harvest of cucumbers in your garden, be sure to check out The Cucumber Grower's Guide: All You Need to Know About Growing, Harvesting, Cooking, and Eating the Garden's Coolest Crop. It's your all-in-one guide to growing your own cucumbers – and you'll find quite a few tasty recipes there, too!