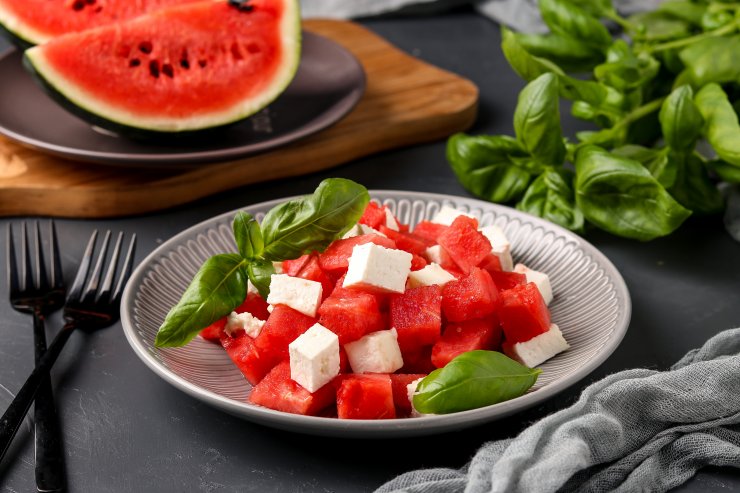 Have you ever tried a Basil-Watermelon Salad? Fresh fruits have always been associated with being healthy and refreshing, so it's no surprise that they have found their way to dining tables all over the world — but did you know that besides its sweet taste and enticing look, this fruit can pair deliciously with more savory flavors?
Plus, basil is one of those ingredients that not only tastes great but has a long list of health benefits. It's been used as a medicinal herb for centuries, and back in ancient times, it was even believed to have magical power.
It also has been a symbol of love — for a good reason. It's an aromatic herb that can transform a dish from good to great. Additionally, basil is helpful in wound healing as it has antiseptic properties.
There's no denying it now: I'm a big fan of basil. Not only is it absolutely gorgeous and aromatic, but there are so many exciting things you can do with this herb! If you have a garden or get your hands on some fresh seeds for growing, then you really need to try out the Basil Watermelon Salad recipe.
This Basil Watermelon Salad recipe is a perfect accompaniment to a main dish or a great light lunch served on its own. The sweet, juicy watermelon is combined with fresh basil for a burst of flavor. This Basil-Watermelon Salad allows for lots of creativity with ingredients which makes it perfect for BBQ's too.
Print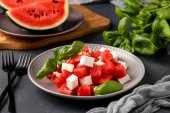 Basil-Watermelon Salad
This is a simple and tasty salad—make it a staple in your house with its sweet and salty flavor profile. Even your kids will like Basil Watermelon Salad!
Author:
Prep Time:

15 minutes

Chilling Time:

30 minutes

Total Time:

45 minutes

Yield:

Serves 4

Category:

Salads & Dressings
Ingredients
1/4 cup

fresh basil leaves

4 cups

cubed 1/2-inch watermelon pieces

2 teaspoons

lemon juice

1/2 cup

feta cheese, crumbled or cut in small cubes

1/4 teaspoon

kosher salt

1/4 teaspoon

chili powder
Instructions
Stack basil leaves on top of each other and roll tightly into a log. Slice lengthwise into thin ribbons—this is called chiffonade (method of slicing basil in ribbons).
Combine basil and watermelon cubes in a large bowl. Drizzle with lemon juice.
Stir in feta cheese.
Mix salt and chili powder together with a whisk in a small bowl; sprinkle over watermelon and basil mixture, and combine.
Chill in the fridge for at least 30 minutes before serving.
Basil is one of the most essential herbs and can be found in just about every kitchen. With The Basil Grower's Gardening Guide, you'll have everything you need to know about growing and enjoying this versatile herb. Check it out.
Have you tried this Basil-Watermelon Salad recipe? It's an easy and fresh summer salad—please tell us how it turned out for you.