My life changed when I knew I could make this Italian lemon liqueur right in my own kitchen. That sounds a little dramatic but trust me, it's true! My colleague Norann passed on some of the principles to me from her tried-and-true recipe, and I optimized it for faster curing and infusion. This was a game-changer for me as someone who loves making cocktails for all occasions. Thanks to this recipe, I no longer have to buy the expensive bottle at the liquor store.
I pretty much always am using a bottle of Meyer Lemon Limoncello at home, baking cakes, pies, and all the desserts I can think of. No matter how many desserts I experiment with, I still have loads of lemons to spare. I'm not complaining, though. Ever since I found this recipe, I'm just so glad that I can use them to make Limoncello on my own.
This Meyer Lemon Limoncello takes at least two weeks to make, so I make sure I start making it ahead of time. If I want it to be even more concentrated, I let it sit for a month. The longer it sits, the more lemony it becomes, and that's how I like it. Lemons and vodka? Always sign me up!
There's nothing wrong with going for a walk to the store to buy a bottle of limoncello, but it's more fun and rewarding to make it on my own. I get a sense of achievement whenever I see a bottle with my Meyer Lemon Limoncello label on it. Not to mention, it's an excellent gift for friends and family, too.
Nobody can resist the sweet lemon that hails from ripe Meyer lemons, which perfectly matches up against the spiciness of the vodka. I use this recipe when I think of making cocktails like a Limoncello Sunrise. Anything I make with liqueur becomes even better when I can just make it at home.
Print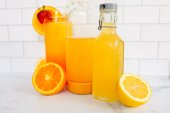 Meyer Lemon Limoncello
Homemade Meyer Lemon Limoncello made is based on the traditional recipe for an Italian liqueur, which creates a sweet citrus flavor in any cocktail, dessert, or baking recipe!
Author:
Category:

Beverages
Ingredients
12

organic Meyer lemons, washed

750

ml 100 proof vodka

2 cups

sugar

1.5 cups

water

1/2 cup

lemon juice

cheesecloth
Instructions
Add 750 ml vodka to a half-gallon mason jar, then peel 10 organic lemons and add the zest to the jar. Try to keep as little of the pith in-tact as possible, which will make the limoncello bitter. Next, suspend two Meyer lemons in cheesecloth over the jar to extract more oils, and cover for at least two weeks, or up to a month.

When it's ready, remove the suspended lemons, and strain out the solids, and set the vodka aside.

Chop up the formerly suspended lemons and throw them in a saucepan with the lemon zest from your infusion. Add 2 cups of sugar, 1.5 cups of water, and 1/2 cup of lemon juice. Simmer for about 15 minutes until sugar is dissolved and it has begun to slightly thicken. Let cool, then strain over your bowl of vodka, using cheesecloth or a coffee filter, and pour into your bottles of choice.
Lemons may seem like an exotic tree to grow, but all they need is a little TLC to give you years of tangy harvests! You don't have to live in a subtropical zone to grow lemons—there are plenty of varieties happy to grow as productive houseplants! With our Tart & Tangy Lemon Gardening Guide, you get all the details that go into growing and harvesting bright, fragrant lemons. Get recipes for dishes sweet and savory that make it all the more rewarding to grow your own lemons.
If you make this Limoncello recipe, let me know what you think!