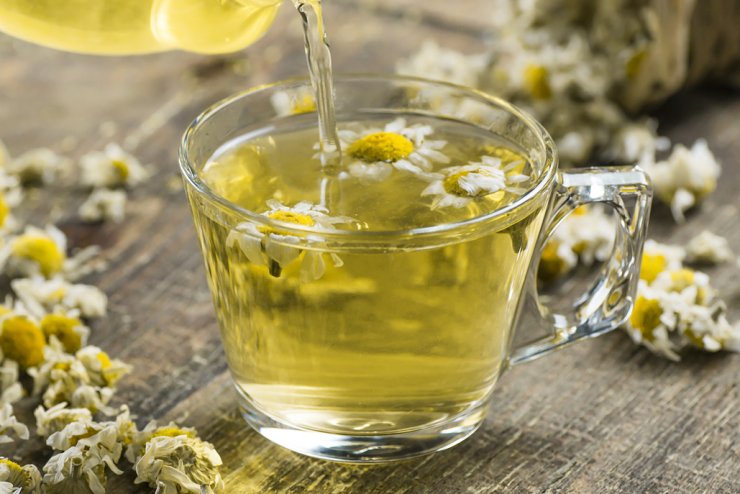 OK, so this is not a complicated "recipe" per se, but there are a couple of things you need to know to make the perfect cuppa.
Whenever chamomile is mentioned, tea is the first thing that comes to mind. Sure, there are lots of things you can do with chamomile (you can add it to salads as a vinaigrette, use it for handmade soap, add it to sugar cubes), but making tea is the most common use for this delicate flower.
And, why not? There's a lot to love about Chamomile Tea! It has gentle notes of apple and a sweet, apple-like scent that makes it true to the origins of its name. After all, chamomile comes from the ancient Greek words kamai (earth) and melon (apple). When done right, your cup of Chamomile Tea should have a clean but silky mouthfeel. With the first sip alone, you'll be able to discern its wonderfully soothing and delicately floral flavor.
There's a trick to making Chamomile Tea that keeps it from having bitter undertones. Do you know what it is? Don't put in too much chamomile. This flower may have a naturally mild flavor, but it can be surprisingly bitter when used in excess. Of course, you can always make your tea taste stronger than usual, but try not to overdo it.
Believe it or not, though, Chamomile Tea isn't exactly tea. Well, it is like tea but it isn't considered "true tea." Since chamomile doesn't come from the tea bush, it's technically a tisane (tuh-ZAN). A tisane is an infusion of herbs while true tea is an infusion of tea leaves. But, for the sake of simplicity, we'll just call it Chamomile Tea. Either way, it's delicious!
If you want to indulge a bit of your sweet tooth, add some honey into your Chamomile Tea. Then, you can sit back and take a sip of this soothing brew!
Print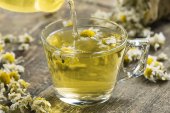 Chamomile Tea
Soothing and delicately sweet, this Chamomile Tea uses home-dried chamomile and is the best drink to have when you want to sit back and relax!
Author:
Prep Time:

15 minutes

Cook Time:

10 minutes

Total Time:

25 minutes

Yield:

Serves 1

Category:

Beverages
Ingredients
2 teaspoons

of fresh chamomile flowers, or

1 teaspoon

dried blossoms

1 cup

hot (but not boiling) water
Honey to taste, if desired
Instructions
Heat water just to the boiling point. Avoid heating water to a rolling boil, as it will damage fresh chamomile blossoms.
Add fresh or dried chamomile flowers to a tea ball or infuser.
Pour water over the flowers into a mug or teacup.
Cover the mug with a lid or saucer and let it steep for 5 to 10 minutes.
Remove infuser/tea ball and put the steeped flowers in the compost.
Season tea with honey if you like.
Sit back, sip, and relax!
Have you tried this recipe for Chamomile Tea? It's so simple and delicious—please tell us how it turned out for you.