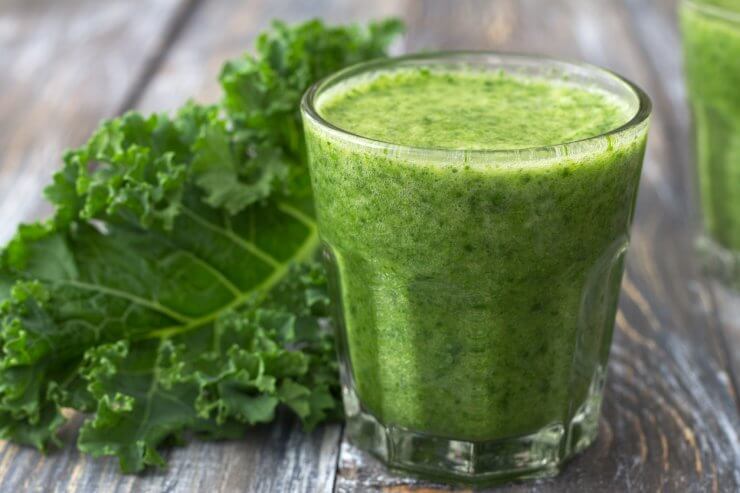 A lot of folks may look at you sideways if you offer to make them a kale smoothie. Be ready to get a "thanks, but no thanks" shake of the head. But this is one of those drinks you really need to try before you decide it's too… green.
It's the combination of flavors that really makes this kale smoothie a winner. The kale provides a rich foundation of vitamins and minerals, but that's just the beginning. When you add ginger and turmeric, plus oranges, you have more than a vitamin-packed drink; you have a tall glass of delicious!
If you've decided to start planting kale, or you've been growing kale for years, choose a variety with deep green leaves; I like to use lacinato, or dinosaur kale. The leaves are dark, rich, and full of flavor. Ideally, you want to pick the leaves fresh in the morning. Even if you don't have baby kale leaves, the fresher the leaves are, the better.
With the lacinato kale, I like to trim the leaves to remove the stem and the main rib, but I don't throw it out, or even compost it. I save the ribs in a freezer bag for my next batch of soup. That's one of the great things about kale—there are so many ways to prepare it, nothing ever goes to waste!
Try to use fresh ginger and turmeric root when you make this kale smoothie. The fresh root really adds a pop of flavor (and antioxidants, by the way). If you don't have fresh, powdered will do in a pinch. If you're not growing your own ginger yet, you might want to consider it. Check out our Ginger Growing Guide to see how easy it can be to grow more fresh food at home!
Print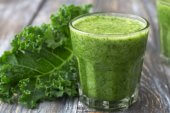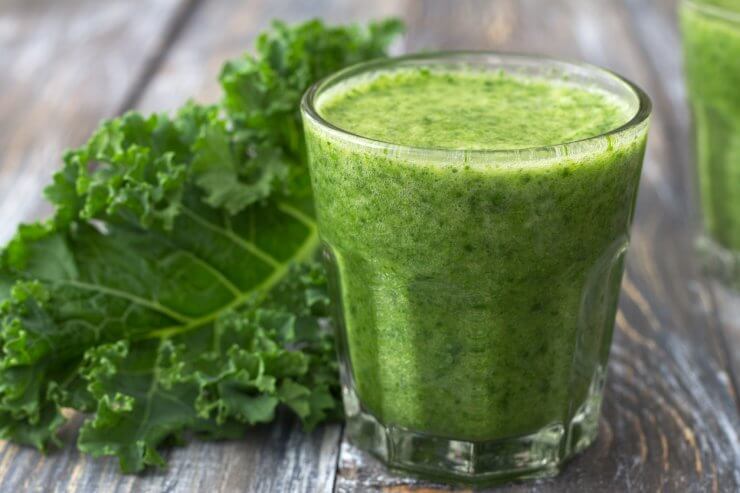 Super Greens Kale Smoothie
A kale smoothie is a great way to start the day or add a boost of energy in the afternoon. You can make your smoothie in a blender or food processor—just take a few minutes to pull the pith off the oranges.
Author:
Prep Time:

10 minutes

Total Time:

10 minutes

Yield:

Serves 1

Category:

Beverages
Ingredients
2 cups

baby kale leaves

1/2

-inch piece of ginger, peeled

1/2

-inch piece of turmeric root, peeled

2

large navel oranges, peeled and pith removed

1/2 cup

water or orange juice
Optional: ice cubes, frozen berries, frozen banana slices
Instructions
Add the kale leaves, ginger, turmeric, oranges and water/juice to your blender or food processor.
Process until smooth.
Add some ice cubes or frozen fruit and blend to desired thickness and level of sweetness.
Notes
If you don't have turmeric root, you can add a sprinkling of turmeric powder at the end. Adding the ice or frozen fruit at the end allows you to control the consistency and sweetness of the smoothie.
Want to get into the wonderful world of growing kale? Kale's a great crop to grow—especially for gardeners who live in regions with frost. Kale loves the cold—it even tastes better after a little frost! If you want to know more about growing kale, check out Kale: The Queen of Greens: The Complete Guide to Growing, Cooking, and Eating Kale.
Have you tried this kale smoothie? It's a quick way to get a nutritious and refreshing drink—please tell us how it turned out for you.