Fresh homemade lemonade just sings of summer. In the U.S., we most often serve it plain, or with a fruit garnish such as strawberries or raspberries. But in many other cultures, they make lemonade even more refreshing by adding herbs such as dill, mint, rosemary, or a combination.
The result is an invigorating, thirst-quenching experience for the senses. The herbs not only release a heady dose of aromatherapy, but the sweet-tart flavor of the lemons blends perfectly with the herbs. The sum of the ingredients far exceeds the total of the parts.
As one of the more aromatic herbs, adding dill to lemonade boosts the fragrance factor in Herbal Dill Lemonade. But that's not all. Dill and lemon both contain vitamin C, which is necessary for the growth development and repair of all body tissues, as well as many other health benefits. Lemon and dill also have a reputation for aiding digestion.
In folklore, dill is associated with courage, mint with attracting love, and rosemary with love and remembrance. Lemon symbolizes purity and longevity. Combining these together with honey would make Herbal Dill Lemonade the perfect beverage for a wedding or an anniversary—or perhaps to attract a long-lasting love.
Fresh herbs are just as necessary in this recipe as fresh lemons. We also sweeten the lemonade with honey instead of white sugar. If you can find local honey, so much the better—you'll be supporting honeybees and beekeepers in your area, and the flavor is superior to most commercial brands.
In addition to the other fresh ingredients included in this Herbal Dill Lemonade, you'll want to add a flower garnish. All of the dill plant is edible, so delicate yellow dill flowers make a perfect choice. Alternatively, snip off a flowering dill seed head with a longish stalk and drop it into your glass for a new type of umbrella drink!
Yes, it's more trouble to make homemade lemonade, but frozen and instant versions just don't compare. Try this recipe; you'll see.
Print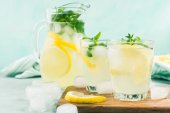 Herbal Dill Lemonade
Dill, mint, and rosemary have a history with lemon—a long, flavorful friendship that's celebrated in this refreshing drink. Serve it on a hot summer day on the porch or at a picnic and you'll instantly feel revived. Be sure to garnish with dill flowers or a flowering seed head "umbrella." Mini pansies—organically grown—would also look sweet.
Author:
Prep Time:

5 minutes

Chilling Time:

2 hours

Cook Time:

10 minutes

Total Time:

2 hours 15 minutes

Yield:

Serves 6

Category:

Beverages
Ingredients
6

lemons, juiced

1/2 cup

local honey (or more to taste)

2 quarts

filtered water

2 ounces

fresh dill

2 ounces

fresh mint

3

to

5

sprigs rosemary
Edible flowers to garnish
Instructions
Bring 2 quarts of water to a boil and add honey. When honey is dissolved, refrigerate until cool.
Juice the lemons and remove seeds.
In a container, add the cool honey water, lemon juice, and herbs (muddle the herbs to release their flavor)
Refrigerate for 2 hours.
Garnish with edible flowers.
Have you tried this recipe? It's great to serve on a sultry day, or any time you need a flavor boost—please tell us how it turned out for you.