Smoothies. They're not just for breakfast anymore. And they're not just one thing. You can make them hearty and nutritious for a satisfying breakfast, or you can make them light and refreshing for a cooling drink that's denser than water but lighter than a shake. When the really hot days roll around, I start checking my garden to see if my melons are ripe.
I've gotten pretty good at knowing how to pick a ripe melon, even though I grow several different varieties and they all have their own indicators. Variety is a really a good thing in this case, because I'm looking for a blend of melon flavors that will provide just the right touch of coolness at the end of a hot day.
I try to be prepared for whenever I feel a smoothie craving coming on; I have several bags of cubed melon already stashed in the freezer. It's pretty much impossible to eat all the melons in our garden as they ripen, so some of them go on standby in the freezer, ready to become smoothies. One of my best recent investments? A stand-up freezer. I will never run out of fresh-frozen fruits and vegetables.
When you make your smoothie, let your flavor sense be your guide. If you like things more on the sweet side, add a little more honey. If you're in the mood for cool with an extra serving of veggies on the side, no one says you can't add some kale or spinach. Got a banana that's past perfect but not quite ready to become bread? Toss it in! The world is your smoothie. Enjoy!
Print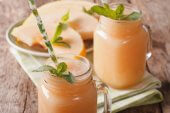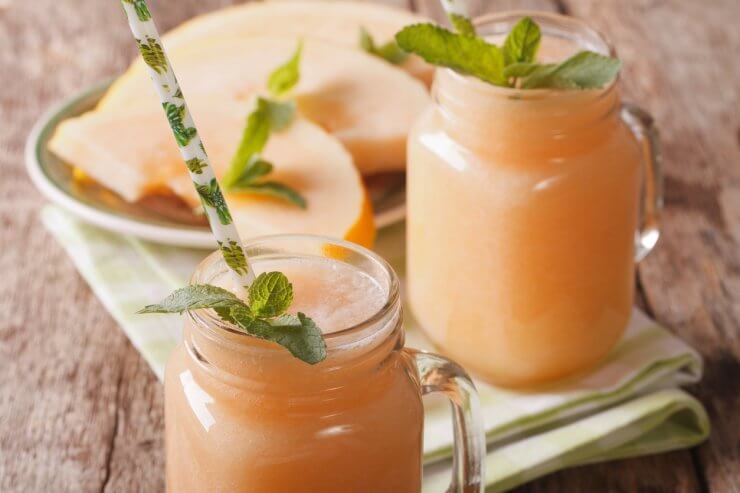 Simply Soothing Melon Smoothie
Keep some frozen melon cubes on hand, and you can whip up this smoothie any time you like! Using frozen melon gives you the "ice" you need to make the smoothie and avoids watering it down. Mix and match your ingredients to find your perfect flavor balance.
Author:
Prep Time:

20 minutes

Total Time:

20 minutes

Yield:

4 cups

1

x
Category:

Beverages
Ingredients
2 1/2 cups

cubed watermelon, seeds removed

1/2 cup

orange juice

2 teaspoons

honey

2 cups

cubed cantaloupe, frozen

1 1/2 cups

cubed honeydew, frozen

Add-ons & Substitutions:

Adjust melon proportions to your taste. Just note that the meatier the melon, the thicker the smoothie.
Try using Greek yogurt, soy milk, or almond milk instead of orange juice.
Add walnuts or pecans for a flavor and protein boost.
Add a scoop of protein powder for a more filling breakfast drink.
Add

half a

banana.
Instructions
Put watermelon, orange juice, and honey into a blender. Blend to combine.
Use the center hole of the blender lid and add frozen melon cubes a few at a time. Pulse to break them up.
Continue to add frozen melon cubes and blend until the whole mixture is smooth.
Garnish with fresh mint.
Notes
If you have extra melon, cube it and freeze it in a single layer, then bag it up with waxed paper between the layers. Then you'll always have smoothie ingredients ready to go!
Have you tried this recipe? You can customize it to suit your taste—please tell us how it turned out for you.