When you want something delicious to drink, just get out your blender and whip up a Chillin' Carrot Smoothie. You can go from prep to sip in 15 minutes or less—including cleanup.
My friend tells me that when she was little, her mom went through a super healthy phase, and the family got a juicer. The idea was to extract all the goodness of vegetables and leave the "pithy" stuff behind.
Of course, now we know that the "pithy" stuff is fiber, and also good for you. But back then, people just wanted the juice from the vegetables. My friend loves carrots, but she couldn't stand carrot juice on its own; the carrot taste without the crunch just didn't do it for her. And she says her memories of cleaning the filter after juicing a dozen carrots was enough to put her off juice of all kinds for a long time. It almost put her off carrots, but not quite.
Now, of course, she's changed her tune. She likes to grow carrots in containers on her back deck and harvest them fresh in the morning to make her own smoothies—"pithy" stuff and all.
You can get a special juicer or a blender that's made especially to make fruit and vegetable smoothies, but really, you can make a delicious, healthy drink with a regular blender.
The secret to a super-smooth smoothie is to include ice or some frozen fruit to help thicken the drink. I'm partial to bananas in my smoothies, so I slice and freeze them ahead of time, and I'm good to go.
Vegetable and fruit smoothies are an excellent way to cool off on a hot day, or just to start your day with a burst of flavor. This smoothie is as tasty as a milkshake, and packed with beneficial vitamins and minerals, fiber, and antioxidants.
Print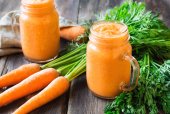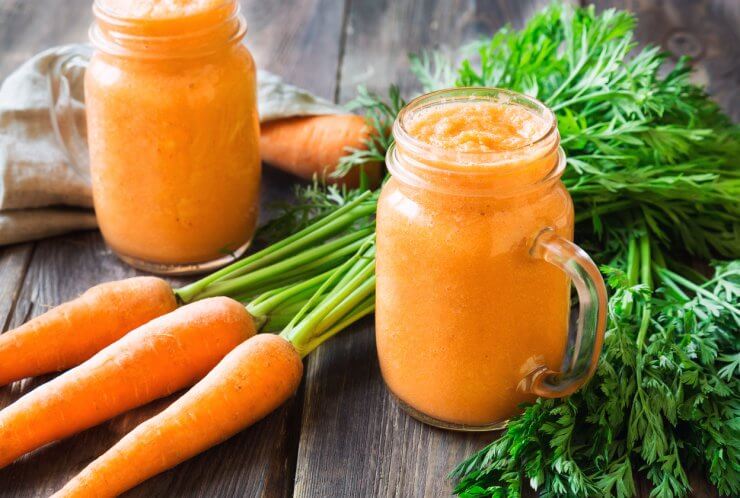 Chillin' Carrot Smoothie
Beat the heat or just make yourself a refreshing drink with a healthy side of antioxidants. This Chillin' Carrot Smoothie hits the spot, and you don't need a juicer to make it!
Author:
Prep Time:

10 minutes

Total Time:

10 minutes

Yield:

Serves 1

Category:

Beverages
Ingredients
2

medium carrots, diced (leave the skin on for more fiber)

1 cup

frozen pineapple chunks (or use fresh pineapple and freeze ahead)

1 tablespoon

fresh ginger root, peeled and diced

1 teaspoon

turmeric powder

2 tablespoons

lemon juice

1 cup

water
Optional: 1 banana
Instructions
Combine all ingredients in a blender and process until it reaches your preferred level of smoothness.
Carrots take some time, but they're easy to grow in both spring and fall. If you want to start growing carrots in your garden or on your deck in grow bags, we'll walk you through the whole process in our Crunchy Carrots Gardening Guide!
Have you tried this smoothie recipe? It's so quick and easy to make. Please tell us how it turned out for you.