Strawberries are one of the most luscious fruits of summer. They're sweet and juicy, with a delicate red flesh that is perfectly suited for eating raw. Strawberries also make excellent drinks, particularly in cocktails. Since they are so delicious raw, it's not hard to find ways to use strawberries in drinks when they are in season – especially this alcoholic Strawberry Cordial recipe.
Generally, Strawberry Cordial is non-alcoholic and more of a syrup, but this recipe is a ready-made mixer for all your favorite drinks, and is made with vodka.  This simple recipe requires only a few ingredients, a few minutes of prep time, and two weeks to cure before you can enjoy your very own homemade strawberry cordial!
As a background, cordials are typically syrupy and sweet alcoholic beverages that are often associated with the holidays, especially Christmas. Cordials often contain various herbs and spices that give them their unique tastes, and it's not hard to see where this tradition comes from. Cordials contain a lot of sugar, and were used by physicians as cough syrup for centuries. Cordials are also associated with wealthy people, given their high sugar and alcohol content.
Strawberry Cordial, strawberry liqueur, and strawberry schnapps are alcoholic beverages with a similar flavor. They are made from ripe strawberries, sugar, and sometimes other ingredients like herbs, vanilla, and lemon. The flavor of this Strawberry Cordial comes from the immersion of strawberries steeped in a combination of alcohol and simple syrup, and then the solids are removed after a couple of weeks.
This recipe is intended for a large jar, and the container needs to be airtight. You can use a jar, mason jar, or even a beer growler. Alcohol and sugar are both preservatives that help keep the strawberries from spoiling while they steep. You can start using it after a couple days, but you won't get the full flavor until two weeks have passed.
Some drinks that use Strawberry Cordial include my Knockout Peach Berry Fizz as well as strawberry lemonade, mojitos, strawberry daiquiris, and strawberry champagne.
Print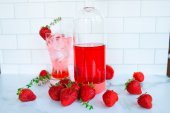 Homemade Strawberry Cordial
Make your own alcoholic Strawberry Cordial with ripe strawberries at home and start blending it into your favorite cocktails in just two weeks!
Author:
Category:

Beverages
Ingredients
3 cups

ripe strawberries, hulled and washed (halved if unripe, store-bought, or large)

1 cup

simple syrup

750

ml vodka
Instructions
In a half-gallon mason jar, add all the ingredients. Shake, then cover and store in a cool dark place for 1 week.

Once ready, cover your mason jar with cheesecloth, then use a fine-mesh strainer covered with a coffee filter to remove solids. Add cordial to the bottle of your choice.
Strawberry Cordial makes a delicious and unique addition to many different drinks, and this recipe is a simple way to make your own at home. In addition to being a tasty drink, this recipe is also a fun and creative activity to do with friends or family.
Strawberries are among the most popular home crops, growing everywhere, from hanging pots to open land gardens. With our All-Strawberry Gardening Guide, you can get all the details that go into raising delicious, sweet berries of your own.
If you make this Strawberry Cordial, let me know what you think!