The house was abuzz with excitement. Celebrating two big family events on the same weekend. I knew friends and family would appreciate the special touches to make the weekend memorable—including having a big supply of Gooseberry Mixer made from my cousin's gooseberry bushes!
Just because planting gooseberries isn't an option for me doesn't mean I don't get to enjoy making recipes with gooseberries. If you have the opportunity to use fresh gooseberries in your kitchen, you have to take it. There's no taste that compares to the taste of fresh gooseberries.
With fresh gooseberries, you can be inspired by the texture and flavor of the much-ignored, long-forgotten fruit. I like to make a big batch of Gooseberry Mixer to have it on hand to take a cool, refreshing drink from "ho-hum" to "wow!" with just a spritz and a stir.
So at our big family gathering, the kids got a special bubbly drink in the heat of the afternoon, with Gooseberry Mixer as the focal point. "Goose Juice" was a real hit with that crowd.
For the grownups, we had a few options with lunch. A wine spritzer with an added twist. Gooseberry Gin Fizz. Gooseberry Rum Punch. My cousin saw that planting gooseberries a few years ago was actually a great idea. She and I shared compliments the whole weekend. And I get to help her collect the next harvest—so I can do some more exploring.
Later, I used some of the Gooseberry Mixer as a topping for our homemade ice cream. It added just the right amount of light sweetness. Next, I might try it in scones—or pour a little over my fruit salad featuring fresh gooseberries!
This recipe for Gooseberry Mixer calls for you to strain the mixture through a sieve, leaving you pure gooseberry goodness without any pieces. You could easily adapt this recipe and skip the sieve step: just use an immersion blender (or a food processor) to get your gooseberries to the consistency you like. Just remember to top and tail your berries before you start. Then you can use them in any of the ways I did, or maybe you'll come up with your very own gooseberry cocktail? Bon appetite!
Print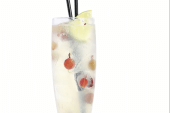 Gooseberry Mixer
Gooseberries steeped in a zesty simple syrup makes a great base for dessert sauces, cool summer spritzers, or a uniquely flavored cocktail How will you use your Gooseberry Mixer?
Author:
Prep Time:

10 minutes

Cook Time:

20 minutes

Total Time:

1 hour

Yield: Approximately

2 cups

of mixer

1

x
Category:

Beverages
Ingredients
1 cup

sugar

1 cup

water

1/4 cup

freshly squeezed lemon juice

1 teaspoon

lemon zest

6

fresh mint leaves (optional)

1 1/2 cups

ripe gooseberries
Instructions
Wash gooseberries thoroughly.
Put water into a large saucepan and set the stove on medium-high heat.
Add the sugar; stir until the sugar is completely dissolved.
Turn heat down to medium.
Add lemon juice and lemon zest.
Add the gooseberries and bring the mixture to a simmer.
Cook for 10 minutes, until the gooseberries are soft.
Use a potato masher or immersion blender to create a uniform mixture.
Allow the mixture to cool, then strain it through a sieve.
Store mixer in an airtight container in the fridge for up to a week.
Use as you would a simple syrup.
Notes
Want to dress up a dessert sauce? Liven up your lemonade? Craft a creative cocktail? The uses for this mixer are limited only by your imagination.
Planting and growing gooseberries is easy, and the harvest is delicious! There are terrific, disease-resistant varieties to choose from, and you only need one gooseberry bush to start! So, what are you waiting for? With this collection, you get all the details that go into growing and harvesting plump, juicy gooseberries. Get recipes that make the most of the flavor of your gooseberries so you can enjoy the fruits of your harvest all year long! Get it all in our Triumphant Gooseberries Collection right now!
Have you made this Gooseberry Mixer recipe? It's so versatile, and it has so much potential! Please tell us how you used it.