It was two weeks from my best friend's birthday, and I didn't want to bring her the usual wine for our girls' night in. Everyone had already promised to bring a dish or two, so I didn't want to break the table with another heavy dish. I decided to get creative and make her a special cocktail because what's a girls' night without some alcohol?
I'm a fan of anything homemade. As a foodie, I love exploring different recipes and experimenting in the kitchen with ingredients from my own garden. What I love about this Homemade Cucumber Mint Vodka recipe is even if it takes two weeks to make, it's still worth it in the end. The taste is so much different — and better — than anything I can buy from the store.
My friend's birthday ended up being a huge hit! She was so touched that I went out of my way to make her something special, and everyone loved the drink, too. They all wanted the recipe, so of course, I had to share it with them – my Cucumber Gimlet(ish) cocktail! All of us share the same favorite part of making it, — it's when we finally add the Cucumber Mint Vodka!
This recipe helps me maximize my garden's cucumbers, mint leaves, and limes. If you have a surplus of these ingredients, I highly recommend making a batch (or two) of this Cucumber Mint Vodka. The best time to start making it is today because the sooner you start, the sooner you can drink it. Two weeks can feel like forever when you're waiting for a drink!
Print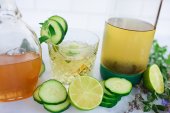 Cucumber Mint Vodka
The mild taste of cucumber complementing the strong flavor of vodka and coolness of mint? This Cucumber Mint Vodka is heaven on your tastebuds, and in so many different cocktails!
Author:
Category:

Beverages
Ingredients
1

sliced English cucumber

1/4 cup

fresh mint leaves
zest of

1

lime

750

ml vodka
Instructions
To start, chop up 1 sliced English cucumber and add it to a half-gallon mason jar. Then pull the leaves off stems of mint to get about 1/4 cup. Peel off the zest of one lime, and add with 750ml of vodka.

In a half-gallon mason jar, add all ingredients. Shake, then cover and store in a cool dark place for 2 weeks, swirling every so often.

Once ready, secure cheesecloth around the lid, then use a fine-mesh strainer covered with a coffee filter to remove solids. Finally, add vodka to the bottle of your choice.
Cucumbers are easy to grow and will reward you with delicious dishes and health benefits! With our Cucumber Grower's Gardening Guide, you'll have everything you need to know about growing and enjoying this versatile food.
Have you tried making this Cucumber Mint Vodka? I'd love to know what you think!