Friends, let me tell you how much I love my juicer. Let me count the ways. I know a lot of gardeners are into juicing too and totally understand, but I recently upgraded my tried-and-true, cheap, centrifugal (blending) juicer in for a fancy masticating (crushing)  juicer, and it's been like a juice party in my kitchen every morning. This watermelon lemonade recipe is no exception!
My favorite part is that by picking the right ingredients, it requires exactly no added sugar. For lemonade, that's practically unheard of, I know!
A few weeks ago I wrote about my favorite green juice recipe, and I also shared how I made rainbow popsicles with 100% juice and no added sugar. Today we're going to talk about making lemonade without using any added sugar too. This isn't to say that this watermelon lemonade recipe doesn't have sugar, because watermelon is mostly water and sugar, but you won't need to add any of the white granulated stuff if you follow my advice:
Use the sweetest kind of watermelon you can. If you're not growing them, the mini-watermelons at the grocery store are usually the sweetest, juiciest, and are bright red in color. If you're growing watermelon, the sweetest varietals are the Sultan and Harmony. If you end up with a dud, you can always use cane sugar to sweeten it up to your liking.
Use Meyer lemons. Regular lemons won't do here. Meyer lemons are slightly sweet and don't have much of a pith (the white spongey stuff behind the rind). The pith is very bitter, so regular lemons can't be added to a juicer as-is, they need to be peeled, and sometimes even blanched if it's real thick. With Meyer lemons, you couldn't peel it if you tried because it's so thin, so they're fine to throw in the juicer cut into quarters. A slow juicer like a masticating juicer is best.
You didn't think a 2-ingredient recipe would be so detailed, did you? But it's important you get a sweet watermelon for this watermelon lemonade recipe so that you don't have to add a third ingredient: sugar. And using Meyer lemons helps that as well since they're an orange-lemon hybrid, so they're slightly sweet and less sour than regular lemons.
With all that said, on with the show!
Print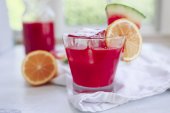 2-Ingredient Watermelon Lemonade Recipe
Naturally-sweetened watermelon lemonade has two secret ingredients: the sweetest watermelon on the block, and a culinary favorite, Meyer lemons.
Author:
Prep Time:

10 minutes

Total Time:

10 minutes

Yield:

Serves 2

Category:

Beverages
Ingredients
2

large Meyer lemons (about

3/4 cup

juice)

1

mini watermelon (about

2 1/2 cups

juice)
Instructions
Prepare your juicer. You can also blend and then strain through a fine-mesh strainer afterward, it will just be a bit more work.
Slice your watermelon into quarters and use a knife to carve out the red flesh and chop into pieces that fit your juicer, and juice. In this recipe, a mini watermelon produced 2 1/2 cups of juice.
Slice your Meyer lemons into halves or quarters and juice. In this recipe, two Meyer lemons produced a 3/4 cup of juice.
Pour into a glass jug, shake and enjoy!
Would you like to grow your own watermelons and Meyer lemons at home? I have good news for you, our Watermelon Collection features everything you need to know about growing watermelons, and we have a whole article about growing Meyer Lemons as well, so check those both out!
Will you make this easy watermelon lemonade recipe? What do you like to make most with your juicer? Let me know, I'd love to try it!