Did you ever think you'd be looking at a green juice recipe for kids? What's wrong with the "purple stuff" we all grew up on, huh? Let's talk about it.
It's not often as parents that we feel successful, or like we're doing something right. My daughter was a micro-preemie and I spent the first three years of her life struggling to get nutrition into her and get her on the growth curve (she's only 3.5 now, so I'm not far removed). She's not a picky eater, per-say, she just doesn't want to eat a lot at any given time. I know plenty of parents can probably relate in one way or another, because no matter what the circumstances, getting nutrition into kids is hard. And the struggle sometimes ends in giving in to the easy things which aren't always the healthiest.
One thing I feel like I can hang my hat on as a parent is that my daughter didn't even know juice existed until she was about two, and it wasn't a little box with a straw, it was a cold-pressed green juice recipe that I was drinking. Frankly, she hated it. She twisted her face the way I expected her to the first time she tried a pickle (to my dismay, she made no such face, she loves pickles). Since she needed fat more than sugar, my go-to was always milk, then a triple-processed (thick!) oat milk, and sometimes almond milk, never juice. I had it in my head my kid wouldn't drink her sugar in a box, even if it was no-sugar added, but her tiny frame made it all the more important to stick to the fats. Still though, a kid will eventually have juice.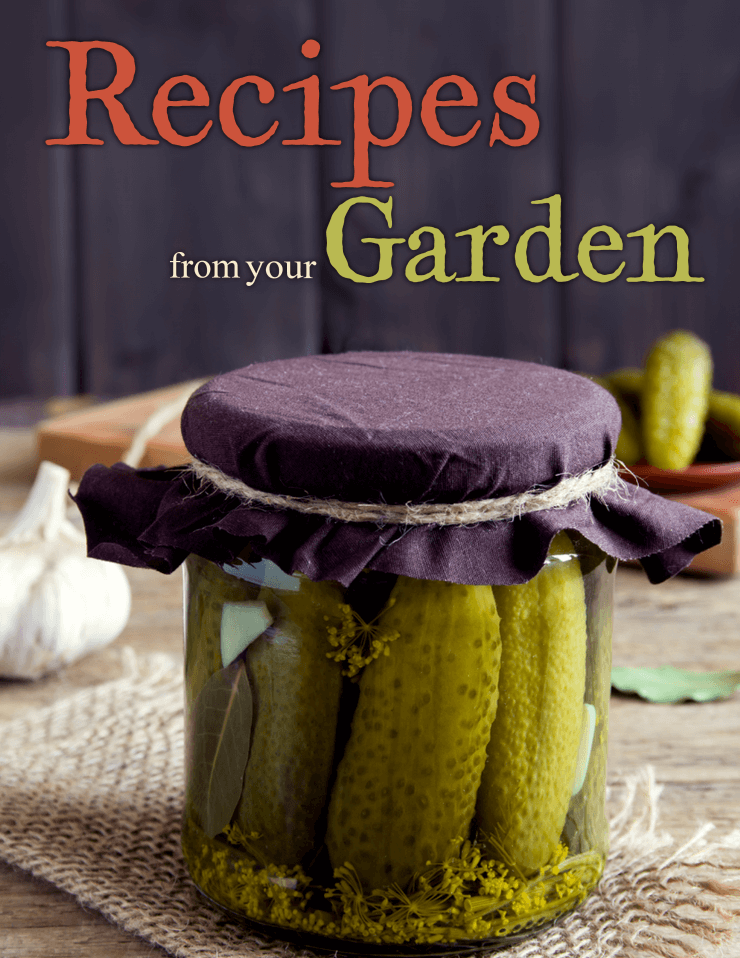 Discover 9 garden recipes spotlighting the delicious possibilities of home gardens—when you access the FREEBIE Recipes from Your Garden, right now!
A Green Juice Recipe … for Kids?
But one day came along, she tried it, and she liked my green juice. I thought, hey, it's literally vegetables and fruits blended, that's pretty darn good! And now when she asks for juice, she's talking about a thick, pulpy green juice—not red, never yellow, always green. Weirdo. What kind of unicorn child did I create that not only prefers protein, veggies, and fruits but also prefers a good green juice recipe over something like apple juice? She honestly puts my diet to shame half of the time, but I'm rolling with it while it's working. That could change tomorrow.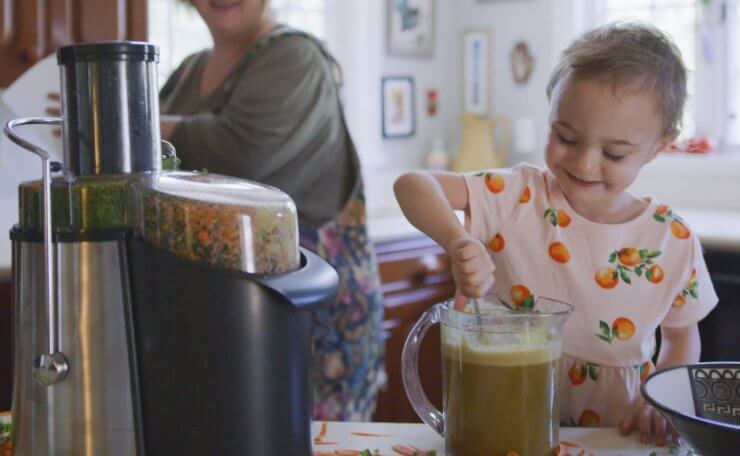 So instead of coughing up $5 per 8oz of cold-pressed juice, I decided to come up with my own green juice recipe for kids, which my daughter drinks every morning. It's been particularly helpful with potty training, because my juicer leaves everything a little pulpy, so you get the fluid and the fiber in one. That's as far as I'll get into toilet talk while talking about this green juice recipe though—wink wink, see me after the show.
This green juice recipe can be stored for up to 72 hours in the fridge, and yes the most nutrition comes from drinking it right away, but who has kids and time to make fresh juice every morning? And clean the juicer? Not me! After dinner a few times a week works for me.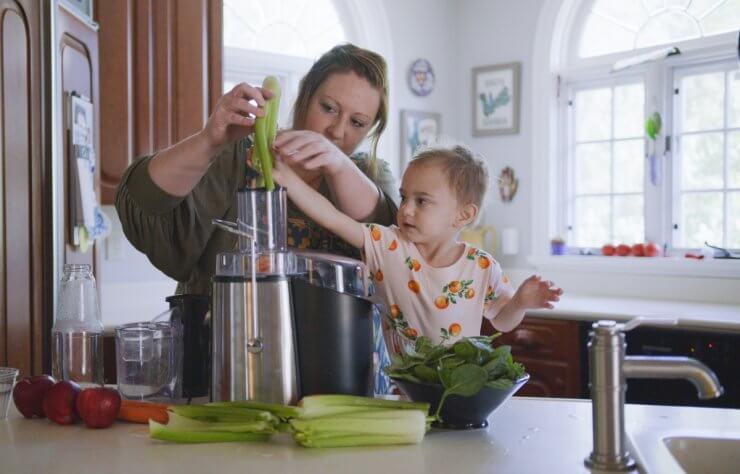 Using Celery as the Base of the Best Green Juice Recipe for Kids
Celery is an incredible base for a green juice recipe. I feel like it's often overlooked and replaced with sugar-laden apples instead. You don't get a whole lot of juice from other greens like lettuce unless you use a ton, but celery is 95% water, which means instead of using sugary fruits like apples and oranges to create the bulk of the juice, you can use celery instead. You'll still use apples and oranges in this green juice recipe of course—they're kids and they have tastebuds—but the majority of the juice comes from the celery.
Some people drink celery juice all by itself. Kids probably won't. It doesn't taste bad, it tastes as if you were eating celery, it's even refreshing, but I wouldn't bet on kids drinking celery juice in the morning (and if they do – go you!) unless you're blending it with peanut butter, which also sounds gross. In terms of the benefits, it's a demonstrated anti-inflammatory and has antimicrobial properties that help fight infections and boost your immune system.
In terms of nutrition, eight ounces of celery juice contains 42 calories, 4 grams of fiber, 2 grams of protein, and 9 grams of carbohydrates and contains vitamins like Vitamin A, C, K, and B, Calcium, Magnesium, Zinc, Copper, Folate and Biotin.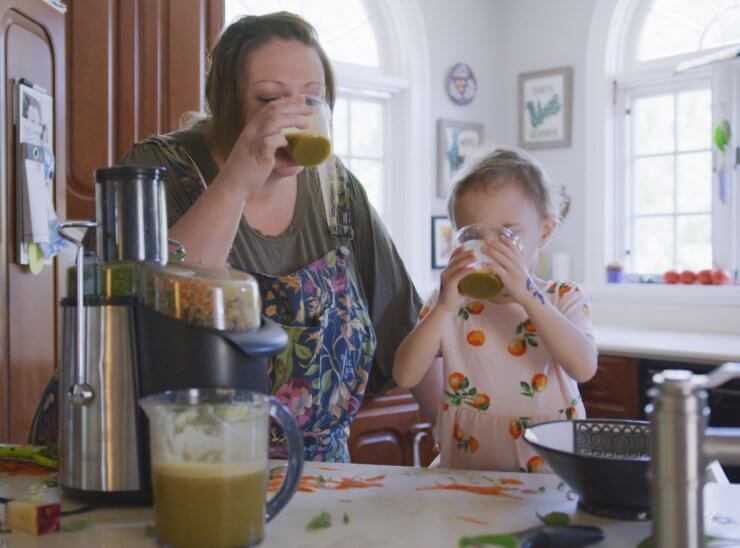 Ingredients Explained
Of course, you'll need a juicer. Some people blend and strain their juice, but I say just buy an affordable juicer that says it's super easy to clean—the hardest part.
Most importantly, the best green juice recipe for kids needs to taste good enough to overcome its color. While my daughter associates green with juice because it just happened that way, I'm well aware that not all kids want to drink green juice.
One pro-tip is to get the kids involved. I let my daughter help chop the veggies, peel them if needed, and put them down the spout of our juicer before pressing. Getting kids involved peaks their curiosity so that they want to try the juice.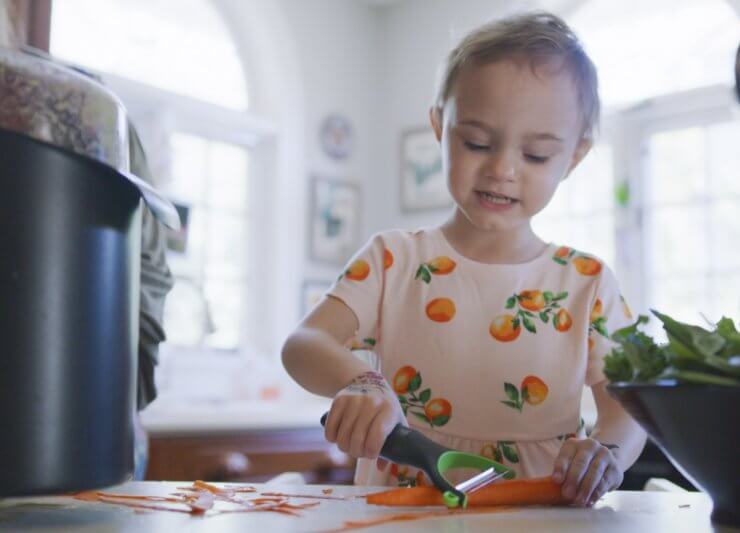 Celery, spinach, kale – For the greens, we're using celery because it provides us so much base juice, and spinach and kale for the additional nutrients.
Carrots – Truthfully, carrots are what's going to make the color and consistency of this juice look not as fab, but they add sweetness and familiarity to the juice along with lots of nutrients.
Apples, mandarin oranges – The amounts in this green juice recipe are adjustable. This recipe is based on a number of tweaks I've made, that I personally like best and that my daughter drinks. My suggestion is to use as few as needed, taste, then add more. This is another good way to get the kids involved. Let them taste the juice, and if they think it needs more sweetness, add another sliced apple. Offering them control is the ticket to getting them to drink their green juice if you're having a tough time convincing them. They'll likely be surprised that they like it if it's their first time!
Print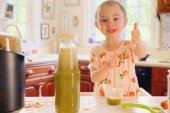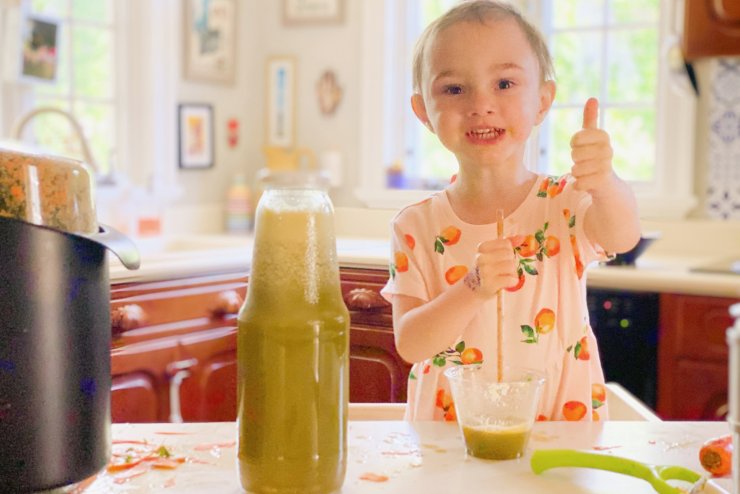 Green Juice Recipe for Kids
The best green juice recipe for kids uses celery for the juice base instead of apples, to reduce sugar. But don't worry, there are still apples, carrots and even a few mandarin oranges thrown in for kid-friendly flavor.
Author:
Prep Time:

15 minutes

Total Time:

15 minutes

Yield:

32oz

1

x
Category:

Beverages
Ingredients
2

hearts organic celery (about

20 oz

)

4

organic carrots, peeled and trimmed

1

handful of spinach

1

handful of kale

2

–

3

red apples, core/seeds removed

3

clementine mandarin oranges
Instructions
Wash all of the produce. Whether you grew it, or it came in a bag, give it a good wash, peel your carrots and clementines, and remove the seed sections from your apples. Orange seeds are fine to blend.
Start with celery, then move your way down the list, processing one ingredient at a time, and using the right setting for each fruit or vegetable on your juicer.
At this point, taste your juice with your kids. If they want it sweeter, you can add another apple, one at a time until it reaches a flavor they like.
Store in a recycled glass juice jar or large mason jar in the fridge for up to three days. The most nutritional benefits come from drinking right away.
Now here comes the fun part! I'd love to know what kinds of juice recipes you make for your kids. This definitely isn't the only best green juice recipe for kids, so please share yours too!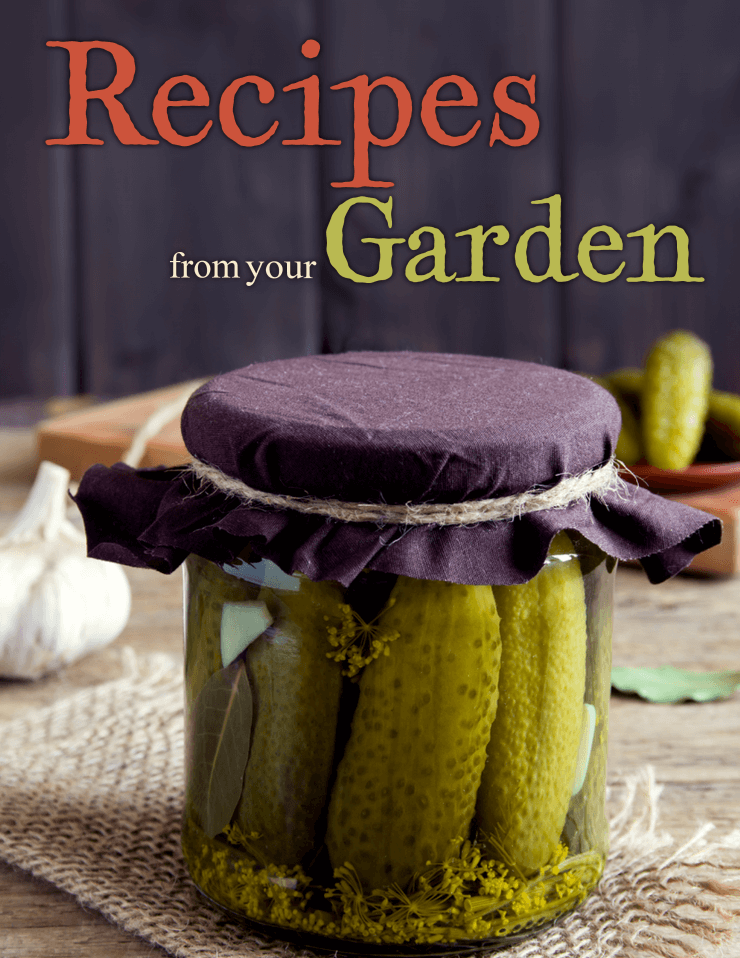 Discover 9 garden recipes spotlighting the delicious possibilities of home gardens—when you access the FREEBIE Recipes from Your Garden, right now!