Are you a fan of both raspberry and vodka? If so, you'll love this delicious take on your favorite alcohol, and you'll be able to make my Knockout Peach Berry Fizz cocktail! Making your own Raspberry Vodka is easier than you think. You don't need to be an expert mixologist or home bartender to make your own raspberry vodka; all you need is some time, some simple ingredients from your garden, and the motivation to begin making your very own batch! It's that easy! Even if you've never made your own liquor before, making raspberry vodka is about as easy as it gets.
Before you begin, you'll want to ensure that you're growing the best raspberries for flavored vodka. Here are a few varieties I like:
Red Raspberries (Example: Willamette) – Red raspberries are the most common type of raspberry. They're also the most widely cultivated and the most commercially produced. Red raspberries are high in antioxidants and Vitamin C, but low in sugar.
Gold Raspberries (Example: Champagne or Double-Gold) – Gold or champagne raspberries are a light pinkish-red color. They're low in antioxidants but have high sugar content.
Black Raspberries (Example: Black Hawk) – Black raspberries are smaller and darker in color than red raspberries. Black raspberries are rich in antioxidants and have high sugar content. Black raspberries are also prone to aphids and disease and shouldn't be planted with the other types.
Purple Raspberries (Example: Crimson Night) – Purple raspberries are a reddish-purple color. They're high in antioxidants, have a lower sugar content than other raspberry varietals, and are low in natural pectin.
Since you're adding fresh raspberries to your vodka, you may be wondering how vodka preserves raspberries. Vodka is a great preservation agent for raspberries. In fact, it's so effective at preserving raspberries that it can keep them fresh for up to two years! When making raspberry vodka, you'll want to use a high-quality 100-proof vodka with a neutral flavor. You don't want your raspberry vodka to taste like alcohol; you want it to taste like raspberries. Low-quality vodkas often have a distinct flavor that's tough to mask. If you use high-quality vodka, you should be able to mask the flavor of the vodka easily.
There's no better way to enjoy raspberries than to make raspberry vodka at home. This alcohol is a delicious and unique way to enjoy your favorite varietal, and it's a great way to share your love of raspberries with your friends and family. Whether it's a gift for a friend or a special treat just for you, raspberry vodka is a delicious take on an old favorite. Who says you can't enjoy raspberries all year long?
Print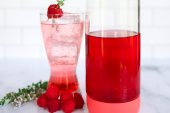 Raspberry Vodka
This homemade Raspberry Vodka infuses a favorite spirit with ripe, juicy, garden-fresh raspberries and it only takes two weeks!
Author:
Category:

Beverages
Ingredients
16oz

raspberries, washed

750

ml vodka
Instructions
In a half-gallon mason jar, add all ingredients. Shake, then cover and store in a cool dark place for 2 weeks.

Once ready, cover your mason jar with cheesecloth, then use a fine-mesh strainer covered with a coffee filter to remove solids. Add vodka to the bottle of your choice.
Raspberries are perennial favorites among home gardeners for their ease of growing and prolific yield of plump, juicy berries. With our Raspberries Gardening Guide, you'll have everything you need to know about growing and enjoying this versatile food. Do you want to start growing raspberries at home? We'll show you how!
And if you try making this vodka, let me know what you think!