As spring days warm toward summer, my thoughts often turn to fresh-squeezed lemonade. I've been growing a Meyer lemon tree indoors with plenty of TLC. Once I have a few ripe lemons, I think I'll make a pitcher of this luscious lavender lemonade with ingredients fresh from my garden.
This recipe definitely calls for English lavender. You don't want to use French lavender because it has a higher camphor content than English lavender. So, unless you want your lemonade to end up tasting like a cross between cough syrup and soap, be sure to use English lavender. And make sure it's culinary lavender; potpourri lavender is not meant to be eaten.
I've been making fresh lemonade for years, but only recently began making it with lavender. I got a taste of it a while back, when one of my friends (with a very impressive herb garden) offered me a glass during my visit. Wow! Lavender lemonade takes the everyday away and replaces it with a taste that practically insists you sit down in a glider to enjoy it on the porch.
You might want to make this up in a double batch. I've found it's convenient to have a pitcher made and ready to go, and a couple ice cube trays of lavender lemonade on standby in the freezer to spruce up the pitcher without diluting its luscious lavender flavor. You could also keep some on hand to add to fresh brewed iced tea; it would definitely bring a little surprising zing to your basic iced tea.
The next time life (or your lemon tree) gives you lemons, remember to reach for the lavender, too.
Print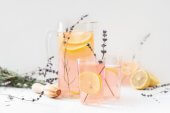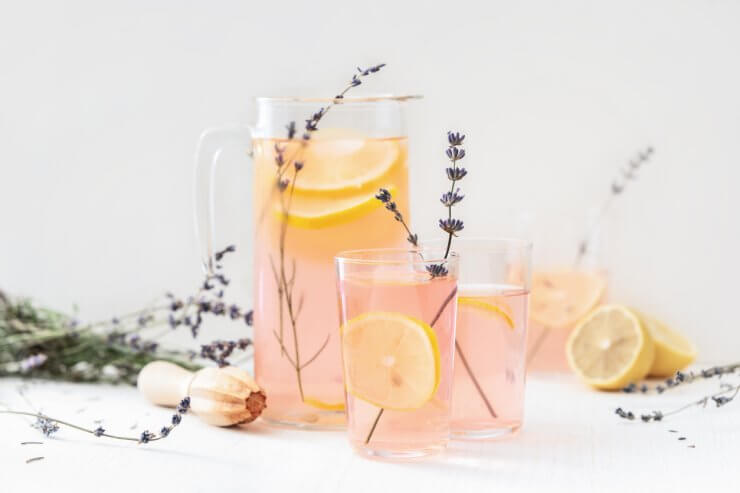 Lavender Lemonade
Put a refreshing spin on your usual lemonade. The addition of lavender in this lavender lemonade gives this traditional summertime drink a delicious layer of flavor.
Author:
Prep Time:

20 minutes

Infusing Time:

3 hours

Total Time:

3 hours 20 minutes

Yield:

Serves 4
Ingredients
Handful of freshly picked lavender buds cut from the stems, or 1 tablespoon dried lavender buds

1 cup

white sugar

2 cups

boiling water for infusion

1 1/2 cups

freshly squeezed lemon juice

2 cups

cold water, or to taste
Ice
Lemon slices and lavender sprigs for garnish
Instructions
Use a large glass mixing bowl (preferably one with a lip) to combine the sugar and lavender.
With clean hands, gently rub the lavender into the sugar.
Pour 2 cups of boiling water over the lavender. Stir with a spoon until the sugar is thoroughly dissolved.
Cover the bowl and let the lavender infuse the water for at least 30 minutes, or up to several hours.
Stir the mixture, then strain the infused water into a pitcher.
Stir in the lemon juice.
Add up to 2 cups of fresh, cold water to balance the level of sweetness and tartness. Keep in mind that ice will dilute the flavor.
Add ice and garnish with lemon slices and lavender sprigs.
Notes
Make it extra special by making it with your own homegrown lavender and lemons! Be sure to use English lavender in this recipe for the best results.
And if you're interested in growing your own lavender, check out Lovely Lavender: The Complete Guide to Growing, Harvesting, and Enjoying Lavender. Take a deep breath near a lavender field and you'll walk away both energized and relaxed by the heady, heavenly scent of this beautiful, versatile plant. A cold-hardy, drought-tolerant evergreen, lavender is more than just a pretty plant. The culinary variety of lavender is delicious in cookies and cakes, teas and lemonades, as a garnish, and as a secret ingredient in herbal blends. Start growing lavender today with our guide.
Have you tried Lavender lemonade? What did you and your friends or family think? Let us know what you thought about this recipe.