Grenadine is one of those ingredients you'll find in many cocktails. It's the syrup that adds the perfect level of sweetness not only in drinks but also in desserts. It's no wonder why a lot of people — especially me! — love it. But I'm not a fan of that pesky Red 40, which is why I don't buy it, I make it instead! You'll be shocked how ridiculously simple it is to make homemade Pomegranate Grenadine, that you'll never buy it again.
I like to think of grenadine as the cherry on top of a sundae. It's that final touch that can make or break a recipe, but with this homemade Pomegranate Grenadine, I'm confident that I can make any recipe great. After all, it only has three ingredients: pomegranate juice, lime juice, and sugar.
If only I had found this recipe way earlier, I would've never made all those Shirley Temples for my kiddo with the icky stuff from the store. Heck, we make our own maraschino cherries now with it, we just soak them in this grenadine overnight! But better late than never, right? I'm not even kidding when I say that this recipe is a total game-changer. It's so easy to make, and it tastes a whole lot better than the ones I've tried before.
The best thing about this Pomegranate Grenadine is that it only takes 15 minutes to make and lasts for a whole month. I suggest doubling the recipe if you think you'll be needing more grenadine or marinating cherries. Personally, I can make a big batch, refrigerate it, and then use it whenever I need and want to.
Note: The trick with this recipe is not to let it simmer at the end too long. You want it to thicken slightly, but if it gets too thick, it'll just sit like gel at the bottom of a cold drink when you add it. That's kind of annoying in something like a Tequila Sunrise when you want it to disperse on its own.
I use Homemade Grenadine for a bunch of other recipes like salad dressings, sauces, glazes, and marinades. For drinks, it takes my Limoncello Sunrise, Margaritas, and Cosmopolitans to the next level. I've never been so excited about my pomegranates before! Now, I see my garden as my own bar, and I can't wait to try more recipes I can make with this.
Print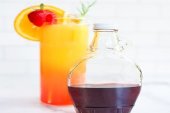 Pomegranate Grenadine
This homemade Pomegranate Grenadine serves up all the levels of sweetness and tartness that pomegranates have to give, but mostly sweet!
Author:
Category:

Beverages
Ingredients
1 cup

pomegranate juice (either freshly juiced or store-bought)

1 cup

cane sugar

2 tbsp

lime juice (half a lime)
Instructions
In a saucepan over medium heat, add 1 cup pomegranate juice, 1 cup cane sugar, and 2 tbsp lime juice. Simmer until sugar has dissolved, then simmer an additional 5-10 minutes to thicken the consistency slightly but not too much. It will thicken further as it cools. Once done, let cool, then pour into jar and enjoy. Can be refrigerated for 1 month. If you need to use it quickly, try marinating cherries overnight to make maraschino cherries!
If you try this homemade Pomegranate Grenadine recipe, I'd love to know what you think!