When my daughters were young, a simple glass of warm milk could help put them to sleep. But now that they've grown into wonderful young women, offering them a glass of warm milk for bedtime isn't really going to fly. For one thing, they aren't always fond of dairy, and milk by itself can get pretty boring sometimes. I should know — I feel the same! I guess that's what you get for raising your girls in the kitchen!
But, you know what they say: old habits die hard. Whenever they come home for the summer or the holidays, I make sure my daughters have a delicious bedtime beverage that can help them relax and get that full eight hours of sleep. Of course, this time, I have to be a little more creative. I finally found the perfect recipe for a cozy, bedtime drink: a dairy-free Chamomile Latte!
Traditionally, a latte is made with espresso and steamed milk, but since this is a drink for late evenings, we'll just skip the espresso part. Instead, we'll use chamomile flowers in a French press. How awesome is that?
The great thing about a latte is that you can play around with what kind of milk you want to use. After a few tries, I settled for cashew milk. Usually, almond or coconut milk are good alternatives to dairy, but they're a little on the strong side when paired with chamomile. Cashew milk, on the other hand, has a really mild flavor profile that doesn't overshadow the chamomile's equally mild taste. If anything, using cashew milk lets the slightly sweet, floral taste of chamomile really shine through.
So, what you'll get with your Chamomile Latte is an earthy combination of subtly sweet, velvety smooth, and mildly floral drink. It's the perfect way to cap off the evenings and prepare for a good night's sleep! My kids love it — I'm sure yours will, too!
Print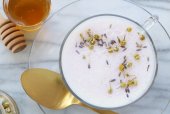 Dairy-free Chamomile Latte
For a delicious bedtime beverage, a glass of this cozy dairy-free Chamomile Latte can help you catch some zzzs!
Author:
Prep Time:

5 minutes

Cook Time:

5 minutes

Total Time:

10 minutes

Yield:

Serves 1

Category:

Beverages
Ingredients
4 tablespoons

fresh chamomile flowers, or

2 tablespoons

dried flowers

3/4 cup

cashew milk, heated but not boiling
Honey to taste
Instructions
Heat cashew milk to just below boiling.
Put chamomile flowers into a French press.
Pour the heated cashew milk over the chamomile flowers.
Place the French press lid on the pot.
Let the mixture steep for at least 5 minutes.
This is where your plunging technique will be a little different than what you do for coffee. Press the plunger down, then pull it up quickly. Repeat this several times, until the cashew milk is frothed to your satisfaction.
When the cashew milk is nice and frothy, press the plunger all the way down.
Pour into a mug. Add honey if desired.
Have you tried this recipe? It's a great nighttime version of a latte—please tell us how it turned out for you.