Greek Lemon Potatoes are the ultimate side dish, and let me tell you why. For the longest time, potatoes got a bad rap for being fattening. Sure, they're a carbohydrate—but do you know how full of nutrition they really are? If you had to, you could live on just potatoes for months (remember the movie The Martian?). Our How to Grow Potatoes Gardening Guide goes into great detail about the marvelous properties of the humble spud; check it out when you get a chance.
Potatoes are one of the most versatile vegetables around. You can bake them (in the oven, the microwave, the grill, or the fire pit), roast them, mash them, hash them, boil them, and fry them. Top them with cheese, chives, and salsa, and you've got yourself a meal.
One of the things I really love about potatoes is how easygoing they are. You can dress them up any way you like, and they taste delicious. And this Greek Lemon Potatoes recipe really enhances the flavor of your potatoes—you get a great combination of earthy goodness and citrus zing in every bite.
I don't have a lemon tree yet, but I'm thinking about it. Our friends have had a Meyer lemon tree for years. They put it in the yard in its container for the summer, and move it to their cheerful south-facing sunroom for the balance of the year. Oh, and the taste of those lemons, fresh off the tree, warmed by the sun—heaven!
I do have a strong herb garden going year-round, including oregano, and I've been growing Chesnok Red garlic for its bright, bold flavor (see our Glorious Garlic Gardening Guide for more varieties). It's a great addition to these potatoes.
This recipe is a good example of how you can tap into a home garden to create a delicious side dish. Half of what you need for this recipe you can grow yourself, even with limited garden space: lemons, potatoes, garlic, and oregano are all good candidates for container (or windowsill) gardening. Which ones will you grow?
Print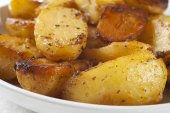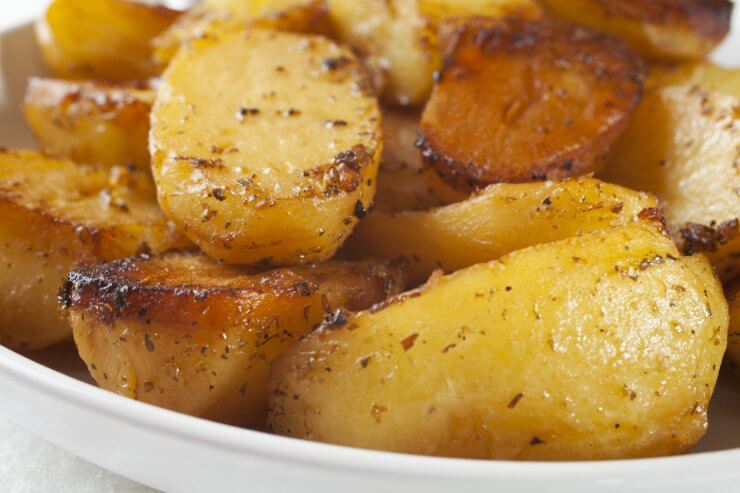 Greek Lemon Potatoes
Lemons have been part of the Greek landscape for thousands of years. This Greek Lemon Potatoes recipe blends Mediterranean flavors for a taste that's way more complex than it is to make.
Author:
Prep Time:

20 minutes

Additional Time:

2 hours

Cook Time:

1 hour

Total Time:

3 hours 20 minutes

Yield:

Serves 6

Category:

Sides & Sauces
Ingredients
3

pounds Yukon gold potatoes or other waxy potatoes (fingerling potatoes work especially well)

1/2 cup

freshly squeezed lemon juice

1/3 cup

olive oil

4

garlic cloves, minced

1 teaspoon

dried oregano or

1 tablespoon

of fresh oregano

1/2 teaspoon

sea salt

1/4 teaspoon

fresh ground black pepper, or to taste

2 cup

chicken broth
Instructions
Cut potatoes into quarters.
Combine lemon juice, olive oil, garlic, and spices in a large zippered bag or a large bowl or container with a tight-fitting lid.
Add the potatoes; shake or stir to coat them thoroughly.
Put the potatoes, in their marinade, in the fridge for 2 hours.
Preheat oven to 425 degrees F.
Put a piece of parchment paper or foil in the bottom of a large rectangular baking dish or an enameled roasting pan.
Add the potatoes, marinade and broth to the baking dish.
Roast for an hour, turning about every 15 minutes.
Serve with leftover sauce on the side.
Notes
You decide whether to peel them. Some people prefer their potatoes with the skin on.
Lemons may seem like an exotic tree to grow, but all they need is a little TLC to give you years of tangy harvests! You don't have to live in a subtropical zone to grow lemons—there are plenty of varieties happy to grow as productive houseplants! With this gardening guide, you get all the details that go into growing and harvesting bright, fragrant lemons. Get recipes for dishes sweet and savory that make it all the more rewarding to grow your own lemons. Get it all in our Tart & Tangy Lemon Gardening Guide right now!
Have you tried this recipe? It's a great side dish with plenty of flavor. Please tell us how it turned out for you.