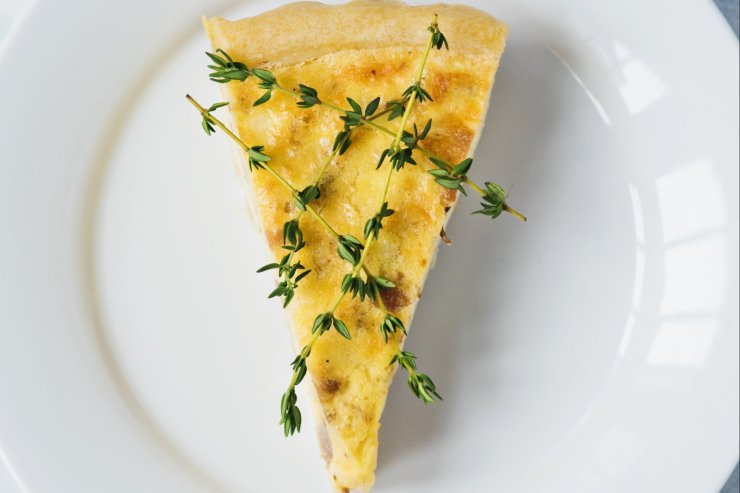 When I think about German food, the first things that comes to mind are foods like bratwurst, schnitzel, Pumpernickel bread, cheeses, cakes, and, of course, a tasty Hefeweizen or Kölsch beer. I do not, however, usually think about quiche. Quiche is a French food, no?
It turns out that quiche is, indeed, German in origin. As these things go, there is some dispute about this, especially given that the dish is now a quintessential French recipe. The story is that quiche was originally an egg custard baked with bacon or ham in a more bread-like crust. It's possible that the dish dates back to at least the 1300s CE. Interestingly, though, except for the addition of cheese, it hasn't changed all that much in 700 years.
The biggest difference is that quiche is one of those dishes that almost every cook has their own twist on. You'll find quiche with all sorts of vegetables, smoked salmon, mushrooms, or even spicy versions. It's served as a breakfast and lunch item, but you'll also find it on the dinner menu at some restaurants or at home.
This Bacon and Cheddar Quiche recipe is on the more traditional side, opting to let the richness of the eggs, cream, and salty bacon shine through. The recipe itself is pretty simple, but it does take a little bit of planning, since you'll need to pre-bake the crust and then it still needs at least 45 minutes in the oven. I like recipes like this, though, because I can clean up while it's in the oven. Then when it's time to eat, my kitchen is back to a presentable level of cleanliness.
By the way, quiche also keeps in the refrigerator for a few days, so you can always bake this when you have some extra time, then serve it for breakfast for the next day or so. Enjoy!
Print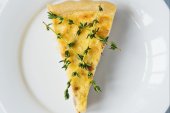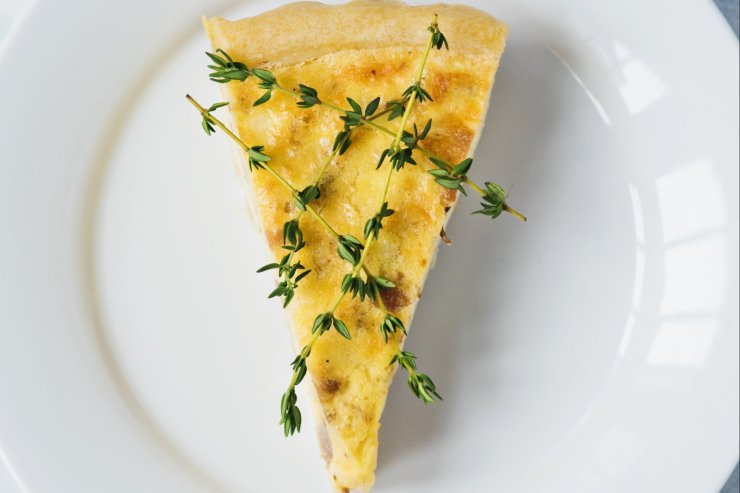 Bacon and Cheddar Quiche
This bacon and cheddar quiche is easy enough to make in the heat of competition but sophisticated enough to present to guests around your dinner table. When I was on The Food Network for the second time, I was tasked with making quiche. Chef Richard Blais was the judge of this competition, and despite the many challenges I faced on the show, I made it and he liked it! This is my go-to recipe.
Author:
Prep Time:

20 minutes

Cook Time:

1 hour

Total Time:

1 hour 20 minutes

Yield:

Serves 6

Category:

Entrées
Ingredients
1

(9-inch) pie crust

4

large eggs

1 cup

half-and-half

1/2 teaspoon

salt

1/2 teaspoon

freshly ground black pepper

3

scallions, thinly sliced

6

slices bacon, cooked and crumbled

1 cup

shredded cheddar cheese

1 cup

finely chopped onion Thyme sprigs, for garnish
Instructions
Preheat the oven to 325 degrees F. Bake the pie crust for 15 minutes, until lightly browned. Meanwhile, in a medium bowl, beat the eggs lightly, then whisk in the half-and-half, salt, pepper, and scallions. Sprinkle the bacon, cheese, and onion into the baked pie crust and add the egg mixture.
Bake the quiche for 45 to 50 minutes, or until a knife inserted in the center comes out clean. Let stand for 10 minutes, then serve, garnished with the thyme.
Keywords: bacon, cheddar, quiche
Have you tried this Bacon and Cheddar Quiche? What did you think? Are there any additions you would add?