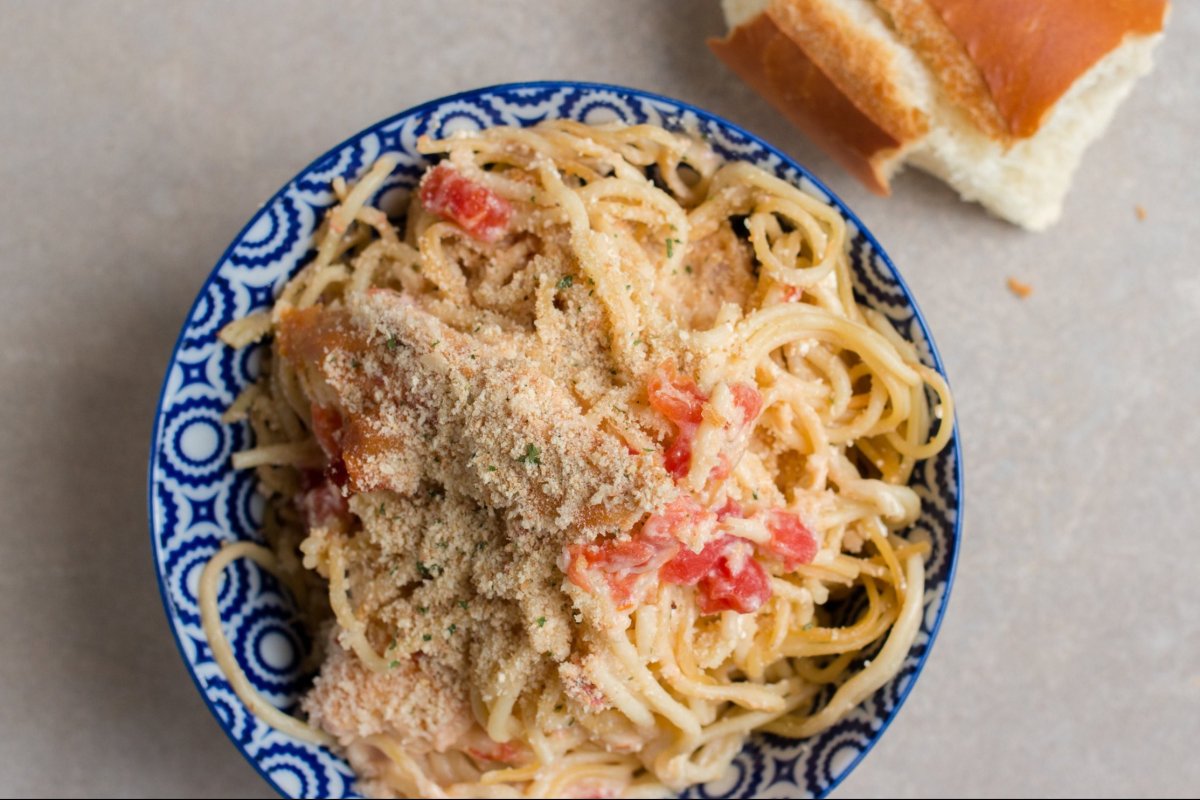 Casseroles have a way of surprising us. Making one is simple enough; you can just layer all the ingredients together and wait for them to bake. I've tried all sorts of casserole recipes, but this Layered Chicken Spaghetti Italian Casserole is definitely my favorite.
First of all, I have always believed that chicken spaghetti is the supreme Italian dish. It's got everything you need in one plate: protein, carbs, and vegetables. What more could you ask for? However, this Layered Chicken Spaghetti Italian Casserole takes it up a notch by layering the chicken spaghetti with cheesy Italian goodness in the form of mozzarella and parmesan cheese!
Can you just imagine how amazing this tastes? The mushroom soup and the spices in the chicken spaghetti mix with the cheese and create an irresistible flavor. Plus, you don't have to worry about making too much. If there are leftovers, just box it up and put it in the fridge; spaghetti is always heavenly even the next day. What you might have to worry about, though, is whether you'll have any leftovers at all!
This Layered Chicken Spaghetti Italian Casserole recipe is easy to follow, and it's definitely a crowd-pleaser. I usually serve it with a glass of wine and some garlic bread on the side. This casserole is definitely the first dish I recommend to anyone looking for an Italian-inspired meal for any occasion. When you think about delicious Italian food, spaghetti should come to mind. You can make it even more exciting with this casserole, and you'll be everyone's favorite cook! I always get requests for the recipe when I make it, so I know your family and friends will love it, too.
Print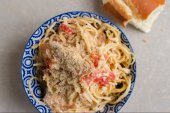 Layered Chicken Spaghetti Italian Casserole
This Layered Chicken Spaghetti Italian Casserole will liven up your next dinner with a twist on all of the classic Italian spaghetti flavors your family loves.
Author:
Prep Time:

30 minutes

Cook Time:

40 minutes

Total Time:

1 hour 10 minutes

Yield:

Serves 6

Category:

Entrées
Ingredients
8 ounces

thin spaghetti

2 cups

chopped cooked chicken

2

(10.75-ounce) cans cream of mushroom soup

1

(10-ounce) can diced tomatoes

1 cup

sour cream

1/4 teaspoon

freshly ground black pepper

1 cup

shredded Italian cheese blend

2 tablespoons

grated Parmesan cheese

1 cup

Italian-style bread crumbs

2 tablespoons

unsalted butter, melted
Instructions
Preheat the oven to 350 degrees F and lightly coat a 9 × 13-inch baking dish with cooking spray.
Bring a large pot of water to a boil, add the spaghetti, and cook until al dente. Drain and return to the pot. Add the chicken, soup, tomatoes, sour cream, and pepper, and stir to combine. Transfer to the baking dish, cover with foil, and bake for 30 minutes. Remove the foil, and sprinkle both cheeses over the top, then sprinkle the bread crumbs over the cheese.
Drizzle the melted butter over the bread crumbs, return to the oven, and bake until the cheeses have melted and the bread crumb topping is golden brown. Serve.
Notes
To cook the chicken: place 2 medium boneless, skinless chicken breasts on a baking sheet and bake at 350 degrees F for 30 minutes. Remove from the oven and shred.
Keywords: chicken, spaghetti, italian, casserole
Have you tried this recipe? What did you think? We'd love to get your opinion in the comments section below.