Chances are, if you've been to a Greek restaurant or a gyro stand, you've encountered tzatziki. Creamy, tangy, and redolent of dill, tzatziki goes with just about everything. Traditional tzatziki brings together classic Greek flavors—dill, yogurt, cucumbers, olive oil, and vinegar—to create the perfect condiment for lamb, beef, fish, poultry, and vegetables. Oh heck, we'll eat it with pita triangles and some olives.
Before Greek yogurt became readily available at grocery stores, making tzatziki involved straining the yogurt through cheesecloth overnight to remove the excess water and render the yogurt thick. Nowadays, you can find plain Greek yogurt almost everywhere, making that step unnecessary.
However, for tzatziki to maintain its thickness, you also should remove as much water as possible from the grated cucumber. The best way to do this is to drain it overnight. If you don't have the time—or the patience—you can press the cucumber against the strainer over a bowl for a few minutes. Your Greek Yogurt with Dill Tzatziki may not be quite as thick, but it will still taste delicious.
Tzatziki benefits from allowing the flavors to meld; the longer the garlic sits in the yogurt, the more it mellows. On the other hand, add the fresh dill shortly before serving, otherwise it can overpower the other flavors.
A fun way to serve tzatziki is to include it in meze, the Greek form of tapas. Put out a bowlful and surround it with sliced cucumbers, cherry tomatoes, pita triangles and sesame breadsticks, some Greek meatballs, kalamata olives, feta cubes, stuffed grape leaves, and mini souvlaki skewers. Then open a bottle of ouzo, bring out the shot glasses, and drink a toast—Yassou!
Print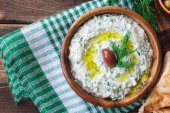 Greek Yogurt and Dill Tzatziki
Spread, dip, or condiment? Tzatziki is all three! A staple of Greek cuisine, this authentic tzatziki recipe is one of the most delicious—and versatile—things you can do with dill. Prepare to make a second batch soon!
Author:
Prep Time:

15 minutes

Chilling Time:

12 hours

Total Time:

12 hours 15 minutes

Yield:

Serves 8

Category:

Sides & Sauces
Ingredients
1/2

of a large cucumber, unpeeled

1 1/2 cups

plain full-fat Greek yogurt (you can substitute coconut milk yogurt)

2

large garlic cloves, finely minced

2 tablespoons

extra virgin olive oil

1 tablespoon

white vinegar

1/2 teaspoon

salt

1 tablespoon

minced fresh dill
Instructions
Grate the cucumber and drain through a fine mesh sieve overnight in the fridge.
Combine the yogurt, garlic, oil, vinegar, and salt in a large bowl. Cover and refrigerate overnight.
Transfer the grated cucumber and fresh dill to the yogurt mixture and stir to combine. Serve chilled with pita bread for dipping.
Notes
To save time, you can press the cucumber through the sieve to remove as much water as possible and combine with the remaining ingredients immediately. The tzatziki will not be as thick, but will still taste delicious.
Have you tried this recipe? It makes a perfect spread on crackers and bread, as a dip with vegetables and olives, or a condiment on meat, fish, poultry, and vegetables—please tell us how it turned out for you.