Almondine is the French way of saying "with almond garnish," but in this Green Beans Almondine dish, the almonds have equal standing with the green beans. Not only do the crisp green beans pair well with the buttery crunch of the almonds, but the appealing combination of bright green and creamy brown colors announce to diners that something delicious is about to entertain their taste buds.
Classic Green Beans Almondine is a very simple dish. This recipe is, too; in fact, it omits the ice bath after the beans are blanched. Typically, this step is necessary to stop the beans from cooking—and getting limp. But because you'll be moving the beans directly from the blanching pot to the sauté pan for flavoring, the ice bath isn't necessary. Should you want to prepare the green beans ahead of time, you should place them in the ice bath, then drain them on a towel, and refrigerate in an airtight container for up to three days.
Either way, when blanching, err on the side of less time, not more. You can always cook the green beans in the pan a little longer. But once the beans are overcooked, you can't go back. Additionally, be sure you don't spare the salt in the blanching water. Salting the water seasons the beans through and through, and also helps retain the bright green color.
Choose a slim, tender green bean like Blue Lake or Mascotte to create a tender side dish that's a feast for the eyes. Serve this speedy recipe as a side dish on a weeknight or whenever you have guests.
This Green Beans Almondine recipe is easy and comes together fast, which is a plus, but be sure to read it through and have all your ingredients in place before starting. Then savor this classic side dish with fish, chicken, beef, or a grain, such as couscous or brown rice.
Print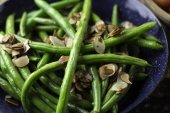 Green Beans Almondine
This classic Green Beans Almondine dish adds just enough flavors to complement the fresh beans without overshadowing them.
Author:
Prep Time:

5 minutes

Cook Time:

15 minutes

Total Time:

20 minutes

Yield:

Serves 4

Category:

Sides & Sauces
Ingredients
1

pound long, slim green beans, trimmed

2 tablespoons

unsalted butter

1/4

heaping cup sliced almonds

2

medium shallots, finely diced

2

medium garlic cloves, minced
Zest of

one

small lemon

2 teaspoons

freshly squeezed lemon juice
Kosher salt
Freshly ground black pepper
Instructions
Bring a large pot of water to a boil. Season the water liberally with kosher salt (it should be very salty to taste).
Blanch the green beans for 4 to 5 minutes, stirring occasionally, or until they are crisp-tender and slightly squeaky between your teeth. It is important that the green beans be slightly undercooked as they will be transferred directly to the skillet and will continue cooking during this time.
Meanwhile in a large skillet, melt the butter over medium-low heat until lightly bubbling. Add the sliced almonds and sauté, stirring frequently, for 2 to 3 minutes or until they are starting to turn golden brown. Reduce the heat to low and add the chopped shallots and garlic. Sauté for an additional 1 to 2 minutes, stirring frequently, until fragrant and lightly caramelized.
Using a large, slotted spoon, tongs, or kitchen spider, transfer the blanched green beans from the boiling water directly to the skillet. Sauté briefly, gently tossing the green beans with the almond mixture until evenly combined and the green beans are tender. Add the lemon zest and lemon juice, toss once again, and season to taste with salt and freshly ground pepper. Serve immediately.
Green beans are grown, and eaten, the world over. With the Latin name Phaseolus vulgaris (common bean), green beans are also referred to as string beans, pole beans, and snap beans. With our Grow Great Green Beans Gardening Guide, you'll have everything you need to know about growing and enjoying this unique food in your home garden, including advice on planting, raising, harvesting, and preparing dish after delicious dish featuring your home-grown green beans.
Have you tried this Green Beans Almondine recipe? How did it come out? Please share any tips with us in the comments below.