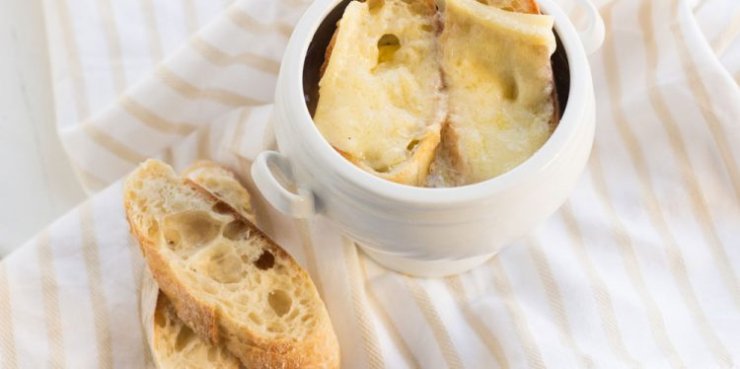 Everybody knows Paris is the center of the gastronomic universe, so it's no surprise that the French can make something so decadent out of something as simple as onions! In fact, it was created as a way to feed the poor, because onions are so easy to grow. There's just nothing like traditional French onion soup, especially when you need something toasty and tasty to thaw yourself out of the winter cold.
Of course, the secret to a sumptuous bowl of French onion soup is perfectly caramelized onions — which isn't really much of a secret at all. What you should know is that the French love to take their time when it comes to savoring their food, which also extends to how they prepare their meals. That said, you're going to need a bit of patience when caramelizing your onions. It's a simple process, though it does take time. It's definitely well worth the wait! Don't forget to occasionally stir the onions to keep the bottom from burning. You know you did it right when your onions get a nice, golden-brown color with a consistency that resembles jam.
I always get tempted to just dig in once the onions have been caramelized, but I remind myself that good things come to those who wait! Bringing the beef stock to a boil takes a few minutes, but there's just nothing like its rich, slightly salty flavor blending nicely with the savory sweetness of caramelized onions. Topping it all off with bits of toasted baguette and softly melted gruyere cheese is just the height of luxury. To think all this is possible even with a humble harvest of garden onions!
If you've got time to spare (or other chores you can do in between preparation), indulge in a warm serving of French onion soup. It's a one-way ticket to France without having to hop on a plane!
Print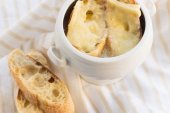 French Onion Soup
Luxurious, decadent, irresistible — it's everything you can expect from this classic French onion soup. It's the perfect comfort food that brings a taste of France right at your table!
Author:
Prep Time:

10 minutes

Cook Time:

1 hour 30 minutes

Total Time:

1 hour 40 minutes

Yield:

Serves 8

Category:

Soups
Ingredients
4 tablespoons

unsalted butter

4 tablespoons

olive oil

6

Vidalia (or sweet) onions, quartered and sliced thinly

8 cups

beef stock

1 tablespoon

sugar
Salt and pepper to taste

2

cloves garlic, minced

1 tablespoon

fresh thyme leaves

2

dry bay leaves

1 cup

sherry
Sliced French baguette, toasted (8–12 slices, depending on the size and the serving amount)

2 cups

shredded gruyere cheese
Thyme leaves, for garnish
Instructions
Heat a very large pot over medium-high heat, and add in the butter and the oil. Once melted together, add in the sliced onions and stir to get them situated in the pot. Cook them, stirring every few minutes, until they begin to soften and wilt down, about 15 minutes.
Meanwhile, heat the beef stock in a medium pot over medium heat until hot.
After the 15 minutes, add in the sugar, salt, and pepper and stir to combine. Continue to cook the onions until they caramelize and become a deep golden brown and have an almost jam-like consistency, another 20–25 minutes.
Once the onions are caramelized and softened, add in the garlic, thyme, bay leaves, and sherry, and stir. Simmer for about 5 minutes, stirring occasionally, until slightly reduced.
Add in the hot beef stock and bring to a rolling simmer, then reduce the heat to low or medium-low, and simmer the soup, uncovered, for about 40–45 minutes.
To serve, ladle the soup into oven/broiler-proof bowls or little crocks, then top with a couple of pieces of toasted baguette, and about 1/2 cup of the shredded gruyere cheese, and place on a baking sheet under the broiler to melt and caramelize the cheese.