When you think of inventive cooking, unusual ingredients or food technology may come to mind. But what's more inventive than making hearty, nutritious, delicious meals out of whatever you have? That's the cucina povera style of cooking that has sustained Italians for centuries and made Italian cooking sought after. Cucina povera, known in English as poor cooking or peasant cooking, is not unique to Italy, but they sure have perfected the concept – especially with these Italian Green Beans.
Another dish, the famous Tuscan tomato and bread soup essentially adds bread to stretch the other ingredients and make the soup more filling. Biscotti are baked twice not just to make them crunchy and hold up when you dip them in wine or coffee, but because the second baking makes them keep longer. And beans of all kinds feature heavily in poor cooking, because they are cheap, yet full of vitamins and protein and can be cooked in many ways—but they're especially good in soups and stews.
Although you can use any kind of green bean in this Italian Green Beans recipe, flat Romano beans lend authenticity and a buttery flavor that take it to the next level. Fresh or frozen green beans will both work fine, but avoid canned beans in this case, as you want the freshest flavor possible.
This Italian Green Beans recipe is simplicity itself, making the most of common kitchen ingredients (povera, remember?) and transforms them into something heavenly. Some beans and tomatoes, a little onion and olive oil, a handful of seasoning, and the next thing you know you have a bowl of warm, filling, comforting deliciousness. And don't forget some crusty bread to sop up the sauce!
Print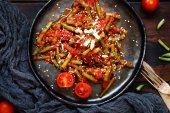 Traditional Italian Green Beans
Traditional Italian Green Beans—a 'poor cooking' recipe that tastes rich.
Author:
Prep Time:

5 minutes

Cook Time:

30 minutes

Total Time:

35 minutes

Yield:

Serves 4

Category:

Sides & Sauces
Ingredients
3 tablespoons

extra virgin olive oil

1

large onion, chopped

2

stalks celery, preferably with leaves, cut in half or thirds

3/4 cup

(

6 ounces

) crushed or pureed tomatoes
About

1

pound fresh or frozen green beans, Romano, French, etc.

1 cup

(

8 ounces

) shelled beans, such as cannellini, pre-cooked or canned and well-rinsed (optional, but they add texture plus protein and fiber)
Salt and pepper
Instructions
Place olive oil in a large heavy pot on medium-high heat, then add the chopped onion and celery pieces. Sauté until the onions just begin to brown.
Add tomato purée and stir. Cook for approximately 5 minutes, stirring often.
Add about 1 cup (8 ounces) water, and about 3/4 teaspoon of Kosher or sea salt. Bring to a boil, simmer for a few minutes.
Add the fresh or frozen green beans. Simmer over medium-low heat, stirring occasionally for about 20 minutes or until beans are almost cooked, then mix in the pre-cooked or canned shelled beans.
Cook until green beans are tender and taste for salt and pepper, adding if necessary. Remove the pot from the heat and take out the celery and leaves, if desired. Serve with crusty Italian bread, eating it with the Italian green beans.
Green beans are grown, and eaten, the world over. With the Latin name Phaseolus vulgaris (common bean), green beans are also referred to as string beans, pole beans, and snap beans. With our Grow Great Green Beans Gardening Guide, you'll have everything you need to know about growing and enjoying this unique food in your home garden, including advice on planting, raising, harvesting, and preparing dish after delicious dish featuring your home-grown green beans.
What do you think of this recipe? Are you a fan of Italian Green Beans cucina povera? Let us know what other "poor cooking" dishes you like.