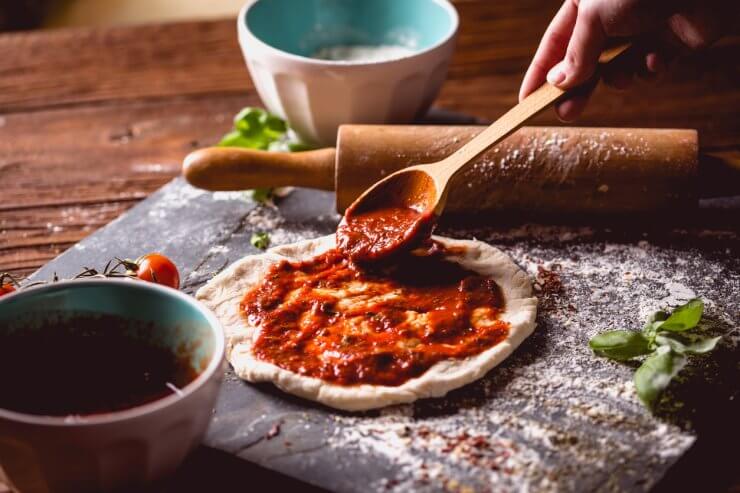 Here's breaking news for most Americans: authentic Italian pizza sauce is not cooked. The sauce is simply blended and prepared "raw" because it cooks when it's on the pizza and is baking in the oven. And this easy-to-make recipe comes from a hands-on pizza cooking class in Florence, Italy—can't get much more authentic than that!
We're big fans of always using fresh ingredients, but this recipe has an exception. It's alright—even preferable by some standards—to used canned tomatoes for this sauce. Even the Italians use canned tomatoes to make this sauce! The key is to find canned San Marzano (Roma) tomatoes that have been certified by an independent third party—yes, they'll be a tad more expensive, but using lesser quality tomatoes will sacrifice the taste and texture. Look for "CERTIFIED" on the tomato can's label.
Authentic San Marzano tomatoes are distinct in flavor and are grown in the rich and unique soil of the region near Mount Vesuvius, the now-dormant volcano. You can use your homegrown Roma tomatoes, but certified Italian San Marzano tomatoes are the best!
Be sure to use sea salt, not Kosher or table salt, for this recipe—like a salad dressing, pizza sauce is a "dressing" for the dough, so sea salt is best.
For the bunch of basil leaves, omit any hard stems, using just the smooth leaves. Unlike when cooking with fresh basil in other dishes—when the stems will soften and disintegrate over heat—this sauce is raw, so you don't want any distracting textures.
Tip: When blending, you'll have to judge your sauce's texture as you're mixing in the olive oil. Don't overdo it, but use enough oil to emulsify—that is, truly blend the tomato mixture and the oil to a thickened yet smooth consistency. After making this recipe a few times—and, we know you'll be making it all the time—you'll figure out just the right amount of olive oil to get the right mixture.
Voila! Now you have ready-to-use pizza sauce for whipping out a tasty pizza in a flash—just ladle the sauce on your dough in an even layer, cover with your favorite pizza toppings, bake, and enjoy! When stored properly, you can use your pizza sauce for up to one month after making it.
Print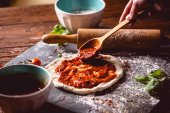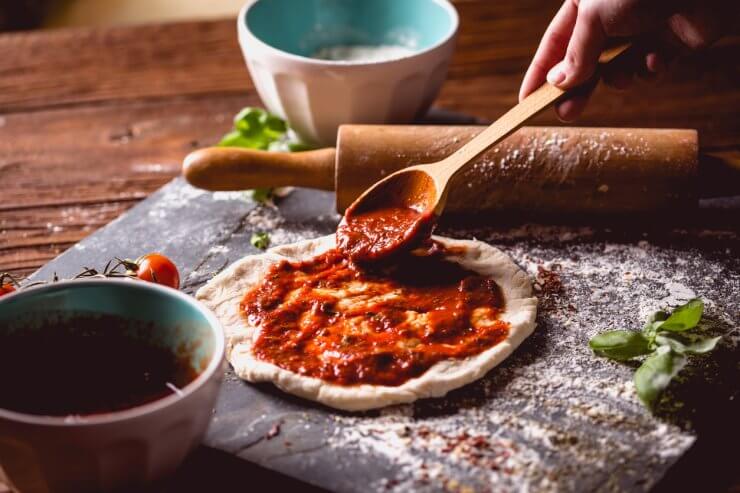 Authentic Italian Pizza Sauce
Direct from Florence, Italy, comes this easy-to-make authentic Italian pizza sauce recipe that allows you to quickly whip out a pizza for lunch or dinner on almost a moment's notice!
Author:
Prep Time:

10 minutes

Total Time:

10 minutes

Yield: Makes

3

large pizzas

1

x
Category:

Sides & Sauces
Ingredients
1

28-oz. can San Marzano (Roma) whole peeled tomatoes

1

large garlic clove, peeled

1 teaspoon

sugar

1/2 teaspoon

sea salt

1/2 teaspoon

freshly ground black pepper

1

bunch of fresh basil leaves

1/4

 to 1/3 cup extra virgin olive oil
Instructions
Place all ingredients, except olive oil, into a one-quart container.
Begin mixing with a hand-held blender on medium speed.
Gradually add the olive oil to emulsify the mixture.
Blend for about 2 minutes until it reaches the consistency of a salad dressing.
Place finished mixture in an air-tight plastic container and refrigerate.
Tomatoes are the most popular plant for home gardeners! With The Everything Tomato Gardening Guide, you'll have everything you need to know about growing and enjoying this versatile food, from the history and background of the mighty tomato to specific advice on growing, harvesting, and enjoying your hard work! Check it out now.
If you try this Authentic Italian Pizza Sauce, let us know what you think!