Print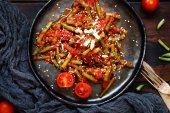 Traditional Italian Green Beans
Author:
Prep Time:

5 minutes

Cook Time:

30 minutes

Total Time:

35 minutes

Yield:

Serves 4

Category:

Sides & Sauces
Ingredients
3 tablespoons

extra virgin olive oil

1

large onion, chopped

2

stalks celery, preferably with leaves, cut in half or thirds

3/4 cup

(

6 ounces

) crushed or pureed tomatoes
About

1

pound fresh or frozen green beans, Romano, French, etc.

1 cup

(

8 ounces

) shelled beans, such as cannellini, pre-cooked or canned and well-rinsed (optional, but they add texture plus protein and fiber)
Salt and pepper
Place olive oil in a large heavy pot on medium-high heat, then add the chopped onion and celery pieces. Sauté until the onions just begin to brown.
Add tomato purée and stir. Cook for approximately 5 minutes, stirring often.
Add about 1 cup (8 ounces) water, and about 3/4 teaspoon of Kosher or sea salt. Bring to a boil, simmer for a few minutes.
Add the fresh or frozen green beans. Simmer over medium-low heat, stirring occasionally for about 20 minutes or until beans are almost cooked, then mix in the pre-cooked or canned shelled beans.
Cook until green beans are tender and taste for salt and pepper, adding if necessary. Remove the pot from the heat and take out the celery and leaves, if desired. Serve with crusty Italian bread, eating it with the Italian green beans.