This month we are enveloping ourselves in citrus and hydroponics, and I thought, what better way to marry the two than with an orange vinaigrette over some freshly trimmed microgreens? I certainly have plenty to spare and there's nothing easier to grow than microgreens, which makes this recipe a fun lunch and gardening project in one! If you subscribe to a CSA, you're probably getting baggies of them about now too, as winter is a popular time to grow microgreens in the colder climates. Watch Growing Microgreens: Kits vs. DIY if you're curious about growing microgreens yourself.
For this recipe, I wanted not only a ridiculously fresh salad, but also something satiating, so I added burrata to the mix.
Burrata means "buttery" in Italian. I think of it like a soft-boiled egg made of mozzarella. The outside of burrata is a thin shell of mozzarella, while the inside is a fresh cream curd. When sliced into quarters and tossed with microgreens and this sweet orange vinaigrette, it's complete heaven. You don't have to worry about one ingredient out-flavoring the other, they all blend together beautifully. A drizzle of honey over the top completes the whole dish, and it makes a great appetizer for a big meal that four people can share.
And yes, you can totally make this without the burrata as a salad for one!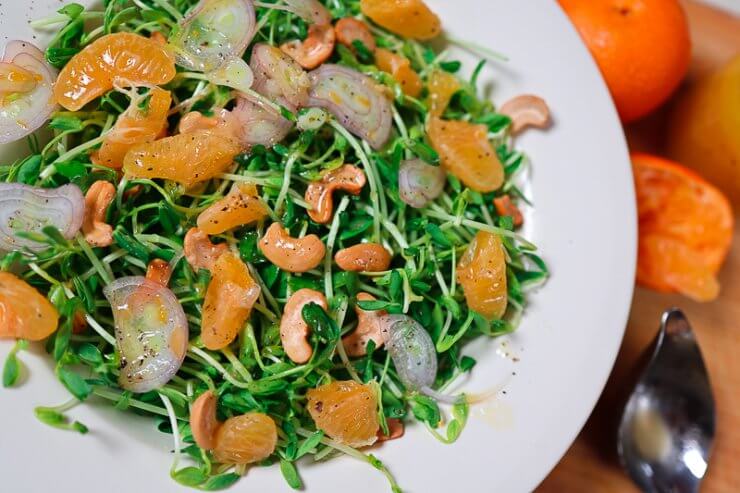 If you're familiar with oranges, you know that mandarin oranges are some of the sweetest you can eat or grow, which is why I've used it in this recipe. Plain old Florida navel oranges just won't do in most cases because their sweetness isn't all that consistent unless you're growing your own and you can pick them at peak ripeness. Perhaps some Cara Cara oranges, which are very sweet, but ultimately I hope you have and can use mandarins for this one, it's really quite a treat. If you need to, you can use whatever oranges you have and simply increase the sweetness with extra honey.
Print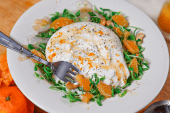 Burrata and Microgreens with Mandarin Orange Vinaigrette
Salty and sweet make the perfect pairing in this satiating and shareable salad featuring a freshly-squeezed mandarin orange vinaigrette over nutrient-packed microgreens, and topped with savory Italian Burrata cheese and cashews.
Author:
Prep Time:

25 minutes

Total Time:

25 minutes

Yield:

Serves 4

Category:

Salads & Dressings
Ingredients
6

–

8

mandarin oranges (

1/2 cup

fresh juice, some slices reserved)

2 tsp

seasoned rice wine vinegar

1

clove of garlic

1

shallot, sliced finely

1 tbsp

honey (add more for a sweeter dressing)
pinch of salt
pinch of freshly cracked pepper

1/4 cup

extra-virgin olive oil (sesame oil is tasty as well!)

2 cups

fresh Microgreens

1/4 cup

salted cashew halves
Optional: 4oz Burrata cheese
Instructions
In a small ball jar or dressing cruet, add the zest of one mandarin orange. Slice the oranges in half and squeeze until you get about 1/2 cup of juice in the jar. Reserve some mandarin pieces that are still a little juicy, or pull them from a new orange.
Grate 1/4 – 1/2 a fresh clove of garlic, depending on your preference, and finely slice your shallot. Add a pinch of shallot to the dressing with the garlic, and reserve the rest of the shallot for the salad as a garnish. Mix and let sit for 15 minutes.
Add honey, salt, and pepper, oil, then screw on the cover and shake vigorously for about 30 seconds. Let sit for at least 15 more minutes, but it tastes even better if you refrigerate it overnight!
Prepare a bowl of microgreens, and if adding Burrata, add it to the middle and drizzle with extra honey. Top with cashews, remaining sliced shallots, a sprinkle of salt and pepper, and drizzle with citrus vinaigrette. Enjoy!
Do you like to make salad dressings? Last month I made 3 Easy Homemade Salad Dressing Recipes that I know you'll love! And if you want to learn more about growing your own oranges, check out our Orange Guide. If you make this salad or orange vinaigrette, let me know what you think!