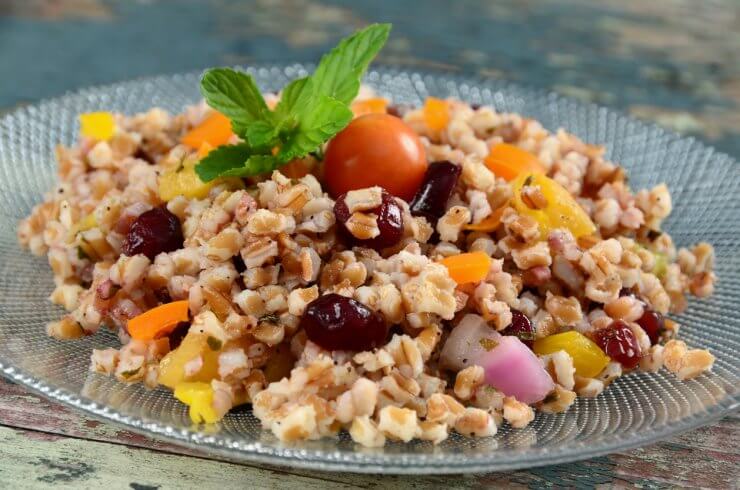 If you've never had a Wheat Berry Salad, you're in for a treat. Wheat berries, like other grains, can be cooked and eaten whole. In fact, whole wheat berries deliver the most nutrition and fiber wheat has to offer. Because the kernel is left intact, nearly all the nutrition remains.
Boiling wheat berries gives them a chewy bite and nutty flavor. Once cooked, the plumped berries can be tossed in salads, served as the base for a hearty breakfast bowl, or sprinkled into baked goods for extra texture and fiber. Cooked wheat berries lend themselves to both sweet and savory combinations—from salads with scallions, spinach, and butternut squash to fruitier recipes with dried cherries, diced apples, and a spoonful of honey. You can add cooked wheat berries to soups or chili—giving vegetarian chili a 'meatier' taste. You can also serve them hot along a side of sauteed mushrooms, steamed asparagus, or in a wrap with sweet potatoes and black beans.
Because uncooked wheat berries store well, retaining their flavor and nutrition for years, with a good supply of them you can look forward to enjoying this healthful, delicious addition to your recipes any time you like!
As for this Wheat Berry Salad, the combination of nutty wheat berries and both sweet and savory flavors will have your mouth watering the moment you see this salad on your plate! This easy and filling salad is bursting with nutrition and color—you'll be serving this recipe again and again.
Print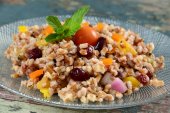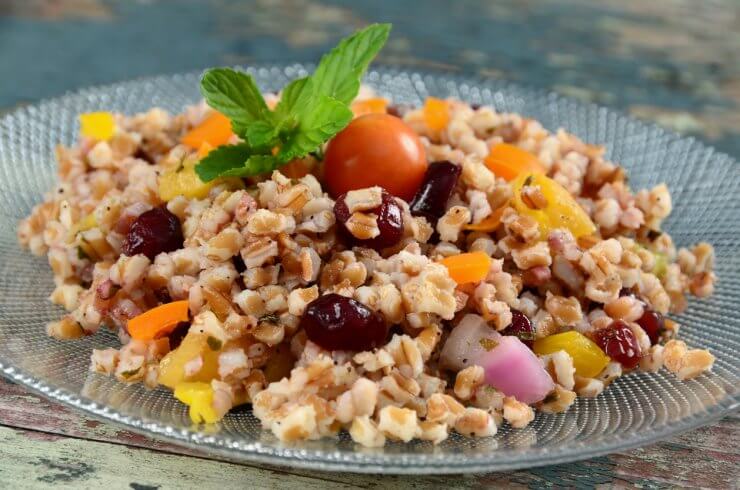 Wheat Berry Salad
Cook up this easy, healthy Wheat Berry Salad for a quick, colorful, and nutritious meal.
Author:
Prep Time:

15 minutes

Additional Time:

20 minutes

Cook Time:

1 hour 3 minutes

Total Time:

1 hour 38 minutes

Yield:

Serves 6

Category:

Salads & Dressings
Ingredients
1 1/2 cups

hard wheat berries

3/4 cup

chopped walnuts

2

stalks celery, finely chopped

1/2 cup

tart dried cherries, chopped

1/4 cup

diced red or yellow pepper

1/4 cup

diced red onion

6

to

8

cherry tomatoes

1

scallion, white and green parts, chopped

1/2 cup

finely chopped parsley leaves

3 tablespoons

olive oil

2 tablespoons

lemon juice
Salt and freshly ground black pepper
Instructions
In a large pot combine the wheat berries and enough water to come 2 inches over the wheat berries. Bring to a boil and cook uncovered for 1 hour, or until tender. Drain and let cool, about 20 minutes.
Toast the walnuts in a medium dry skillet over medium-high heat until fragrant, 2 to 3 minutes.
In a large bowl, combine the wheat berries, walnuts, celery, dried cherries, scallions, peppers, red onion, tomatoes, parsley, olive oil, and lemon juice. Season, to taste, with salt and pepper.
Have you tried this Wheat Berry Salad recipe? What did you think of the flavors? Please tell us how it worked out for you.