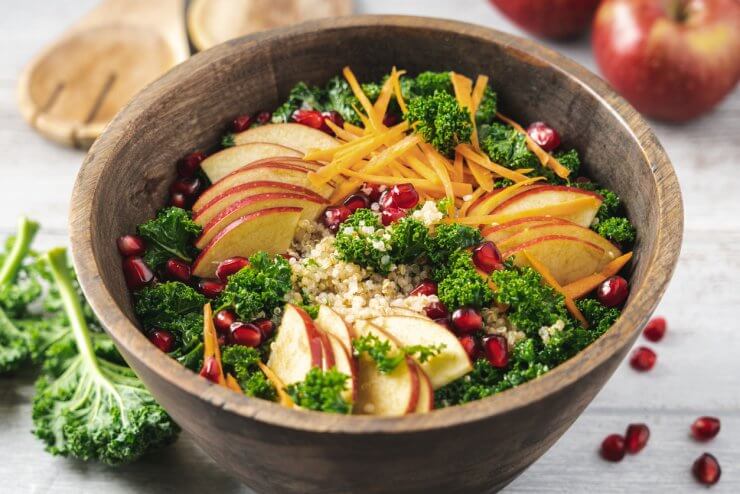 I love quinoa as much as the next healthy eater. It's like grain without the guilt, but the best part is that it comes in a rainbow of varieties! The most common are probably white, red, and black quinoa — all of which have subtle nuances between their flavor profiles. If you're like me and you enjoy them all, then you'll be happy to know that you can use all three in this Autumn Apple, Kale, and Quinoa Salad!
Yup, that's right! This recipe is even more delicious when you combine white, red, and black quinoa varieties — not to mention they make your dish more aesthetically pleasing. Beyond that, you get three different layers of nuttiness, with white quinoa being the mildest, red being slightly higher on the scale, and black being the coarsest, crunchiest, and nuttiest.
These three quinoa varieties also blend nicely with three kinds of apples: jazz, honeycrisp, or gala. All of these apples are generally on the sweet side, but they also have subtle nuances that differentiate one from the other. Gala has an inherent sweetness, while honeycrisp is more full-bodied and on the crunchy side. Jazz apples, on the other hand, are closer to the taste of pear or honey with its sweet yet sharp flavor. You can choose from any of these three apples depending on the taste you prefer.
Kale's strong, earthy flavor coupled with the slight tartness of dried cranberries and crumbled goat cheese give this salad lots of texture and personality. Toss in those toasted walnuts, and you have a rich and pleasantly aromatic salad that brings out the subtle flavors of your quinoa. Pulling it all together is your tangy dressing, which gives every spoonful a bright, refreshing flourish.
Best served cold, this Autumn Apple, Kale, and Quinoa Salad is sure to perk up every meal!
Print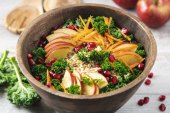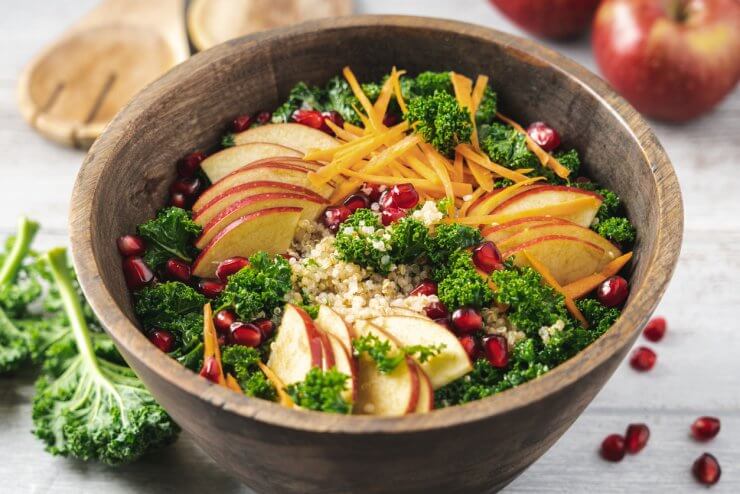 Autumn Apple, Kale, and Quinoa Salad
Crispy, crunchy, and full of flavor—this Autumn Apple, Kale, and Quinoa Salad will remind you of fall, but you can make and enjoy it anytime. Dried cranberries and walnuts give this dish lots of texture and the tangy dressing pulls everything together.
Author:
Prep Time:

20 minutes

Additional Time:

15 minutes

Cook Time:

15 minutes

Total Time:

50 minutes

Yield:

Serves 7

Category:

Salads & Dressings
Ingredients
Salad:

1/2 cup

quinoa, rinsed

1 cup

water

6 cups

slightly packed chopped kale, remove thick ribs before chopping

2

crisp sweet apples, cored and chopped (such as Gala, Jazz, or Honeycrisp)

1 cup

walnuts, lightly toasted and roughly chopped

1/2 cup

dried cranberries

4 ounces

goat cheese, crumbled

Dressing:

1/2 cup

olive oil

1/4 cup

fresh lemon juice

2 tablespoons

honey

1 1/2 teaspoon

Dijon mustard
Salt to taste
Instructions
Bring 1 cup water to a boil and stir in quinoa. Cook 15 minutes or until water is absorbed. Let quinoa cook completely.
While quinoa is cooling, whisk together olive oil, lemon juice, honey, Dijon, and salt in a jar or bowl.
Add kale to a salad bowl, whisk dressing once more, then pour 3/4 of the dressing over kale and toss until kale is evenly coated. Cover bowl and chill 15 minutes (adding the dressing and letting it rest helps soften kale a bit).
Remove salad from refrigerator, add apples, quinoa, walnuts, and cranberries. Pour remaining dressing over salad then toss. Add goat cheese and toss just lightly.
Serve or store covered in refrigerator for up to 4 hours.
Have you tried this recipe? It's so easy and makes a filling lunch entrée, or as a side with roast chicken and potatoes. Please tell us how it turned out for you.